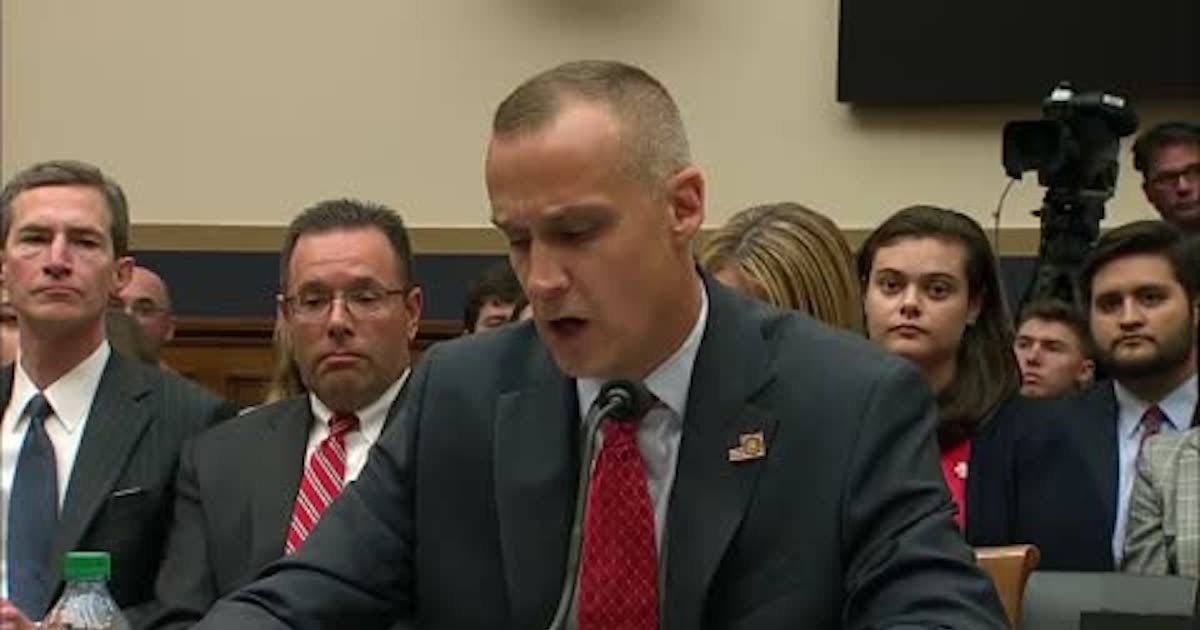 Lewandowski Sets Himself Up for New Hampshire Senate Bid
Corey Lewandowski, the former campaign manager for Donald Trump and expected candidates for U.S. Senate in New Hampshire, brought his A game to the Democrats' first quasi impeachment hearing on Tuesday.
He slammed "Trump haters" and House Judiciary Committee Democrats for hauling him before their panel for an impeachment hearing, which The Hill and The New York Post both described as one that "quickly descended into chaos."
"Sadly, the country spent over three years and 40 million taxpayer dollars on these investigations," Mr. Lewandowski said in his opening statement. "It is now clear the investigation was populated by many Trump haters who had their own agenda — to try and take down a duly-elected President of the United States."
Mr. Lewandowski, who never had an official role at the White House, was the first witness brought before the committee led by Chairman Jerry Nadler, D-N.Y., since members voted to define the scope of their impeachment inquiry.
The appearance was somewhat of an audition for the former Trump campaign manager, who is widely expected to run for U.S. Senate in New Hampshire. During the hearing, he tweeted the launch of a new website "to help a potential senate run."
Repackaging Impeachment, Again
Rep. Doug Collins, R-Ga., the Ranking Member of the Judiciary Committee, opened up the hearing for the Republican side. He criticized Democrats for wasting the committee's time on matters that have been investigated ad nauseam.
"I've never seen a majority so amazed with packaging in all my life. You know why? Because they can't sell what's inside!" Rep. Collins lamented. "They can't sell the product. So, they keep packaging it differently."
Lewandowski's Emails
In another moment, Mr. Lewandowski took a stab at Hillary Clinton, who violated federal records rules and deleted emails under subpoena.
"I also received hundreds of thousands of emails, some days with as many as 1,000 emails — and unlike Hillary Clinton, I don't think I ever deleted any of those."
Lewandowski Mocks President Swalwell
In an exchange with Rep. Eric Swalwell, D-Calif., he mocked the failed 2020 Democratic candidate by referring to him as "President Swalwell."
Rep. Sheila Jackson Lee's, D-Texas, and Mr. Lewandowski got into a back-and-forth over who would read excerpts from the Mueller report. Democrats repeatedly showed sections on large screens in the hearing room.
"You're welcome to read it, Congresswoman," he said. "Don't ask me a question I won't answer."
The sparring continued.
"This is the House Judiciary, not a house party," Rep. Jackson Lee told Mr. Lewandowski in one response.
It Was Just A Rant
At the end of her five-minute time allotment, Rep. Jackson Lee accused Mr. Lewandowski of doing the president's "dirty work in secret because he knew it was wrong."
Chairman Nadler told Mr. Lewandowski he could answer the congresswoman's question even though her time had elapsed before she had asked one.
"I don't believe there was a question," Mr. Lewandowski responded. "It was just a rant."
Chairman Nadler shut down Rep. Jackson Lee, who tried to re-engage with the witness, clearly aware of the bad optics.