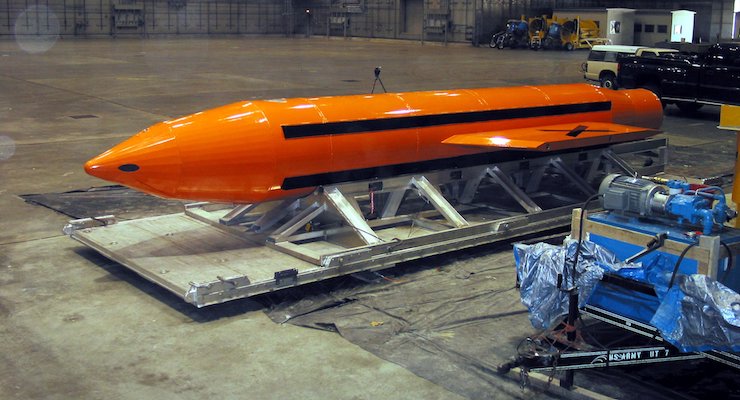 The U.S. dropped the largest non-nuclear bomb on the Islamic State (ISIS) in Afghanistan, known as a Massive Ordnance Air Blast (MOAB), a.k.a. "Mother of All Bombs." The 21,000-pound, 30-foot GBU-43/B was dropped from a C-130 aircraft a little after 7 p.m. local time on Thursday, 18,700 pounds of which was the warhead.
As it is designed to do, the bomb exploded in the air above its target close to the Pakistan border, resulting in downward pressure that crushed tunnels and everything in them. The strike in eastern Afghanistan comes days after a U.S. Army Special Forces A-Team member, a Green Beret, was killed fighting ISIS in that area.
"At 7:32 p.m. local time today, US forces – Afghanistan conducted a strike on an ISIS-K tunnel complex in Achin district, Nangarhar province, Afghanistan, as part of ongoing efforts to defeat ISIS-K in Afghanistan in 2017," U.S. Central Command said in a statement.
ISIS-K refers to the ISIS offshoot in Afghanistan and Pakistan, otherwise known as ISIS-Khorasan or the Khorasan Group.
"The strike used a GBU-43 bomb dropped from a US aircraft," the statement said. "The strike was designed to minimize the risk to Afghan and US forces conducting clearing operations in the area while maximizing the destruction of ISIS-K fighters and facilities."
WATCH – Actual Footage of the 'Mother of All Bombs' (MOAB) Dropped in Afghanistan
Russia, Pakistan, and China had all warned the Obama Administration of increasing ISIS activity in Afghanistan.
As People's Pundit Daily reported in 2015, the presence of ISIS in Afghanistan began growing before the fighting season in 2014. Published photos emerged showing an Islamic State training camp operating in the eastern Afghan province of Logar. The Islamic State's "Khorasan Province," which is named after a Taliban commander who was killed in 2012, was in full promotion and propaganda mode at the Ustad Yasir camp.
The Sa'ad bin Abi Waqas Front was led by Sa'ad Emarati, a former Pakistan Taliban commander who defected to the Islamic State's Khorasan Province in 2014 along with other disaffected Taliban commanders from Afghanistan and Iraq.
PPD also previously reported the prior January that Mullah Abdul Rauf, a former Taliban commander and prisoner at Guantanamo Bay released by the Obama Administration, was put in charge of recruiting members of the Taliban in a nearby province. But the previous administration didn't respond in kind and the threat festered and grew. In 2016, Afghanistan lost roughly 15% of its territory to the Islamists.
"As ISIS-K's losses have mounted, they are using IEDs, bunkers, and tunnels to thicken their defense," Gen. John W. Nicholson, the commander of US forces in Afghanistan, said in the statement. "This is the right munition to reduce these obstacles and maintain the momentum of our offensive against ISIS-K."
WATCH – Actual Footage of the 'Mother of All Bombs' (MOAB) Dropped in Afghanistan
[brid video="132739″ player="2077″ title="MOAB Mother of All Bombs GBU43B"]