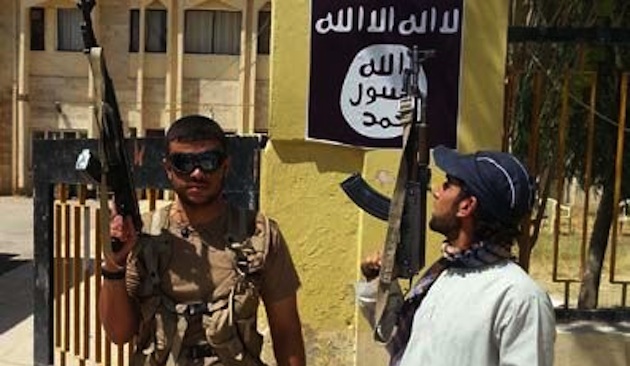 Despite two U.S. airstrikes Friday aimed at mortar positions and a seven-vehicle convoy, the ISIS army in Iraq continues to advance on the Kurdish capital of Erbil. The Islamic militant group's goal is to establish control over the route that connects already-seized towns along the Kurdish-control territory, the most recent of which being Sheikhan.
While President Obama authorized the use of force to protect U.S. personnel and Iraqi religious minorities facing a possible "genocide," and to halt the advance into Erbil, the narrow operation that strikes at "targets of opportunity" isn't effective enough.
In comments made Saturday from Martha's Vineyard, President Obama told reporters and the American people that the Iraqi operation could go on for an extended period of time.
"I don't think we're going to solve this problem in weeks," Mr. Obama said. "This is going to be a long-term project."
Pentagon spokesman Rear Adm. John Kirby, said the U.S. launched the latest airstrikes to help defend the city of Erbil, where U.S. personnel are "assisting the government of Iraq," and that U.S. military officials characterize the airstrikes as successful. All airstrikes have been launched from the USS George HW Bush in the Persian Gulf, except a drone that took off from an undisclosed land base.
A Defense Department official speaking in regards to the drone strike, which was carried out with hellfire missiles, told The New York Times, "you know that vehicle and the people in it don't exist anymore."
The airstrikes mark a small yet significant pivot in Obama's foreign policy toward Iraq since what appears to have been a premature troop withdrawal back in late 2011.
Hundreds of women from the Yazidi religious minority have been kidnapped by the Sunni militants, who plan to sell them into the sex trade and forced marriage and conversion to Islam. Kamil Amin, the spokesman for Iraq's Human Rights Ministry, said hundreds of Yazidi women below the age of 35 are being held in schools in Iraq's second largest city, Mosul. He said the ministry learned of the captives from their families.
"We think that the terrorists by now consider them slaves and they have vicious plans for them," Amin told The Associated Press. "We think that these women are going to be used in demeaning ways by those terrorists to satisfy their animalistic urges in a way that contradicts all the human and Islamic values."
Obama announced that he was contemplating airstrikes to protect U.S. interests in the region and also after news that approximately 40,000 religious minorities were surrounded on Sinjar Mountain, stranded without food or water. If they descended down the mountain, they would be shot.
A model C-130 and a C-17 cargo dropped 72 bundles of supplies for the refugees, including more than 28,000 meals and more than 1,500 gallons of water. Humanitarian missions have been conducted jointely with the airstrikes, which were met with a response from the militant group.
A message by the leader of ISIS surfaced on Twitter, which recycled a YouTube video that was originally posted in June.
"You should know, you defender of the cross, that getting others to fight on your behalf will not do for you in Syria as it will not do for you in Iraq," wrote the ISIS leader, Abu Bakr al-Baghdadi. "And soon enough, you will be in direct confrontation — forced to do so, God willing. And the sons of Islam have prepared themselves for this day. So wait, and we will be waiting, too."