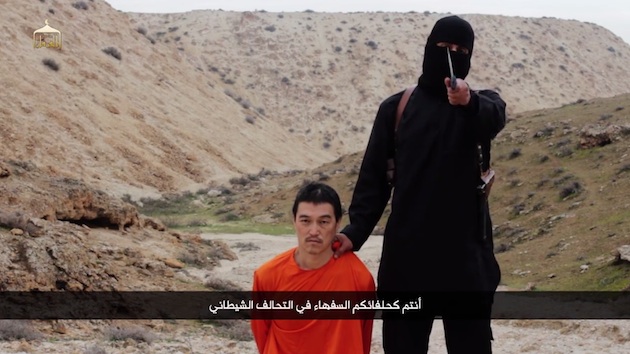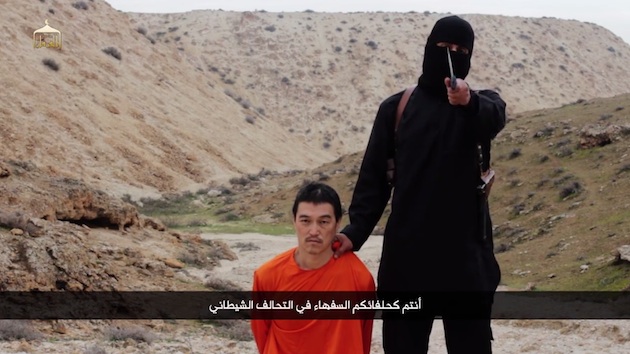 BREAKING: An online ISIS video released Saturday appears to show an Islamic State executioner beheading Japanese hostage Kenji Goto, in what is an apparent end to a several day-long attempt by Japanese officials to negotiate the journalist's release.
The video, called "A Message to the Government of Japan," featured a militant who looked and sounded like a militant with a British accent who has taken part in other beheading videos released by ISIS. Goto, kneeling in an orange prison jumpsuit, didn't say a word in the roughly one-minute-long video.
"Abe," the militant says in the video, referring to the Japanese prime minister, "because of your reckless decision to take part in an un-winnable war, this knife will not only slaughter Kenji, but will also carry on and cause carnage wherever your people are found. So, let the nightmare for Japan begin."
Officials in Japan and the U.S. said they were trying to confirm the authenticity of the video.
"We have seen the video purporting to show that Japanese citizen Kenji Goto has been murdered by the terrorist group ISIL," said Bernadette Meehan, a spokeswoman for the White House's National Security Council, using an alternate acronym for the extremist group. "The United States strongly condemns ISIL's actions and we call for the immediate release of all the remaining hostages. We stand in solidarity with our ally Japan."
The hostage situation began to surface publicly last week after ISIS threatened to kill Goto and fellow Japanese hostage Haruna Yukawa, a 42-year old widower, in 72 hours unless Japan paid $200 million. A purported audio message from the Islamic terror group released on Jan. 24 claimed Yukawa had been executed.
The Islamic State later demanded the release of Sajida al-Rishawi, a female al-Qaida prisoner convicted and sentenced to death for her involvement in a 2005 terrorist attack on hotels in Amman, Jordan that killed 60 people. But within hours, the terror group said it instead wanted al-Rishawi, 44, released in exchange for the life of hostage Lt. Muath al-Kaseasbeh, a Jordanian fighter pilot.
The Jordanian government initially agreed, but then demanded proof of life.
The video released Saturday, via militant websites, bore the symbols of previous Islamic State group videos in which three American separately appear to have been executed.
"To the Japanese government," the man dubbed "Johnny Jihad" said in the video. "You, like your foolish allies in the Satanic coalition, have yet to understand that we, by Allah's grace, are an Islamic Caliphate with authority and power, an entire army thirsty for your blood."
The White House's National Security Council issued a statement minutes after the release of the video stating intelligence officials are trying to verify its authenticity.
"We have seen the video," said council spokeswoman Bernadette Meehan. "We are working to confirm its authenticity. The United States strongly condemns ISIL's actions and we call for the immediate release of all remaining hostages."
Late Friday, after the deadline for a deal had passed, Japan's deputy foreign minister, Yasuhide Nakayama, said that efforts to free Goto were "in a state of deadlock."
Meanwhile, the family of 26-year old Lt. al-Kaseasbeh said late Friday there has been no word of the young pilot's fate. The Jordanian pilot's plane went down in late December over an Islamic State-controlled area of northeastern Syria, making him the first foreign pilot to be captured by the group since a U.S.-led military coalition began carrying out limited airstrikes to supposedly "degrade and ultimately destroy" the extremists in September.
Goto was captured in October, after he traveled to Syria to try to win the release of Yukawa. Jordan and Japan were reportedly conducting indirect negotiations with the militants through Iraqi tribal leaders.