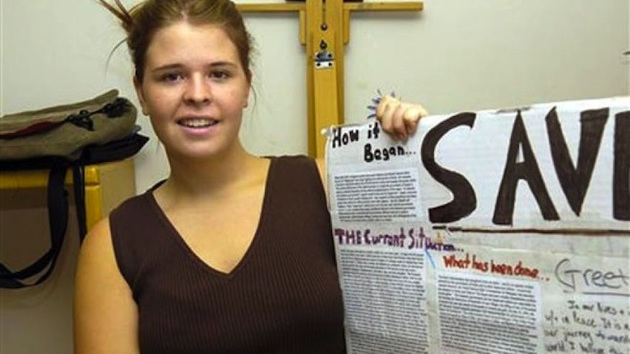 [wzslider info="true" lightbox="true"]
The parents of Kayla Mueller, the U.S. citizen and aide worker who was taken hostage by ISIS in August, 2013, have confirmed their daughter has died.
"We are heartbroken to share that we've received confirmation that Kayla Jean Mueller, has lost her life," Carl and Marsha Mueller, of Prescott, Ariz., said in a statement. "Kayla was a compassionate and devoted humanitarian. She dedicated the whole of her young life to helping those in need of freedom, justice, and peace."
The family received a message from her ISIS captors over the weekend informing them of her death, which has also been confirmed by U.S. officials.
"The family received a private message from Kayla's ISIL captors containing additional information," National Security Council spokeswoman Bernadette Meehan said Tuesday. "Once this information was authenticated by the intelligence community, they concluded that Kayla was deceased."
It is not yet known how or when 26-year-old Mueller died, though ISIS claimed last week she was killed by a Jordanian airstrike. They offered no evidence to support the claim at the time, nor have U.S. or Jordanian officials given any credence to the claim.
"It is with profound sadness that we have learned of the death of Kayla Jean Mueller," President Obama said in a statement Tuesday. "On behalf of the American people, Michelle and I convey our deepest condolences to Kayla's family – her parents, Marsha and Carl, and her brother Eric and his family – and all of those who loved Kayla dearly.  At this time of unimaginable suffering, the country shares in their grief."
The suffering of children in the early stages of Syria's continuing civil war prompted Mueller to leave her home in Prescott, Ariz., in December, 2012,  to work with the Danish Refugee Council and the humanitarian organization Support to Life to help refugees. According to a family spokesperson, Kayla found the work heartbreaking but compelling.
"For as long as I live, I will not let this suffering be normal, something we just accept," Mueller told her hometown newspaper, The Daily Courier, in a 2013 interview during a trip home to her family. "It's important to stop and realize what we have, why we have it and how privileged we are. And from that place, start caring and get a lot done."
She was captured on Aug. 4, 2013, in Aleppo, Syria, while leaving a Spanish hospital staffed by the international humanitarian group Doctors without Borders.
"I know you would want me to remain strong. That is exactly what I am doing," Kayla wrote to her parents in a letter dated November 2, 2014, while in captivity. "Do not fear for me, continue to pray as will I, by God's will we will be together soon."
Jordan has been launching airstrikes against the extremist group in response to a video released last week showing captured Jordanian pilot Lt. Muath al-Kaseasbeh being burned to death in a cage. Al-Kaseasbeh, whose F-16 came down in December while conducting airstrikes as part of a campaign against the militants by a U.S.-led coalition, was believed to have been killed in early January. For weeks, ISIS played a sick game negotiating with Jordanian officials for his release knowing they had already killed him.
Mueller is one of four Americans to die while being held by the ISIS terror army, including journalists James Foley and Steven Sotloff, and aid worker Peter Kassig. The aforementioned three were beheaded by the group.
In confirming her death, the Mueller family quoted a letter the young women penned to her father on his birthday in 2011.
"I find God in the suffering eyes reflected in mine. If this is how you are revealed to me, this is how I will forever seek you," Kayla wrote in the letter. "I will always seek God. Some people find God in church. Some people find God in nature. Some people find God in love; I find God in suffering. I've known for some time what my life's work is, using my hands as tools to relieve suffering."