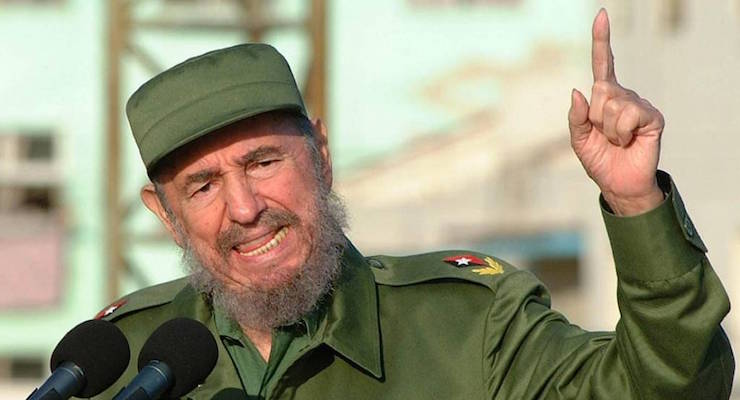 Former Cuban leader Fidel Castro, the communist-nationalist who ruled from 1959 to 2008, is dead at age 90, state TV says. Castro was the prime minister until 1976 and then became president until he put his brother Raul Castro in power in 2008.
Several political figures in the U.S. have reacted to the Cuban leader's death and the disparity in how they viewed Castro has been stunning to the say the least.
President Barack Obama offered his "condolences" to the Castro family and extended "a hand of friendship" to the Cuban people, saying his death invoked "powerful emotions" and we should leave it to history to "record and judge the enormous impact of this singular figure on the people and world around him."
Big mediates struck an even more somber tone.
President-elect Donald J. Trump, who was overwhelmingly supported by Cuban-American voters, which proved pivotal in his victory in Florida, reacted more plainly. It embodies all the things–ideological and attitudinal–that separate the current and future presidents.
Fidel Castro is dead!

— Donald J. Trump (@realDonaldTrump) November 26, 2016
"Fidel Castro's legacy is one of firing squads, theft, unimaginable suffering, poverty and the denial of fundamental human rights," President-elect Trump said in the statement. "While Cuba remains a totalitarian island, it is my hope that today marks a move away from the horrors endured for too long, and toward a future in which the wonderful Cuban people finally live in the freedom they so richly deserve."
Republican Sen. Marco Rubio, R-Fla., a Cuban-American agreed with President-elect Trump and mirrored his sentiment. He said Fidel Castro turned Cuba "into an impoverished island prison and said we should take the day to "reflect on the memory and sacrifices of all those who have suffered under the Castros."
Indeed, the real Fidel Castro turned the island of Cuba into a tyrannical one-party state under his own Communist Party rule, the first ever socialist state in the Western Hemisphere. Promising policies of widespread state-run healthcare and education, he put in place failed central economic planning and total state control of the press, while suppressing and punishing internal political dissent.
Initially, the conservative press was adversarial to Fidel Castro and his socialist government. However, Castro used the loyal printers' trade union to threaten and punish editorial staff.[1] In January 1960, the government actually ordered them to publish what they were told to classify as a "clarification." Eventually, those clarifications, which were actually written by the printers' union, appeared at the end of each article critical of the government.
Castro's government arrested and tortured countless counter-revolutionaries, subjecting them to solitary confinement, beatings, other inhumane treatment and even death.[2]
Cuba's domestic policy wasn't the only arena in which Castro posed a grave danger.
For years, international relations scholars lacking primary sources from the U.S.S.R. painted Soviet Premier Nikita Khrushchev as an emotional and irrational leader seeking to project Russian power in the Western Hemisphere. However, the more recent documentation paints a very different picture of the events leading up to and during what came to be known as the Cuban Missile Crisis.
Khrushchev's memoirs and correspondences show he was "gravely concerned with keeping the crisis in hand and curbing the hotheaded Castro, who seemed eager to see Soviet missiles speeding their way to the United States."[3] He refused to give Castro command of the naval task force, the long-range missile and SAM sites, along with the troops protecting them. While Castro insisted the base was only for defense, he repeatedly urged Khrushchev to threaten a nuclear strike on the United States.
He supported Che Guevara and his "Andean project", a failed guerrilla movement targeting the highlands of Bolivia, Peru and Argentina. Castro also allowed revolutionary groups from across the world, from the Viet Cong to the Black Panthers, to train in Cuba while at the same time decrying imperialism.
The speaker of the House of Representatives Paul Ryan, R-Wis., expressed hope for the future of the Cuban people.
"Now that Fidel Castro is dead, the cruelty and oppression of his regime should die with him," he said in a statement. "Today let us reflect on the memory and sacrifices of all those who have suffered under the Castros."
Yet, with his brother remaining in power and still enjoying a political victory from Mr. Obama agreeing to normalize U.S.-Cuban relations, there is little concrete evidence to suggest the future will be brighter. Following his historic meeting with President Obama in 2015, Raul Castro blamed U.S. presidents for the communist nation's troubles in a nearly hour-long speech at the Summit of the Americas.
It was the first a U.S. and Cuban leader held a significant meeting since 1958, when President Dwight D. Eisenhower met with Fulgenico Batista. The following year, Fidel Castro met with President Richard Nixon, who was serving as Eisenhower's vice president at the time.
Ignoring his failure to implement promised reforms, Raul took the moment to run down a litany of Cuban grievances against the U.S. dating back more than a century. The only reforms that have come to fruition benefit Cuban pharmaceutical companies essentially run by the Castro regime. In October, Mr. Obama announced rule changes that allowed them to participate in medical research projects and sell U.S. citizens their products, which they can return home with if they are FDA-approved.
The rule change was hidden in a greater package that was sold publicly as the administration lifting the import limit on Cuban cigars and rum brought into the country by Americans travelers coming home.
Still, the brutal communist dictator was "fondly" remembered by former President Jimmy Carter, who also took steps to attempt to normalize relations between the U.S. and Cuban during his failed one-term presidency. President Carter, who was widely seen as a weak leader before he was soundly defeated by Ronald Reagan, establishment of "interest sections" in Havana and Washington. They now serve as embassies.
"Rosalynn and I share our sympathies with the Castro family and the Cuban people on the death of Fidel Castro," Mr. Carter said in a statement released Saturday by the Atlanta-based Carter Center. "We remember fondly our visits with him in Cuba and his love of his country. We wish the Cuban citizens peace and prosperity in the years ahead."
Granman, the state-run newspaper, demonstrated that Castro's death did not mean an end to the propaganda. In their headline, they didn't even mention his death let alone the often barbaric tactics the socialist regime engaged in. In fact, it printed the revolutionary slogan "Onwards to victory, always" and a picture of Fidel Castro waving a Cuban flag.
---
In fact, Mr. Carter visited Fidel Castro in Cuba back in 2011. Afterwards, he told reporters that they "welcomed each other as old friends."
[1] Bourne, Peter G. (1986). Fidel: A Biography of Fidel Castro. New York City: Dodd, Mead & Company. ISBN 978-0-396-08518-8.
[2] Coltman, Leycester (2003). The Real Fidel Castro. New Haven and London: Yale University Press. ISBN 978-0-300-10760-9.
[3] Hunt, Michael (2003). Crisis in U.S. Foreign Policy. New Haven and London: Yale University Press. ISBN 978-0-300-06368-7.