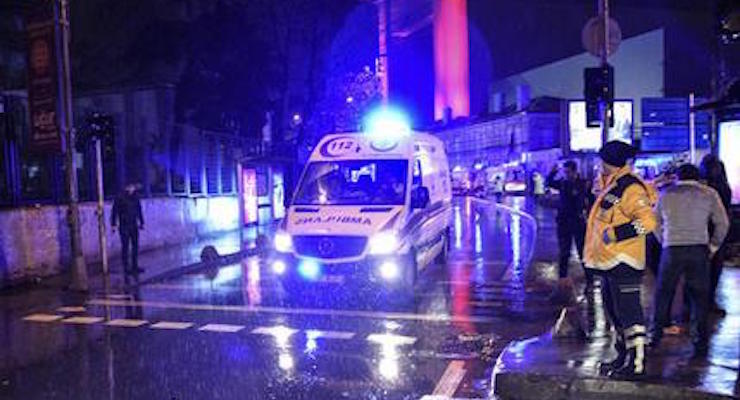 A manhunt is underway for an assailant in a Santa Claus hat who opened fire at a crowded nightclub in Istanbul during New Year's celebrations, killing 39 and wounding 70 others. Istanbul Governor Vasip Sahin said the attack occurred in the early hours of Sunday during New Year's celebrations at the Reina nightclub, in the Ortakoy district.
"Unfortunately (he) rained bullets in a very cruel and merciless way on innocent people who were there to celebrate New Year's and have fun," Sahin told reporters.
Gov. Sahin said the attacker was armed with a long-barreled weapon and killed a policeman, as well as a civilian outside the club before entering and firing on people celebrating the New Year inside. He told reporters it was a "terror attack," which occurred at roughly 1:45 am.
"Our security forces have started the necessary operations. God willing he will be caught in a short period of time," said Interior Minister Suleyman Soylu.
Minister Soylu also added officials believe the lone attacker left the nightclub wearing different clothing after entering from the shores of the Bosporus, which is on the European side of the city.
President Recep Tayyip Erdoğan condemned "the terror attack in Istanbul's Ortakoy neighborhood in the first hours of 2017" and offered condolences for those who lost their lives, including "foreign guests." Officials said an 18-year-old Israeli woman and a Belgian national were among the dead, and the two countries' foreign ministries confirmed that information.
Overall, Minister Soylu said at least 15 of the dead were foreign nationals, while 5 of the victims were identified as Turkish nationals. Authorities were still trying to identify the rest, but Minister of Family and Social Policies Fatma Betul Sayan Kaya said citizens of Saudi Arabia, Morocco, Lebanon, Libya were among those hurt in the attack.
Lebanon's Foreign Ministry said three Lebanese citizens were wounded.
There was no immediate claim of responsibility for the attack and officials haven't named any suspects or groups. However, the worst of the attacks in Turkey during 2016–which claimed the lives of more than 180 people–were perpetrated by the Islamic State (ISIS) or Kurdish militants. Turkey is a partner in the U.S.-led coalition against ISIS, but they are also experiencing renewed hostilities with Kurdish rebels in the southeast.
"Turkey continues its combat against terror and is absolutely determined to do whatever is necessary in the region to ensure its citizens safety and peace," said President Erdoğan in a written statement on Sunday. The attack comes as Turkey and Russia brokered a tenuous ceasefire deal in Syria, excluding the United States. The White House condemned what it called a "horrific terrorist attack" and offered aid to Turkey, which is a NATO member.
Russian President Vladimir Putin sent President Erdoğan a personal telegram offering his condolences, stating "it is hard to imagine a more cynical crime than killing innocent people during New Year celebrations."
"However, terrorists don't share moral values," Mr. Putin added. "Our common duty is to combat terrorists' aggression."
With the number of terror attacks over the past year, security had been heightened in Turkish cities, with police barring traffic leading up to key squares in Istanbul and the capital Ankara. In Istanbul, alone, some 17,000 police officers were on duty at the time. Ironically, some of them were disguised as Santa Claus and others as street vendors, Turkey's Anadolu news agency reported.
Only a few weeks ago on Dec. 10, Istanbul was the victim of a double bomb attack outside a soccer stadium located near the Reina nightclub. Forty-five people were killed and some 150 were wounded in the attack claimed by the Kurdish Freedom Falcons, a Kurdish militant group based in Turkey.
Officials estimated roughly 600 people were celebrating inside the club at the time of the attack, which is frequented by famous local celebrities, including singers, actors and sports athletes.