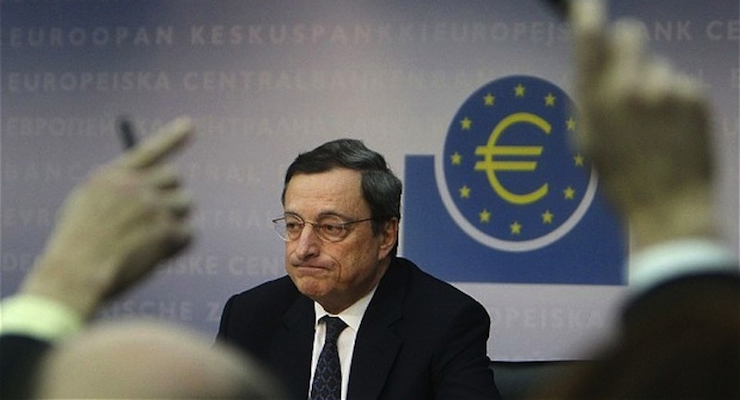 One would think that Europeans might finally be realizing that statism, an ever-growing welfare state and an ever-rising tax burden are a form of economic suicide.
The most obvious bit of evidence is to look at what's happening in Greece. Simply stated, public policy for too long has punished workers and producers while rewarding looters and moochers. The result is economic collapse, bailouts, and the destruction of cultural capital.
But Greece is just the tip of the iceberg.Many other European nations are heading in the same direction and it shows up in the economic data. Living standards are already considerably lower than they are in the United States. Yet instead of the "convergence" that's assumed in conventional economic theory, the Europeans are falling further behind instead of catching up.
There are some officials sounding the alarm.
In a column for the Brussels Times, Philippe Legrain, the former economic adviser to the President of the European Commission, has a glum assessment of the European Union.
In 2007, the EU accounted for 31 per cent of the world economy, measured at market prices. This year, it will account for only 22 per cent, according to the International Monetary Fund (IMF). Eight years ago, the EU's economy was a fifth bigger than the US's; this year it is set to be smaller than America's. …Continued economic decline seems inevitable.
But it seems that the folks who recognize that there is a problem are greatly out-numbered by those who want to make the problem worse.
For instance, one would think that any sentient adult would understand that theoverall burden of government spending in Europe is a problem, particularly outlays for redistribution programs that undermine incentives for productive behavior.
Yet, as reported by the EU Observer, some statists at the European Commission want to mandate the amounts of redistribution in member nations.
The European Commission is to push for minimum standards on social protection across member states… Employment commissioner Marianne Thyssen Tuesday (9 June) said she wants to see minimum unemployment benefits, a minimum income, access to child care, and access to basic health care in all 28 countries. …The commission will look into whether "enough people are covered in member states when they have an unemployment problem; how long are they protected. What is the level of the unemployment benefit in comparison with the former wage they earned," said Thyssen. …"The aim is to have an upper convergence…"
This is a horrible idea. It's basically designed to impose a rule that forces nations to be more like France and Greece.
Instead of competition, innovation, and diversity, Europe would move even further in the direction of one-size-fits-all centralization.
Though I give her credit for admitting that the purpose of harmonization is to force more spending, what she calls "upper convergence." So we can add Ms. Thyssen to our list of honest statists.
And speaking of centralization, some politicians want to go beyond mandates and harmonization and also have EU-wide taxes and spending.
Here are some of the details from a report in the U.K.-based Guardian.
German and French politicians are calling for a…eurozone treasury equipped with a eurozone finance chief, single budget, tax-raising powers, pooled debt liabilities, a common monetary fund, and separate organisation and representation within the European parliament. …They call for the setting up of "an embryo euro area budget", "a fiscal capacity over and above national budgets", and harmonised corporate taxes across the bloc. The eurozone would be able to borrow on the markets against its budget, which would be financed from a kind of Tobin tax on financial transactions and also from part of the revenue from the new business tax regime.
By the way, this initiative to impose another layer of taxes and spending in Europe isn't being advocated by irrelevant back-bench politicians. It's being pushed by Germany's Vice Chancellor and France's Economy Minister!
Thankfully, not everyone in Europe is economically insane. Syed Kamall, a member of the European Parliament form the U.K.'s Conservative Party, is unimpressed with this vision of greater centralization, harmonization, and bureaucratization.
Here's some of what he wrote in a column for the EU Observer.
The socialist dream that these two politicians propose would soon turn into a nightmare not just for the Eurozone, but for the entire EU. …Their socialist vision of harmonised taxation and more social policies sounds utopian on paper but it fails to accept a basic fact: that Europe is not the world, and Europe cannot close itself off from the world. …After several decades of centralisation in the EU, we have seen the results: …a failure to keep up with growing economic competitiveness in many parts of the world. …Specific proposals such as harmonised corporate taxes are nothing new from the socialists, but they would reduce European competitiveness. …With greater harmonisation Europe's tax rate would only be as low as the highest-taxing member. …
Syed's point about Europe not being the world is especially relevant because the damage of one-size-fits-all centralization manifests itself much faster when jobs and capital can simply migrate to other jurisdictions.
And while the Europeans are trying to undermine the competitiveness of other nations with various tax harmonization schemes, that's not going to arrest Europe's decline.
Simply stated, Europe is imposing bad policy internally at a much faster rate than it can impose bad policy externally.
P.S. Let's close with some humor sent to me by the Princess of the Levant.
It features the libertarian character from Parks and Recreation.
And I even found the YouTube clip of this scene.
Which is definitely worth watching because of how Swanson explains the tax system.
I particularly like the part about the capital gains tax. It's a good way of illustrating double taxation.