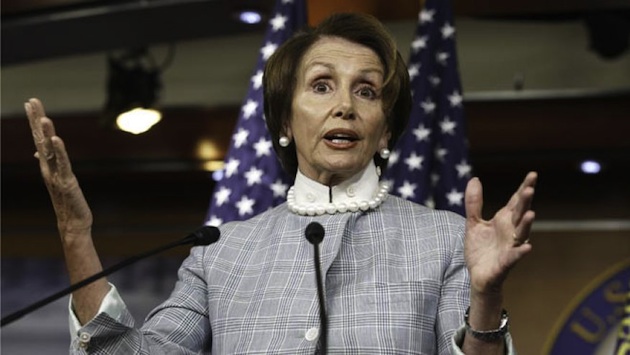 The recent defeat of Eric Cantor at the hands of Dave Brat has apparently failed to send Democratic lawmakers a message on the issue of immigration. Former speaker and now-minority leader Nancy Pelosi (D-CA) said Saturday that the refugee crisis resulting from mass illegal immigrants crossing from Mexico into the U.S. is an "opportunity" rather than a "crisis."
"This crisis that some call a crisis, we have to view as an opportunity," Pelosi said. Aside from the fact her comments lend credibility to the charges made by conservatives such as Ann Coulter, who claims the Democratic Party wants to enfranchise millions of dependent voters and expand the welfare state, the American people couldn't disagree more with the minority leader's assumption.
While the proponents of amnesty cite pollsters with flawed methodologies as evidence Americans want so-called immigration reform, which we have previously scrutinized, a new Gallup poll challenges the entire D.C. narrative. Forget illegal immigration, most Americans aren't exactly keen on legal immigration.
"In fact, more Americans think immigration should be decreased than increased, and by a nearly two-to-one margin, 41 percent vs. 22 percent," said Lydia Saad of Gallup. "Brat's case may have been a fairly easy one to make," she added, as "fewer than one in four Americans favor increased immigration."
Similarly, a new Rasmussen Reports poll found just 31 percent of Americans favor legal immigration, and that's only if the border is secured first and the government effectively stops the flow of illegal immigrants. Further, 52 percent of Americans say the U.S. is not strict enough on illegal immigrants and companies who hire them, while a small 14 percent minority disagree.
Republicans have claimed the refugee crisis is a direct result of Obama's unilateral policies and unconstitutional unwillingness to enforce immigration laws, which has clearly encouraged more illegal immigration. PPD spoke to Guatemalan officials when the story first broke in early June, who told us that the Catholic Church and state-run media outlets have advertised Obama's policies as a "free pass" for them. Officials contacted the Obama administration last year to warn them of the imminent influx of illegal immigration, but the White House didn't respond.
Those who blame the Obama administration for the refugee crisis aren't limited only to Republicans, either. The National Association of Former Border Patrol Officers called the refugee crisis an "orchestrated and contrived assault" by a government with an agenda. In fact, if we rewind the clock back to 1993, then now-Senate Majority Leader Harry Reid (D-NV) was one of the single fiercest critics of legal immigration.
The media has been banned from facilities like the one Pelosi visited Saturday, as the government has been trying for months to keep the refugee crisis a secret from the American people. The story first made headlines just before Arizona Governor Jan Brewer sent a scathing letter to President Obama demanding he stop abandoning illegal immigrants — many of which women and unaccompanied children — in Phoenix and other American cities with insufficient money, food or water.
"Media reports indicate that many of the illegal aliens that DHS is releasing into Arizona from Texas are women, children, and unaccompanied juveniles," Brewer wrote. "The reports also indicate that DHS has abandoned these individuals at the bus stations without any food, water or basic necessities."
"I remind you that the daytime temperatures in Arizona during this time of year are regularly more than 100 degrees," she added. "Consequently, this federal operation seems to place expediency over basic humanitarian concerns."
"This unwarranted operation is another disturbing example of a deliberate failure to enforce border security policies and repair a broken immigration system," she wrote.
The Gallup poll was conducted June 5-8, 2014, during the Gallup Daily tracking survey, with a random sample of 1,027 adults, aged 18 and older, living in all 50 U.S. states and the District of Columbia. The MoE is ±4 percentage points with a 95 percent level of confidence.