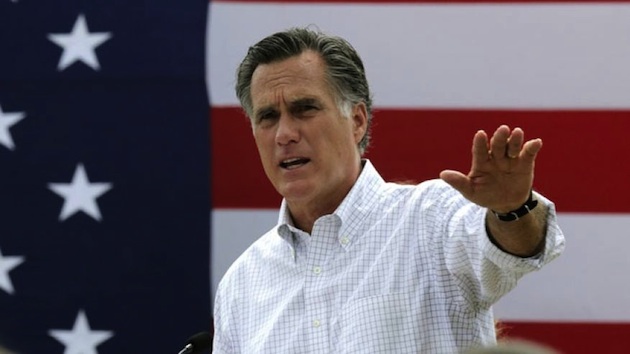 Former Massachusetts Gov. Mitt Romney made headlines last week when he told a group of supports he is weighing another bid for president. According to a new survey conducted by Gravis Marketing, the 2012 Republican nominee is crushing the crowded GOP field among Iowa caucus goers.
"Former Massachusetts governor W. Mitt Romney has never left the hearts and minds of Republican voters and he will hold the dominant position in the race for the 2016 presidential nomination until the other candidates spin up their own campaigns," said Doug Kaplan, the managing partner of Gravis Marketing, a Florida-based pollster. "Romney's name recognition and the loyalty Republicans have for their last nominee give him an opportunity that no one else has."
After months of repeatedly denying interest in a 2016 bid, both publicly and privately, Romney dropped the bomb during a meeting with 30 former large donors in Manhattan, New York. His announcement same just one week after former Florida Gov. Jeb Bush, G.W. Bush's brother, quit all his major corporate and nonprofit board memberships, including one that profited off of ObamaCare.
Bush launched a new leadership political action committee (PAC) and announced he was exploring a run last month, though a recent PPD Poll found that a Bush candidacy would depress Republican voter turnout. Bush was even in Romney territory last Friday for a fundraising luncheon in Boston.
However, the Gravis Poll conducted Jan. 5-7 among 404 registered Republican voters found Romney taking 21 percent of the vote, while Bush trails at a distant second with 14 percent support. Sen. Marco Rubio, a fellow-Floridian and once thought to be savior of the party, came in dead last with 4 percent.
Wisconsin Gov. Scott Walker came in third at 10 percent, while Wisconsin Rep. Paul Ryan, the House Budget Committee chairman and Romney's 2012 running mate, earned 5 percent of the vote in the Gravis Poll, though he officially withdrew his name Monday.
Libertarian-leaning Kentucky Sen. Rand Paul clocked-in at 8 percent, with Texas Sen. Ted Cruz nipping at his heels with 7 percent.
"There is no doubt that Paul is gearing up for a run and the question is whether he can energize the people and pocketbooks that supported his father," Kaplan added. "Paul the Elder finished third in the 2012 Iowa caucuses, but at the GOP national convention, 23 of the state's 28 delegates voted for Paul."
New Jersey Gov. Chris Christie, who is widely expected to gear up for his own bid after delivering his annual State of the State address in Trenton Tuesday, has the backing of only 5 percent. Ken Langone, co-founder of Home Depot and a major Republican donor, will be organizing the dinner for Gov. Christie later this month. The New Jersey head of state is grappling with economic issues and a lingering "BridgeGate" controversy, despite the federal report clearing him of any wrongdoing. If the numbers hold, it is safe to say the Democrats' hit job on the man who was crushing likely Democratic candidate Hillary Clinton was a success.
Former Arkansas Gov. Mike Huckabee, who won the 2008 Iowa caucuses with 34 percent of the vote, also announced last weekend he was leaving "The Huckabee Show" on Fox News to determine whether he would make a presidential run. He took 9 percent of the vote in the Gravis Poll, though he was leading in earlier polls prior to losing the headlines' attention.
"Much can change in the one year between now and the Jan. 16, 2016 Iowa Caucuses," Kaplan said, adding that Romney has a large base and frontrunner status to begin with if he chooses to run again.
A number of polls show if a rematch of the 2012 presidential election were held today, Romney would defeat President Obama, handily. PPD compiled the data and found the victory would be an electoral vote landslide. Similarly, a recent Quinnipiac University Poll found Romney leading Hillary Clinton within the margin of error, but the only candidate to do so.
With so much voter remorse, there is enough to tempt Romney to tap into that frontrunner status.
"The question is whether he will use or let the chance pass to others."