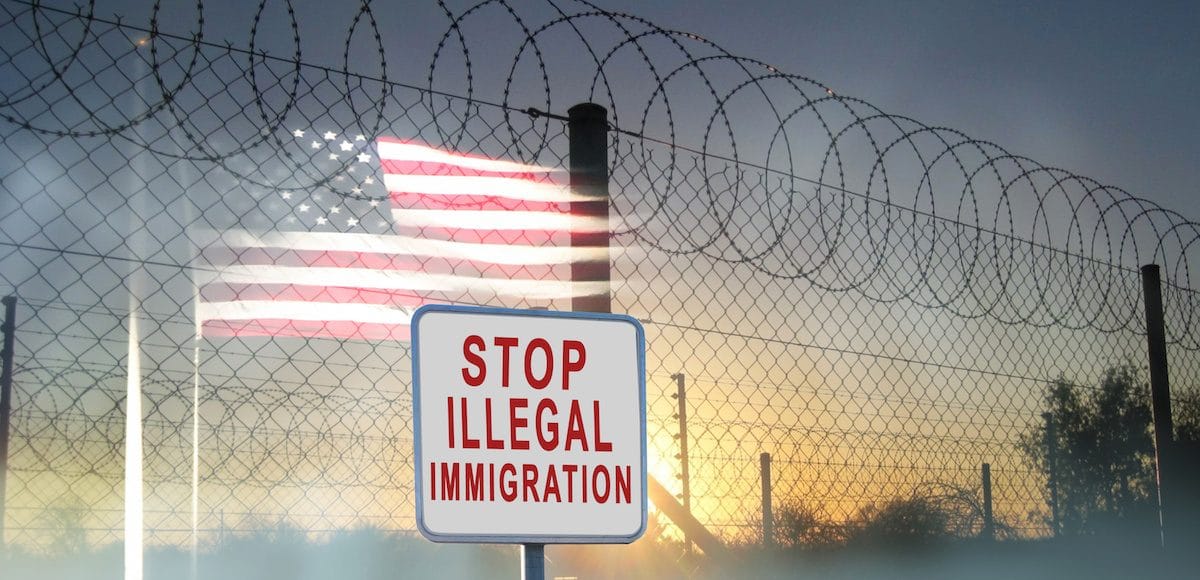 What if a single video outlined everything you ever needed to know about illegal immigration? It's called America's Great Wall, produced by Burt Keefer.
Mr. Keefer says the purpose of the video is to make the American people aware of the real numbers associated with illegal immigration, as well as the hypocrisy and dishonesty surrounding the current national debate.
The nearly 40-minute video begins by telling the tale of the tape, reminding viewers just how similar to him critics of President Donald Trump sounded. That is, before cheap labor and voting coalitions became the predominant factors behind media coverage of and debate surrounding the issue of illegal immigration, itself.
During a press conference in 2005, then-Illinois Senator Barack Obama told reporters — without meeting "resistance" — exactly what the President Trump told the American people during his first State of the Union address.
We all agree on the need to better secure the border and to punish employers who choose to hire illegal immigrants. You know, we are a generous and welcoming people here in the United States.

But those who enter the country illegally and those who employ them disrespect the rule of law.

Barack Obama (2005)
In a 2017 op-ed in Fortune, Senator Dianne Feinstein,  D-Calif., referred to President Trump's very popular immigration compromise "nativist." Yet, in 1994, just two years after winning a special election to the U.S. Senate, she was singing a very different tune.
We can enforce our borders. I think we should enforce our borders. To have a situation where 40% of the babies born on Medicaid in California today are born of illegal immigrants, creates a very real problem for the state, which is in deficit.

To have 17% of our prison population at a cost of $300 million a year, the illegal immigrants who come here and commit felonies, that's not what this nation is all about.

Dianne Feinstein (1994)
Senator Feinstein's remarks came just a few years after her loss in a gubernatorial election to Republican Senator Pete Wilson, who vacated his seat to run for the governorship. Hellbent on avoiding another defeat, she ran ads in 1994 depicting illegal immigrants pouring over an open U.S. southern border, promising more "agents" and "fencing."
Now, due in most part to decades of illegal immigration, the chances of Republicans winning a statewide race, are nil.
In 2006, Hillary Clinton argued passionately in favor of policies now labeled by her own party and the media as racist.
Mexico is such an important problem. Mexican government policies are pushing migration North. There isn't any sensible approach except doing what we need to do simultaneously. You know: secure our borders and technology and personnel, physical barriers if needed.

Hillary Clinton (2006)
Sounds just like a certain campaign announcement made by a certain businessman after he came down a certain escalator, doesn't it?
Yet, a few years later, Mrs. Clinton would tell financial magnates at Banco Itaú that her "dream is a hemispheric common market, with open trade and open borders."
Nevertheless, the video also dives into the question of why politicians may want illegal immigration, as well as open borders. It targets the North American Free Trade Agreement (NAFTA).
"Proponents of the agreements argued that free trade was going to provide an economic benefit to all," the video narrator states. "But unfortunately, it was never about free trade, but rather the creation of a North American union."
From the time NAFTA was enacted in 1994 to 2010, the Economic Policy Institute found that 24,400 jobs had been lost or displaced in Indiana–not to mention about 700,000 in the U.S.–due only to the rise in the U.S.-Mexican trade deficit alone.
Since 1986, there have been 7 legislative and executive actions on illegal immigration, or amnesties. Each of them, beginning with the Immigration and Reform Control Act of 1986, promised to be a solution.
"We've already granted 7 amnesties," the video states before beginning to introduce what is a 12-point plan to finally address illegal immigration. That includes (9) "abolishing all sanctuary cities and prosecuting anyone who disobeys."
The U.S. Justice Department (DOJ) is currently considering legal action against Oakland Mayor Libby Schaaf for warning illegal immigrants about a pending raid by Immigration and Customs Enforcement (ICE).
Most Americans want the DOJ to punish sanctuary cities and another recent survey found voters want Mayor Schaaf charged with obstruction of justice.