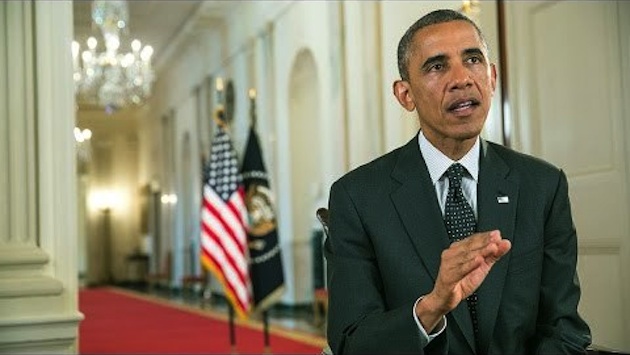 In Obama's weekly address, the president detailed why he authorized two operations in Iraq and attempted to prepare Americans for a long-term operation.  The president ordered targeted military strikes aimed at protecting Americans serving in Iraq, as well as humanitarian airdrops of food and water to help nearly 40,000 Iraqi civilians trapped on on Sinjar Mountain by ISIS terrorists.
Also, President Obama stressed that the United States will not be dragged into another war in Iraq and that American combat troops will not return, because he feels there is no American military solution to the larger crisis in Iraq.
Pentagon spokesman Rear Adm. John Kirby, said the U.S. launched the latest airstrikes to help defend the city of Irbil, where U.S. personnel are "assisting the government of Iraq," and that U.S. military officials characterize the airstrikes as successful. However, PPD previously reported that — despite two U.S. airstrikes Friday aimed at mortar positions and a seven-vehicle convoy — the ISIS army in Iraq continues to advance on the Kurdish capital of Irbil.
The Islamic militant group's goal is to establish control over the route that connects already-seized towns along the Kurdish-control territory, the most recent of which being Sheikhan.
Hundreds of women from the Yazidi religious minority have been kidnapped by the Sunni militants, who plan to sell them into the sex trade and forced marriage and conversion to Islam. Kamil Amin, the spokesman for Iraq's Human Rights Ministry, said hundreds of Yazidi women below the age of 35 are being held in schools in Iraq's second largest city, Mosul. He said the ministry learned of the captives from their families.
"We think that the terrorists by now consider them slaves and they have vicious plans for them," Amin told The Associated Press. "We think that these women are going to be used in demeaning ways by those terrorists to satisfy their animalistic urges in a way that contradicts all the human and Islamic values."
All airstrikes have been launched from the USS George HW Bush in the Persian Gulf, except a drone that took off from an undisclosed land base.