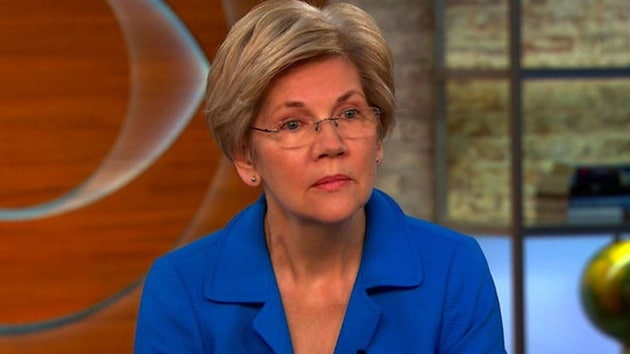 Former Secretary of State Hillary Clinton is expected to announced her bid for the presidency as early as Sunday, but a favorite left-wing darling isn't too excited.
While appearing for an interview on CBS with Norah O'Donnell, Sen. Elizabeth Warren, D-Mass., refused to say Mrs. Clinton represented the future of the Democratic Party and reserved the right to withhold judgement until she hears "what she says she wants to run on."
When asked by O'Donnell whether "she's the future of the Democratic Party," Sen. Warren was less-than thrilled at the prospect.
"Well, I think we have to see, first of all, if she declares, and what she says she wants to run on," Warren said. "I think that's really the interesting question at this point."
A growing number of Democrats are voicing opposition to what amounts to a coronation in the Democratic presidential primary, with many from the beginning launching efforts to draft the freshman senator from deep blue Massachusetts. Sen. Warren has said she would not run, but wouldn't be the first politician to change their mind when the water was warm.
Polling released Thursday from Quinnipiac University found Hillary's numbers falling significantly as voters digest the email controversy that has embattled the Clinton camp. Voters in the three battleground states of Iowa, Colorado, and Virginia say Mrs. Clinton is not honest and trustworthy. Sen. Rand Paul, R-Kty., led Clinton in Iowa and Colorado, but trailed her by 4 in Virginia.
However, all of the likely and declared GOP hopefuls have surged against the Democratic frontrunner, which could prompt Democrats previously inclined not to run to rethink their decision. For Sen. Warren, who both O'Donnell and Charlie Rose pressed on the issue of whether Clinton represented the party and its future, it must be weighing on the mind.
"I don't think the Democratic Party is a static thing," warren added. "The Democratic Party grows. The Democratic Party is full of energy right now. The Democratic Party is very much about drawing contrasts, frankly, with the Republican Party."