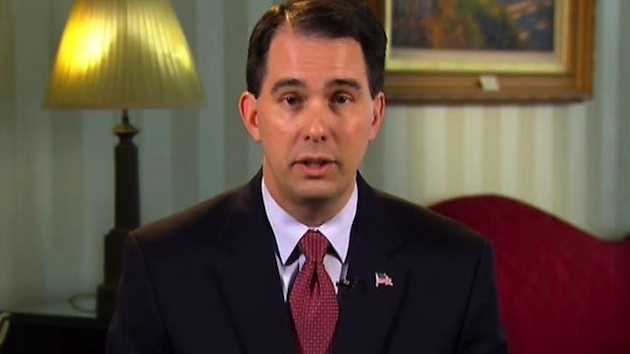 Wisconsin Gov. Scott Walker responded to President Obama's criticism of his stance on the Iran nuclear talks during an interview with Sean Hannity Wednesday on FOX News. The governor said Obama had "audacity" alright, but it wasn't of hope.
Previously, Walker said he would void any deal Obama makes with Iran if it allows the country to continue uranium enrichment. On Tuesday, Obama responded and said Walker was taking a "foolish approach" and that "perhaps Mr. Walker, after he's taken some time to bone up on foreign policy, will feel the same way."
Walker, who is widely expected to join Sens. Rand Paul and Ted Cruz by running for the nomination and presidency in 2016, ripped into President Obama.
"It's unbelievable," Walker said. "This is a president who should spend more time trying to work with governors and Congress instead of attacking them. But it's not the first time. He went after me not too long ago for signing right to work in Wisconsin as well."
The comment mirrored a statement the governor's office released Wednesday morning, which focused largely on the president's ineffectiveness and past unsuccessful efforts to oust him during reelection bids. But it was Walker's rattling off of a litany of foreign policy failures that no doubt stung the White House.
"The thing about that statement, this is a guy in the last year who called ISIS the JV squad, who called Yemen just last Fall a success story, had a secretary of state under Hillary Clinton that gave Russia a reset button and then they ultimately went into the Ukraine," Walker said. "This is a guy who I think shouldn't have the audacity to be schooling anyone on foreign policy."
President Obama called the Islamic State (ISIS) a "JV" team shortly before the terror army took control of large swathes of territory in Syria and Iraq. When the president was finally forced to take to the podium in a primetime presidential address, in which he outlined his plan to "degrade and ultimately destroy ISIL," he cited Yemen and Somalia as the administration's model for fighting ISIS and Islamic terrorism.
However, the citations troubled foreign policy and security experts, as well as lawmakers and members of the intelligence community.
Somalia has been a hotbed of activity for the al-Qaeda affiliate al-Shabaab, while AQAP, or al Qaeda in the Arabian Peninsula, has thrived in Yemen under Obama's tenure. AQAP is the terror group responsible for the attack on Charlie Hebdo in early Jan. and, according to Secretary of Defense Ashton Carter, is believed to have both the greatest capability and "ambition to strike Western targets including the United States."
Further, as PPD recently reported, the United States is currently expediting shipments of arms to the Saudi-led coalition intervening in Yemen to halt the strategic gains of the Iran-backed Shiite Houthi rebels. The Houthis, whose official slogan is "Death to Israel, Death to America," seized control of the capital and forced the resignation of U.S. and Saudi-backed former President Abed Rabbo Mansour Hadi in January.
Despite the fact that Obama's State Department believed they had negotiated an arrangement with the Houthis through Iran that would've allowed the U.S. Embassy in Sanaa to remain open, largely to conduct counter-terrorism operations against AQAP, they were ultimately forced to hastily evacuate embassy personnel from the country.
State Department officials were so caught completely off guard by the rapidly deteriorating situation and Shiite hostility toward U.S. personnel, they even left open a secure communication link with Washington, known as OpenNet.
A Feb. 8 email revealed that when it became clear that evacuation was necessary — which, according to sources, is when officials came to grips with the reality that Tehran either couldn't or didn't deliver — officials began to panic.