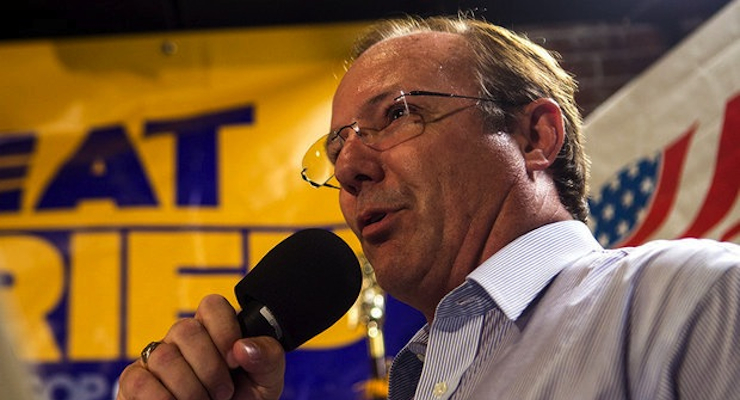 Madisonville, LA: Retired Air Force Colonel Rob Maness announced on Wednesday that he is exploring a race for the open Louisiana Senate seat in 2016. Maness, who was the conservative favorite in the three-way "jungle primary" in 2014, would run to fill the seat vacated by Sen. David Vitter, R-La., who lost the gubernatorial election last month to Democrat John Bel Edwards.
"It is clear to me that Louisiana needs a constitutional conservative and fighter in the United States Senate. I have directed my team to establish an exploratory committee for the 2016 election cycle," Maness said in an email to People's Pundit Daily. "Over the coming weeks, I look forward to visiting with citizens across our state and having a conversation about our Congress, our country, and our future."
Maness garnered a significant 14% of the vote in 2014, enough to force a runoff before throwing his support behind now-Sen. Bill Cassidy, a former physician and Establishment pick. With Maness on board, Cassidy easily defeated incumbent Democrat Sen. Mary Landrieu in the deeply red Pelican State.
However, circumstances and the political environment may prove Maness to be a far better fit this election cycle, particularly if voters' concerns continue to be dominated by terrorism. With the rise of the threat from Islamic terrorism at home and abroad, Maness brings experience to the table that is lacking in other potential GOP candidates.
"My broad national security and leadership experience is a skill set sorely needed by our state to protect our citizens and my commitment to principle is what's needed to fight the Washington Cartel," said Maness, who had a 32-year career as an officer in the United States Air Force.
He was on duty in the Pentagon during the September 11 terror attacks and has been widely praised for his casualty care and damage control efforts, as well as for being a commander of a combat B-1 bomber squadron. The retired colonel also commanded the sixth-largest Air Force Base in the world, conducted air intelligence operations and was awarded the Legion of Merit, the Bronze Star Medal, and the Air Medal (among many others).
Louisiana Gov. Bobby Jindal, who recently ended his campaign for the Republican nomination, has been mentioned as another potential GOP candidate. However, his failed bid and low poll numbers aren't at all indicative that he could mount an overwhelming challenge to the "runner up" from the previous cycle. In 2014, conservative leaders and groups such as Governor Sarah Palin, the Senate Conservatives Fund, the Family Research Council and Eagle Forum, all endorsed his candidacy.
Maness could also enjoy another built-in electoral advantage in this otherwise extraordinary cycle. He is the founder of GATORPAC, a super-PAC established to support liberty-minded citizens in "outsider" campaigns against seasoned politicians. If the cycle continues to favor outsiders–and, there's certainly no evidence as of now to suggest it won't–Maness could start as the early favorite.
PRESS RELEASE CAMPAIGN BIOGRAPHY
Colonel Maness holds Masters Degrees from the Harvard Kennedy School, the United States Navy War College, and the United States Air Force Air Command and Staff College. He graduated Cum Laude from the University of Tampa with a Bachelor of Science Degree in Management Information Systems.
Maness and his wife Candy reside in Madisonville, Louisiana and have five children (including three sons serving in the armed forces) and four grandchildren.