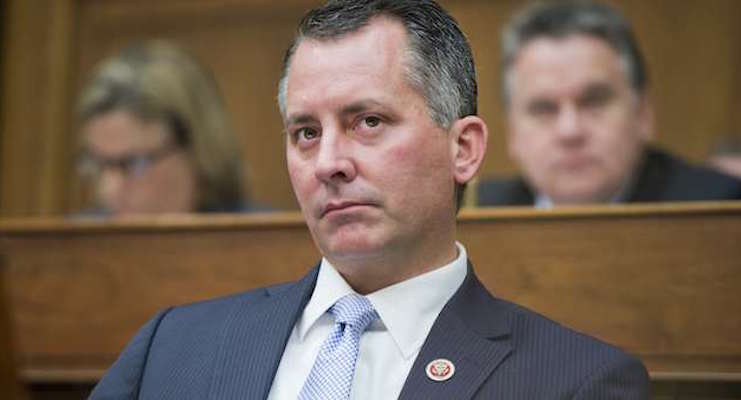 Gainesville, FL – Rep. David Jolly, R-Fla.(13), is betting big ideas will triumph over big money and organization in the 2016 Florida Republican primary for U.S. Senate.
This week, Rep. Jolly introduced legislation that would ban members of Congress from personally asking for money in what he says is an effort to get lawmakers to spend less time fundraising and more time doing the job that they were elected to do. The bill, dubbed the "Stop Act," would prohibit federal elected officials from directly soliciting political contributions, though they would still be allowed to attend fundraisers and personally speak to donors. Citizens would also be allowed to contribute to campaigns of their choosing.
However, under the proposed law, federal officeholders would be specifically prohibited from personally requesting money from people for their campaigns.
"We can't have a part-time Congress in a full-time world," Jolly said in a statement. "Americans wonder why we haven't defeated ISIS, secured our border, provided health care for veterans, or reduced the national debt. Here's why. Too many in Congress are more focused on raising money than solving the problems people elected them to fix."
The Florida lawmaker put forward the bill at a time when members of Congress are more concerned about filling up their war chests than they are passing legislation. Yet within 24 hours, Rep. John Mica, R-Fla.(07), and Rep. Walter Jones, R-N.C.(03), signed on as original co-sponsors.
"I am honored to join David Jolly as a cosponsor of the Stop Act," Rep. Jones, a tea party favorite said in a statement. "During my years in Congress, and especially during the post-Citizens United era, I have seen too many times where policy is driven by the needs of special interests, not the people. This bill would be a good first step in reducing the influence of special interests on Capitol Hill."
Rep. Ron DeSantis, R-Fla.(06), is Jolly's chief rival in the upcoming Republican primary. His campaign announced this week that they raised $772,000 in the fourth quarter of 2015, bringing its total contributions for 2015 to almost $3 million.
"This latest financial report proves that Congressman DeSantis has cemented himself as the frontrunner for the Republican nomination in Florida. The campaign not only enjoys the support of a majority of Florida's major political donors but it also now includes some of the biggest Republican donors from around the country," campaign manager Brad Herold said in a statement to PPD.
"People across the country know that Florida is ground zero in the battle for control of the U.S. Senate and it is clear that Congressman DeSantis is the only GOP candidate who can raise the resources and amass the grassroots support necessary to run a strong statewide campaign," he added.
DeSantis, who was the previous frontrunner prior to Jolly's momentum, enjoys the unified support of conservative groups such as The Club for Growth and Senate Conservatives Fund. Super PACs run by each group got behind the successful campaigns of now-Senators Joni Ernst, R-Iowa, and Tom Cotton, R-Ark., the latter of which seems to be the model for the DeSantis campaign. Both Republicans are Ivy League-educated veterans and, as was the case with Cotton's campaign, DeSantis has made national security a top issue at a time when voters are increasingly concerned with the threat of terrorism.
While Jolly hasn't ignored national security issues, he has focused more on domestic issues in what has been a slew of recent proposals. On the eve of National Law Enforcement Appreciation Day, Rep. Jolly also announced that 30 lawmakers signed on as cosponsors of his Thin Blue Line Act (H.R. 814), which would make the murder of a police officer, firefighter, or first responder an aggravating factor in death penalty cases. It would also make relevant the question of whether the victim–be them a federal, state, or local responder–was "murdered on duty, because of the performance of their duty, or because of their status as a public official."
"This legislation simply says if you take the life of a law enforcement officer, be prepared to lose your own life," Jolly said. "This legislation would not only assist to bring those who seek out victims based on their status to justice, but also provide support for those who put their lives on the line for their communities and its citizens."
It's companion bill in the Senate (S. 2034) is cosponsored by 21 senators and polling research conducted by PPD finds widespread support for the proposal both nationwide and in the Sunshine State.
Last year, Jolly, who described himself as a "governing conservative" in a conversation with PPD, introduced a bill (H.R. 457) to mandate lawmakers work in a 40-hour work week during the legislative session. Jolly said the current legislative calendar is "clearly not producing results and the American people rightfully expect their elected officials to work around the clock to tackle the nation's problems."
"It's time members of Congress stop asking people for money and start doing their jobs," he added. "Let's close the integrity gap and the performance gap of our elected officials by eliminating their fundraising solicitations and put them back to work."
Though the fundraising numbers give Mr. Herold reason to be optimistic, the Florida Republican primary is currently rated a Toss-Up on PPD's Senate Election Projection Model, the only election forecast to correctly project Jolly would defeat Democrat Alex Sink in the March 2014 special election. Public polling has been scant, but PPD is shading the Sunshine State slightly red regarding the general election, with Jolly polling stronger than DeSantis against likely Democratic challengers, specifically Reps. Patrick Murphy and Alan Grayson.