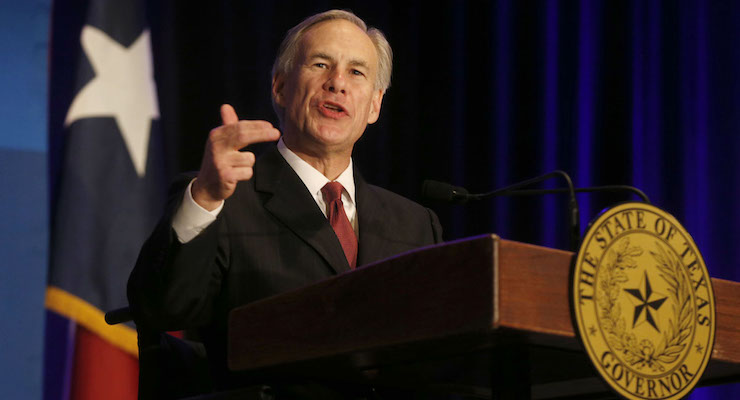 Texas Gov. Greg Abbott announced Wednesday he intends to withdraw the nation's largest conservative state from the federal refugee resettlement program. The governor, who handily won his election in 2014 over Democrat Wendy David, sent a letter to the Office of Refugee Resettlement (ORR) giving the agency notice of his intention if the ORR does not unconditionally approve Texas' state plan by September 30th.
"The federal government's refugee settlement program is riddled with serious problems that pose a threat to our nation," Gov. Abbott said in a statement. The Director of the Federal Bureau of Investigation and the Director of National Intelligence have repeatedly declared their inability to fully screen refugees from terrorist-based nations. Even with the inability to properly vet refugees from Syria and countries known to be supporters or propagators of terrorism, President Obama is now ineptly proposing a dramatic increase in the number of refugees to be resettled in the U.S."
The announcement comes as President Barack Obama plans to increase the number of refugees accepted into the United States next year to at least 110,000, an increase of some 30% from the number resettled in 2016. Mr. Obama's plan for the 2017 fiscal year, beginning Oct. 1, would accept 110,000 refugees fleeing persecution and conflict throughout the world — a nearly 60 percent increase over the 2015 fiscal year.
"Despite multiple requests by the State of Texas, the federal government lacks the capability or the will to distinguish the dangerous from the harmless, and Texas will not be an accomplice to such dereliction of duty to the American people," Gov. Abbott said. "Therefore, Texas will withdraw from the refugee resettlement program. I strongly urge the federal government to completely overhaul a broken and flawed refugee program that increasingly risks American lives."
Yet, ignoring national security concerns and U.S. public opinion, President Obama still made the case for increasing the flow of predominantly Muslim refugees during his final speech to the United Nations General Assembly. A recent study found the percentage who were Christian Mr. Obama resettled from the region, undoubtedly the most persecuted and displaced subgroup in the refugee population, was less than 1%.
Gov. Abbott's letter comes after ORR declined to approve Texas' updated state refugee plan, which would require national security officials to ensure that refugees do not pose a security threat to Texas. Americans by a wide margin support the governor's decision on a nationwide level.
According to a recent survey, roughly half of American voters don't want to take in any refugees, at all, let alone 100,000. A Rasmussen Reports survey survey found 49% of likely voters say no to any and all alleged Syrian refugees, while 20% said they would only support taking in 10,000 total. Still, 50% said they were opposed to the idea of allowing 10,000 to come to the U.S. in a poll conducted immediately after the president's first announcement, and just 36% supported it.
But Mr. Obama was unable to make the case for increased security measures, instead opting to argue the U.S. has a moral duty to put themselves as risk on humanitarian grounds. It's an argument Gov. Abbott isn't buying.
"Empathy must be balanced with security. Texas has done more than its fair share in aiding refugees, accepting more refugees than any other state between October 2015 and March 2016," he added. "While many refugees pose no danger, some pose grave danger, like the Iraqi refugee with ties to ISIS who was arrested earlier this year after he plotted to set off bombs at two malls in Houston."
The voters' and governor's concerns aren't exactly unwarranted.
At least one terrorist in the Paris terror attacks in November, 2015 entered the European Union through a popular entry point for so-called Syrian refugees, while a teenage Afghan refugee injured multiple people when he went on a slashing spree using an axe and a knife on a train in Germany last July. National security officials have long admitted that the U.S. has no real way to vet the refugee population, which ISIS and other terrorist groups have openly admitted they have infiltrated.
"Despite opposition by the American people, a documented link between terrorism and individuals admitted to the United States as refugees, and over $19 trillion in debt, the Obama Administration has committed the United States to admitting 110,000 refugees during Fiscal Year 2017 — a roughly 57 percent increase in the number of refugees the United States admitted as recently as FY 2015, and a roughly 29 percent increase from the Administration's target for FY 2016," Alabama Sen. Jeff Sessions, who chairs the Immigration and the National Interest subcommittee, said in a statement.