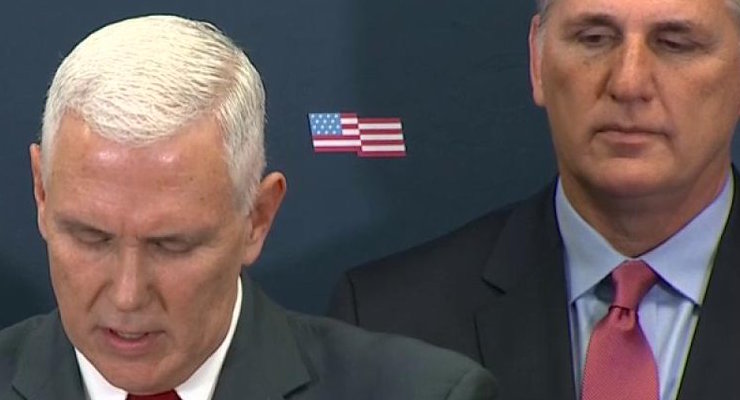 Vice President-elect Mike Pence said Wednesday at a press conference on Capitol Hill that repealing and replacing ObamaCare will be "first order of business" for House Republicans. President-elect Donald J. Trump plans to sign several executive orders undoing previous orders by President Barack Obama related to ObamaCare on day one. GOP leaders are aiming to have it repealed by Feb. 20th.
"We are 16 days away from business as usual in Washington," Vice President-elect Pence said. "We are going to be in the promise keeping business."
The vice president-elect recalled being in Congress when the health care law was passed in 2010 and cited all the broken promises that the president and Democrats had made to the American people.
"Make no mistake about it," Mr. Pence said. "We're going to keep our promise to the American people — we're going to repeal Obamacare and replace it with solutions that lower the cost of health insurance without growing the size of government."
Vice President-elect Mike Pence says Republicans are working on a "market-based" approach to replacing Obamacare https://t.co/gMwmftLf8q pic.twitter.com/ugpDzBAl2j

— Bloomberg Politics (@bpolitics) January 4, 2017
House Speaker Paul Ryan, R-Wis., who attended the press conference along with House Majority Leader Kevin McCarthy, R-Calif., and House Whip Steve Scalise, R-La., said the plan is to phase out ObamaCare and phase in a replacement to ensure millions aren't left without coverage.
"So many people have been hurt already," Speaker Ryan said. "ObamaCare has been a story of broken promise after broken promise after broken promise."
The press conference only moments before President Obama also arrived on Capitol Hill to meet with Democrats to discuss how to save his signature health care law. Sources tell PPD Mr. Obama told Democrats in Congress "don't rescue them [Republicans]" by replacing ObamaCare with "something worse." He told them they should mirror the Tea Party movement on grassroots efforts.
"In two weeks I will no longer be a politician, but I'll still be a citizen. I envy you so much right now, because I would love to be on the field," Mr. Obama said, according to a source in the room.
"Obamacare has failed and it has been rejected by the American people," says VP-elect Pence on Capitol Hill https://t.co/zMfW0ZIgXm pic.twitter.com/ILbJ9CJ7Qw

— CBS News (@CBSNews) January 4, 2017
"The reality is that I was here in March of 2010 in another capacity when Obamacare was signed into law," Vice President-elect Pence told a somewhat hostile group of reporters. "I remember all those promises. We were told that if you like your doctor, you can keep it. Not true."
Even though President Obama tried to ensure members of his party that they would not lose politically on the issue, the party began to show signs of fracture before the meeting even began. Sen. Joe Manchin, D-W.Va., flat-out questioned the seriousness and wisdom of the meetings held by both the GOP and the president.
Speaker Ryan says "we have plenty of ideas" about how to repeal and replace Obamacare. https://t.co/j3fC8RIPA1 pic.twitter.com/9djpxwn2m4

— ABC News (@ABC) January 4, 2017
"Any type of a meeting that we have that's not bipartisan is not in the proper scheme of things of starting out the new year," Sen. Manchin, who skipped the meeting. "It's just not a good situation for us to be in. So if Mr. Pence is coming up here only to speak to Republicans and President Obama's coming here only to speak to Democrats, I would be concerned about that. Because I don't know how you change anything — how do you change anything unless we all come together?"
While CNN reported a lawmaker in the room said the mood among Democrats was "fired up," he offered no plan for his party to save a deeply unpopular law.