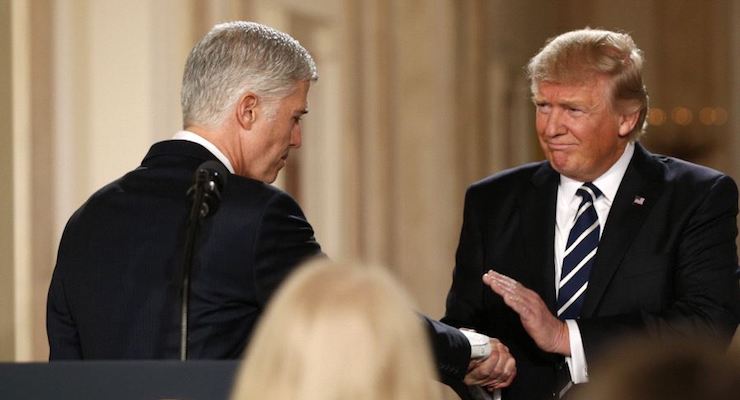 Senate Democrats in states President Donald J. Trump won big have begun to bail on their party's leadership and will now vote to confirm Judge Neil Gorsuch to the U.S. Supreme Court. Minority Leader Chuck Schumer, D-N.Y., announced he would not support Judge Gorsuch and encouraged his fellow Democrats to filibuster his confirmation, radically changing the decorum in what is supposed to be "the world's most deliverative body."
Sen. Joe Manchin, D-W.Va., was first to announce he would break with party and vote to confirm Judge Gorsuch. The senator from West Virginia made the announcement on Twitter.
I will vote to confirm Judge Neil Gorsuch to be the ninth justice on the Supreme Court. pic.twitter.com/MpVbaqf0LB

— Senator Joe Manchin (@Sen_JoeManchin) March 30, 2017
"After considering his record, watching his testimony in front of the Judiciary Committee and meeting with him twice, I will vote to confirm him to be the ninth justice on the Supreme Court," Sen. Manchin said in a statement.
Shortly after Sen. Manchin's announcement, Sen. Heidi Heitkamp, D-N.D., also took to Twitter to break with Sen. Schumer.
"After doing my due diligence by meeting with Judge Gorsuch and reviewing his record and testimony before the Senate Judiciary Committee, I've decided to vote in favor of his confirmation," Sen. Heitkamp said in a statement. "He has a record as a balanced, meticulous and well-respected jurist who understands the rule of law."
I will vote for Judge Neil Gorsuch to serve on the U.S. Supreme Court. Here's my full statement: pic.twitter.com/pDdhde7mGF

— Sen. Heidi Heitkamp (@SenatorHeitkamp) March 30, 2017
The senator from North Dakota also noted his "experience and record on tribal sovereignty," adding that "regardless of which party is in the White House, the U.S. Supreme Court should be above politics."
Judge Gorsuch, 49, who serves on the U.S. Court of Appeals for the 10th Circuit in Colorado, was appointed in 2006 by President George W. Bush. He was previously a deputy assistant attorney general at the Justice Department and is the youngest Supreme Court nominee in 25 years.
The American Bar Association, which is a known leftwing association, has given him the highest rating available and, as he touted in his confirmation hearing, his opinion has been in "the majority 99% of the time."
In July 2006, Judge Gorsuch was confirmed by the Senate unanimously by a voice vote, including the vote of Minority Schumer
Yet, Sen. Schumer is feeling enormous pressure from the hard left wing currently ruling the party. While he is pressuring red state Senate Democrats to obstruct the nomination, the electoral pressure for some may be too great.
Polls show most voters view Judge Gorsuch as mainstream and, further, more voters support his confirmation than they did for President Barack Obama's nominees. Him being viewed as mainstream is fueled in large part by 68% of likely voters believing the Court should rule based on what's written in the U.S. Constitution and legal precedents.