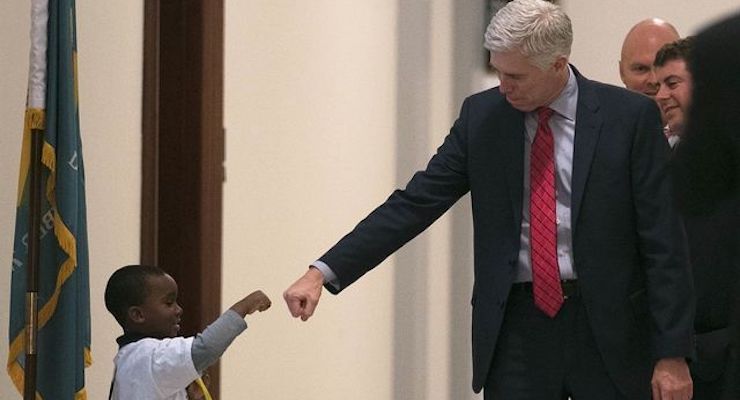 Sen. Joe Manchin, D-W.Va., announced he plans to vote to confirm Judge Neil Gorsuch to the U.S. Supreme Court, making him the first Democrat to break with party. The senator from West Virginia, who is considered the last truly moderate Democrat in the upper chamber, made the announcement on Twitter.
(UPDATE: Sen. Heidi Heitkamp, D-N.D., also announced she would vote to confirm President Donald J. Trump's nominee to the U.S. Supreme Court.)
"After considering his record, watching his testimony in front of the Judiciary Committee and meeting with him twice, I will vote to confirm him to be the ninth justice on the Supreme Court," Sen. Manchin said in a statement.
I will vote to confirm Judge Neil Gorsuch to be the ninth justice on the Supreme Court. pic.twitter.com/MpVbaqf0LB

— Senator Joe Manchin (@Sen_JoeManchin) March 30, 2017
Judge Gorsuch, 49, who serves on the U.S. Court of Appeals for the 10th Circuit in Colorado, was appointed in 2006 by President George W. Bush. He was previously a deputy assistant attorney general at the Justice Department and is the youngest Supreme Court nominee in 25 years.
The American Bar Association, which is a known leftwing association, has given him the highest rating available and, as he touted in his confirmation hearing, his opinion has been in "the majority 99% of the time."
In July 2006, Judge Gorsuch was confirmed by the Senate unanimously by a voice vote, including the vote of Senate Minority Leader Chuck Schumer, D-N.Y.
Yet, Sen. Schumer, feeling enormous pressure from the hard left activists ruling the party, said he will vote "no" on the confirmation and urged Senate Democrats to obstruct the nomination. But Sen. Manchin will not be towing the party line.
"During his time on the bench Judge Gorsuch received praise from his colleagues who have been appointed by both Democrats and Republicans. He has been consistently rated as a well-qualified jurist, the highest rating a jurist can receive, and I have found him to be an honest and thoughtful man," Sen. Manchin added. "I have no illusions that I will agree with every decision Judge Gorsuch may issue in the future, but I have not found any reasons why this jurist should not be a Supreme Court justice."
Polls show most voters view Judge Gorsuch as mainstream and, further, more voters support his confirmation than they did for President Barack Obama's nominees. Him being viewed as mainstream is fueled in large part by 68% of likely voters believing the Court should rule based on what's written in the U.S. Constitution and legal precedents.
I will vote for Judge Neil Gorsuch to serve on the U.S. Supreme Court. Here's my full statement: pic.twitter.com/pDdhde7mGF

— Sen. Heidi Heitkamp (@SenatorHeitkamp) March 30, 2017