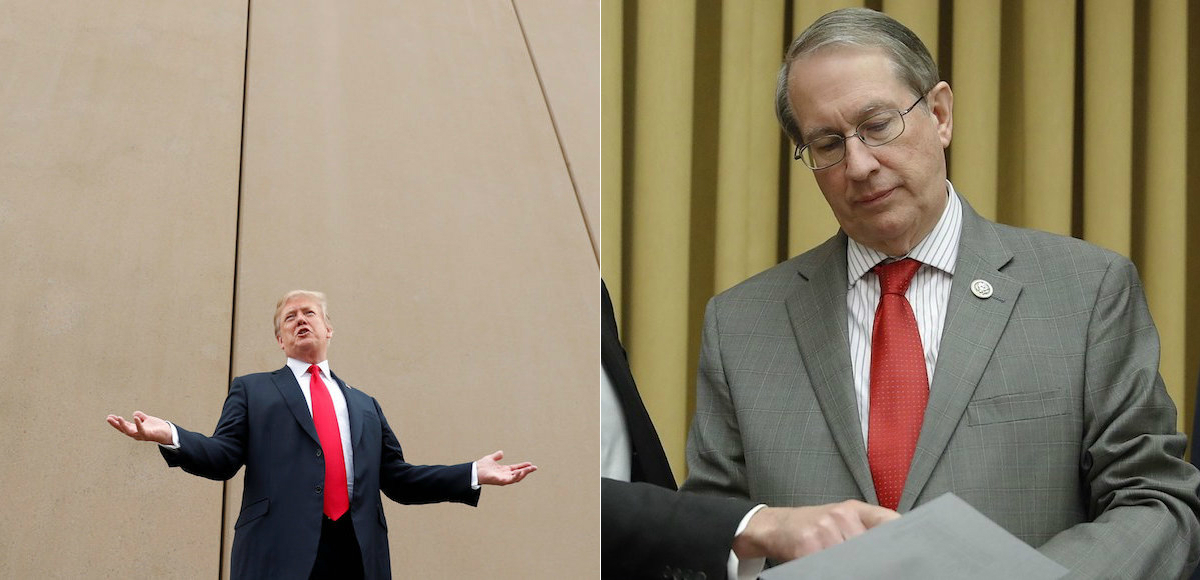 Republicans in the House of Representatives have crafted a new immigration bill that may see a vote as early next week. It is comprehensive and addresses border security, DACA, chain migration, the so-called visa lottery and other issues.
House Majority Whip Steve Scalise, R-La., will begin whipping votes Friday to prepare for a floor vote, his office confirmed. President Donald Trump has repeatedly stated that several key provisions must be included in any immigration reform bill that is sent to his desk. Based on a summary of the bill, he will no doubt be pleased with several, though it's possible the bill does not go far enough.
UPDATE: President Trump said Friday morning the bill did not meet his standards on several issues, including chain migration, which is not fully eliminated in the bill. However, that's not the end of it. House Republicans already trying to tweak the bill and it will not be satisfactory to the president or his supporters. Essentially, it's the same bill, with halfhearted attempts to please on chain migration. But it still won't end the deeply unpopular practice.
What's in the Bill
Deferred Action for Childhood Arrivals (DACA)
The bill offers a special legal status for the roughly 690,000 immigrants who currently meet all of DACA's eligibility requirements. It is likely that upwards of 3 million would receive the status.
However, in order to qualify, recipients must have been:
in the U.S. for at least 10 years;
were under 16 years of age at the time of their arrival; and
currently enrolled in school or already have a high school diploma.
Special legal status is renewable every 6 years and is not a path to citizenship.
Child Separation
The Republican bill in the U.S. House outlaws the practice of separating children from their parents after they are caught illegally crossing the border. It's a long-held U.S. immigration policy that only recently came under scrutiny by a corporate media bent on hurting the Trump Administration politically.
"If you are smuggling a child, then we will prosecute you and that child will be separated from you as required by law," Attorney General Jeff Sessions said recently about the policy. "If you don't like that, then don't smuggle children over our border."
Nevertheless, the bill would instead put those children in detention centers and places restrictions on the issuance of Special Immigrant Juvenile visas to children who can not be reunited with either of their parents because of abuse. Prior to the bill, or currently, an illegal migrant child with even one abusive parents was eligible.
The Wall – Border Security
The bill funds The Wall along the southern border for President Donald Trump to the tune of $25 billion. There are also numerous border security measures not included in funding for the wall.
Asylum-Seeking
Attorney General Sessions has recently attempted to highlight fraud in the asylum-seeking process, which is rampant. The new immigration bill would make it harder for asylum claims to be approved only because it requires the validation that claims are true.
"Smugglers and traffickers and those who lie or commit fraud will be prosecuted to the fullest extent of the law," he also said recently.
National Guard
In April, President Trump signed "Securing the Southern Border of the United States," a proclamation to send the National Guard to the southern border. The president said that he wanted to send the military to the border to secure it until a wall and other security measures were put in place.
The GOP immigration bill in the House provides congressional authorization for the National Guard to assist in border security. Their tasks will include helping to build The Wall and other barriers.
Chain Migration
The term Chain Migration refers to the endless chains of foreign nationals who are allowed to immigrate to the United States because citizens and lawful permanent residents are allowed to sponsor their non-nuclear family members. Annual immigration has at least tripled since chain migration began in the mid-1960s, though some estimates are even higher.
For instance, in 2001, the United States admitted 1,064,318 immigrants-, roughly 4 times greater than in the 1950s. As the Federation for American Immigration Reform (FAIR) notes, that's enough people to populate or even create a major city the size of Chicago, Illinois.
Only five years after chain migration began, the number of immediate relative admissions nearly doubled from 32,714 in 1965 to 79,213 in 1970. Thirty-six years later, the number of immediate relatives admitted was more than 13 times higher–443,964.
It has led to millions being consigned to visa waiting lists and chain migration further incentivized illegal immigration, which has been exacerbated by programs like DACA.
The bill eliminates parts of chain migration, or the issuance of green cards for married children of U.S. citizens, as well the siblings of adult U.S. citizens. Instead, the roughly 88,400 green cards will be moved to a new "merit-based" program, a system detailed in the Reforming American Immigration for a Strong Economy Act, or RAISE Act.
In August, President Trump–flanked by Sens. Tom Cotton, R-Ark., and David Perdue, R-Ga.–introduced the RAISE Act, which was supported by more than 70% of Americans. It reformed the U.S. legal immigration system from a family-based (chain) to a merit-based in order to benefit U.S. workers.
A recent Harvard-Harris Poll finds Americans overwhelmingly agree with President Trump's position on chain migration and the lottery, with roughly 8 in 10 wanting legal immigration levels to be reduced.
The Department of Homeland Security (DHS) confirmed Akayed Ullah, 27, a Bangladeshi national living in Brooklyn — the suspect behind an attempted terror attack on the Port Authority in New York City — was in the U.S. due to chain migration.
Diversity Immigrant Visa (DV) Program
The new bill in the House eliminates the program and reallocates the roughly 55,000 visas to a merit-based system. It also eliminates per-country caps for employment-based green cards.
In April, DOJ denaturalized a child sex abuser and 4 Somali nationals who gamed the Diversity Immigrant Visa (DV) Program. Olugbenga Omopariola, 61, engaged in sexual contact with a 7-year-old minor, which he admitted and was later convicted of, making him ineligible for applying for U.S. citizenship.
As PPD was was first to report in October 2017, Sayfullo Saipov, the 29-year-old Uzbekistan national who killed 8 and injured at least 11 others during a terror attack near the World Trade Center, came to the U.S. under the Diversity Immigrant Visa (DV) Program in 2010.