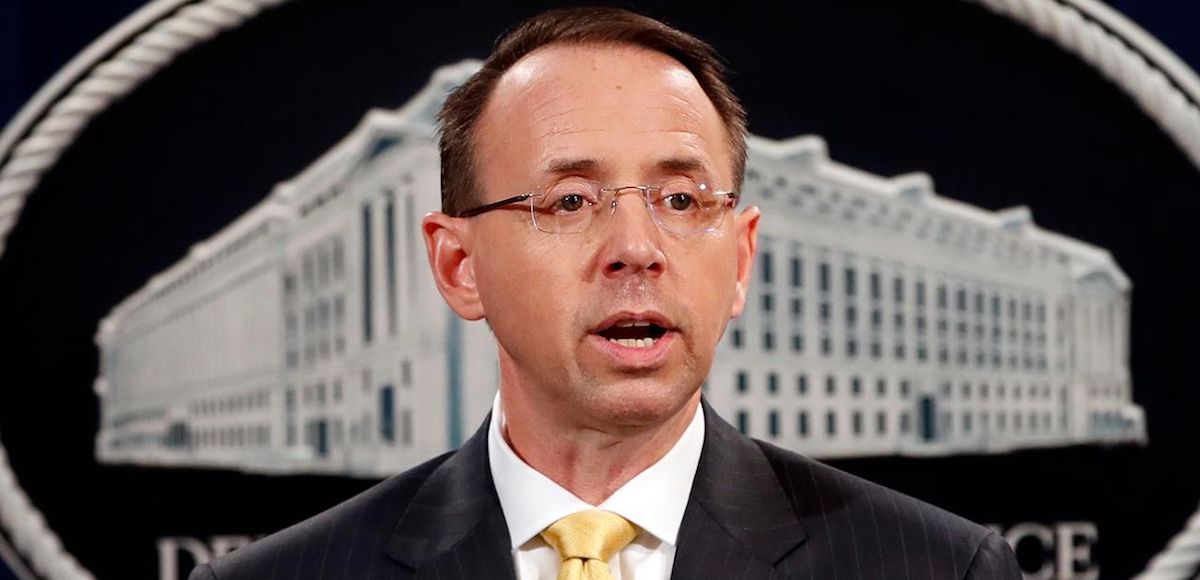 Deputy Attorney General Rod Rosenstein and FBI Director Christopher will testify before the House Judiciary Committee on Thursday, PPD confirmed. The "Oversight of FBI and DOJ Actions Surrounding the 2016 Election" hearing on June 28, scheduled for 1:00 p.m., will be on the bombshell findings by Inspector General Michael Horowitz.
The two men, both of whom are under scrutiny for their actions amid apparent corruption and wrongdoing at DOJ and FBI, will be grilled about their agency's and department's behavior ahead of the 2016 election.
House Judiciary Committee Chairman Rep. Bob Goodlatte, R-Va., called on Mr. Wray and Mr. Rosenstein to testify after Mr. Horowitz's report was released. While Mr. Horowitz refused to more forcefully condemn either FBI or DOJ, he testified that "it's clear" the agent at the center of the Clinton email and Russia probe cases had "a bias state of mind."
When asked about Peter Strzok — the head of FBI counterintelligence team who conducted the investigations into Hillary Clinton and then pivoted his focus to the Russia probe — Mr. Horowitz made a more definitive admission.
"I think it's clear from the text messages we've talked about that he had as we say here, a bias state of mind," Mr. Horowitz said in response.
The highly-anticipated IG report uncovered text messages between Mr. Strzok and FBI lawyer Lisa Page, with whom he was having an affair. In one of the more damning messages, Mr. Strzok vowed to prevent Donald Trump from becoming the 45th President of the United States.
Previously obtained text messages also show the two lovers discussed needing to talk to "Andy" about an "insurance policy" in the event President Trump defeated Mrs. Clinton, a reference to then-FBI Deputy Director Andrew McCabe.
"I want to believe the path you threw out for consideration in Andy's office — that there's no way he gets elected — but I'm afraid we can't take that risk. It's like an insurance policy in the unlikely event you die before you're 40," Mr. Strzok wrote to Ms. Page.
Mr. Horowitz also confirmed to the Senate Judiciary Committee that the IG believed "Andy" was in fact a reference to the fired FBI deputy director, who has since been fired. The inspector general referred Mr. McCabe to the U.S. Attorney for criminal charges after concluding he lacked candor (lied) under oath.
Ms. Page, along with FBI lawyer Jim Baker, both of whom worked closely with fired former FBI director James Comey, resigned from the agency in May. Mr. Strzok has been relieved of his post as head of the counterintelligence department, and moved to Human Resources (HR).
He was reportedly willing to testify before Congress. But if he doesn't appear willingly, Chairman Goodlatte said the committee will issue a subpoena to compel his testimony. It wasn't until as recently as last week that Mr. Strzok was escorted out of the FBI building.
Mr. Rosenstein may also be asked about his threats to retaliate against members of Congress who are conducting oversight.