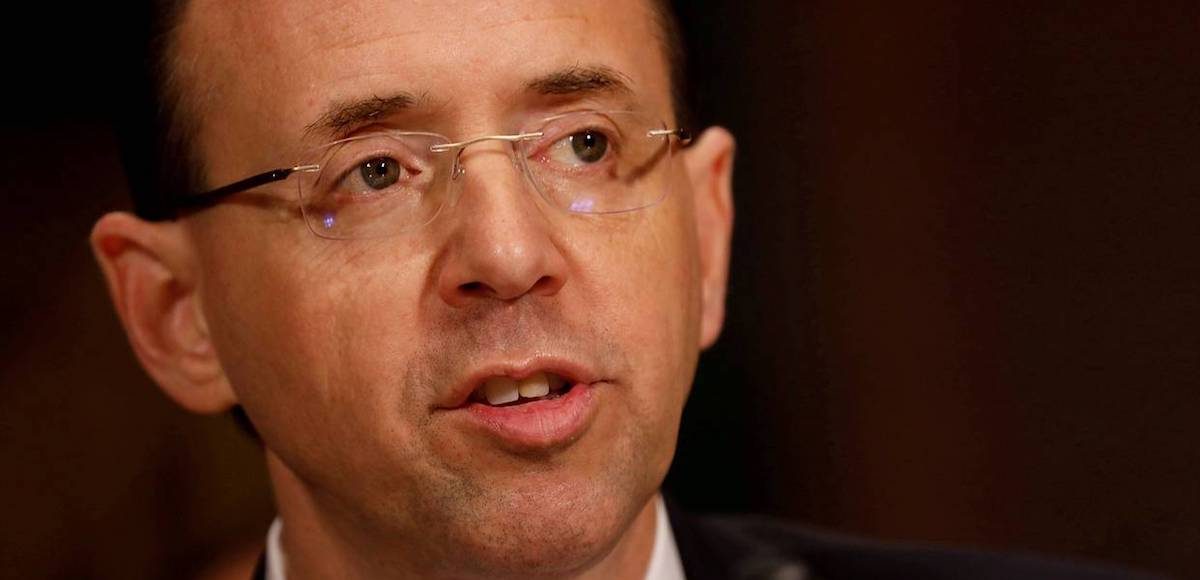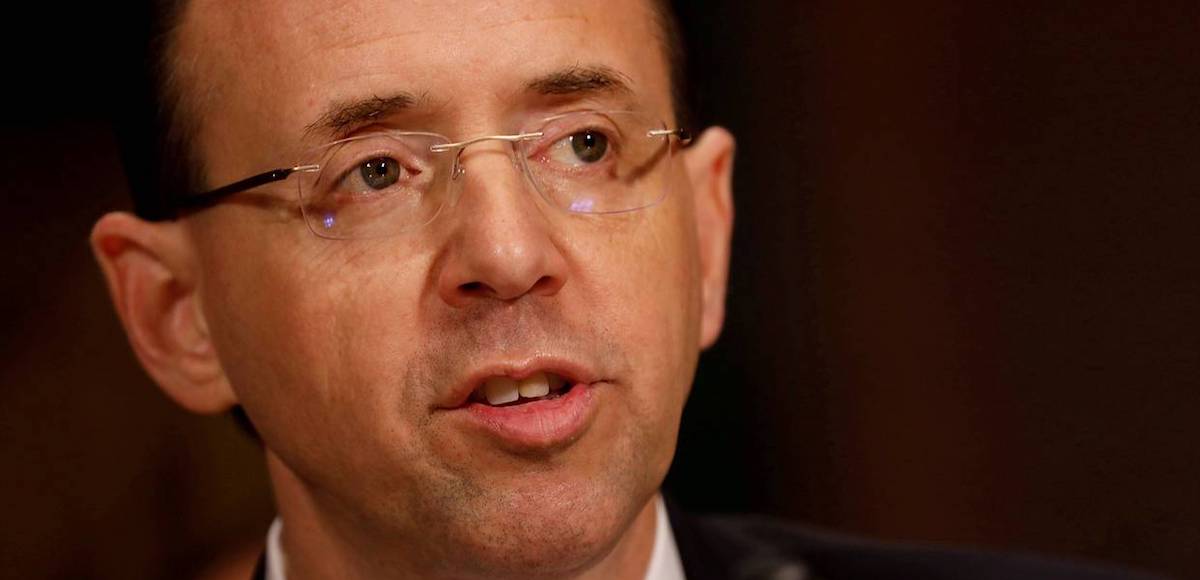 Deputy Attorney General Rod Rosenstein denied threatening to retaliate against lawmakers if they continued to investigate abuses of government surveillance programs. In the hot seat on Thursday before the House Judiciary Committee, Mr. Rosenstein was pressed on reports claiming he threatened to subpoena their phone and email records if they didn't back off.
"Mr. Rosenstein, did you threaten staffers on the House Intelligence Committee? Media reports indicate you did," Rep. Jim Jordan, R-Ohio, asked pointedly.
"Media reports are mistaken," he responded.
"Did you threaten to subpoena their phone calls and messages," Rep. Jordan pressed.
"No sir, and there's no way to subpoena phone calls," he responded, which drew laughter from Democratic lawmakers and liberal members of the leftwing media.
In February, multiple sources told People's Pundit Daily (PPD) that Mr. Rosenstein expressed frustration with the committee's oversight investigation during a meeting that took place on January 10. Federal Bureau of Investigation (FBI) Director Christopher Wray, House Intelligence Committee Chairman Devin Nunes, R-Calif., and others were present at the meeting.
Mr. Rosenstein said he was done "dealing with the intelligence committee" investigation and threatened to subpoena call and text message records. The claims in the report were later mirrored by Fox News, which ran a story with documented supporting emails earlier in June.
The meeting in question took place before the highly-anticipated release of a memo prepared by House Intelligence Committee Chairman Devin Nunes, R-Calif., and other Republicans on the committee. It detailed government surveillance abuses by Mr. Rosenstein, fired former FBI director James Comey, his fired deputy director Andrew McCabe and other former Obama Administration officials.
These officials used false information to obtain a FISA warrant to spy on Team Trump via peripheral advisors Carter Page and (later) George Papadopolous.
Section 702 of the Foreign Intelligence Surveillance Act (FISA) allows intelligence agencies to collect information on foreign targets abroad. However, as PPD also previously reported, it has been "routinely" abused and misused to spy on domestic targets, including President Trump, his associates and other U.S. citizens.
The FISA court was not explicitly made aware that the dossier(s) came from political opposition research funded by the Democratic National Committee (DNC) and the campaign for Hillary Clinton.
Senators Chuck Grassley, R-Iowa, and Lindsey Graham, R-S.C., sent a a criminal referral to Mr. Rosenstein and FBI Director Christopher Wray to investigate dossier author Christopher Steele, citing potential violations of 18 U.S.C. § 1001, or making false statements to investigators particularly regarding the distribution of claims contained in the dossier.
But Mr. Rosenstein fought tooth and nail to keep the memo secret, claiming it would damage national security by exposing sources and methods. According to sources, the January 10 meeting was not the only time the deputy attorney general told lawmakers there would be consequences for continuing the investigation or for releasing the memo.
In a meeting with House Speaker Paul Ryan, R-Wis., which took place in the speaker's office before the memo was released, Mr. Rosenstein attempted to convince the man who is third in line to the presidency to call off Chairman Nunes and to suppress the release of the memo.
Speaker Ryan refused and the memo was released. It did not contain anything damaging to national security. But it did damage the reputation and credibility of the leadership at the FBI and DOJ, including Deputy Attorney General Rosenstein.
The deputy attorney general, who serves as the acting attorney general in the Russia probe, signed off on an additional FISA warrant even after all the information was brought into the light. Mr. Rosenstein appointed Special Counsel Robert Mueller against DOJ policy and the laws governing special counsels.
In his testimony before Congress, he refused to explain his actions or even confirm his role in the FISA applications, citing it as an ongoing investigation.
Under Title 18, U.S.C., Section 242, it's a crime for law enforcement officials acting under "color of any law to willfully deprive a person of a right or privilege protected by the Constitution or laws of the United States."
The House of Representatives is preparing to vote Thursday on a measure condemning the Justice Department for withholding and stonewalling. While unenforceable, it will demand the agency turn over all requested documents by July 6.
The next step, which Republicans will take, is to impeach Mr. Rosenstein. Facing impeachment, Mr. Rosenstein was forced to allow Chairman Nunes to view the memo that served as the genesis of the Russia probe.
It was written by Peter Strzok, the former head of the FBI counterintelligence team who conducted the investigations into Hillary Clinton and then pivoted his focus to the Russia probe. DOJ Inspector General Michael Horowitz testified under oath that "it's clear" Mr. Strzok "had a bias state of mind."
When pressed by Rep. Ron DeSantis, R-Fla., about Mr. Strzok, Deputy Attorney General Rosenstein admitted that the text messages between him and his lover "clearly do indicate bias."
"I certainly agree with the findings of the inspector general report," Mr. Rosenstein said. "I think those messages clearly do indicate bias."
The highly-anticipated IG report uncovered text messages between Mr. Strzok and FBI lawyer Lisa Page, with whom he was having an affair. In one of the more damning messages, Mr. Strzok, who was at the center of both  vowed to prevent Donald Trump from becoming the 45th President of the United States.
Lisa Page: "[Trump's] not ever going to become president, right? Right?!"
Peter Strzok: "No. No he won't. We'll stop it."
These messages were excluded from a disclosure from the same text string, which was previous handed over to members of Congress.