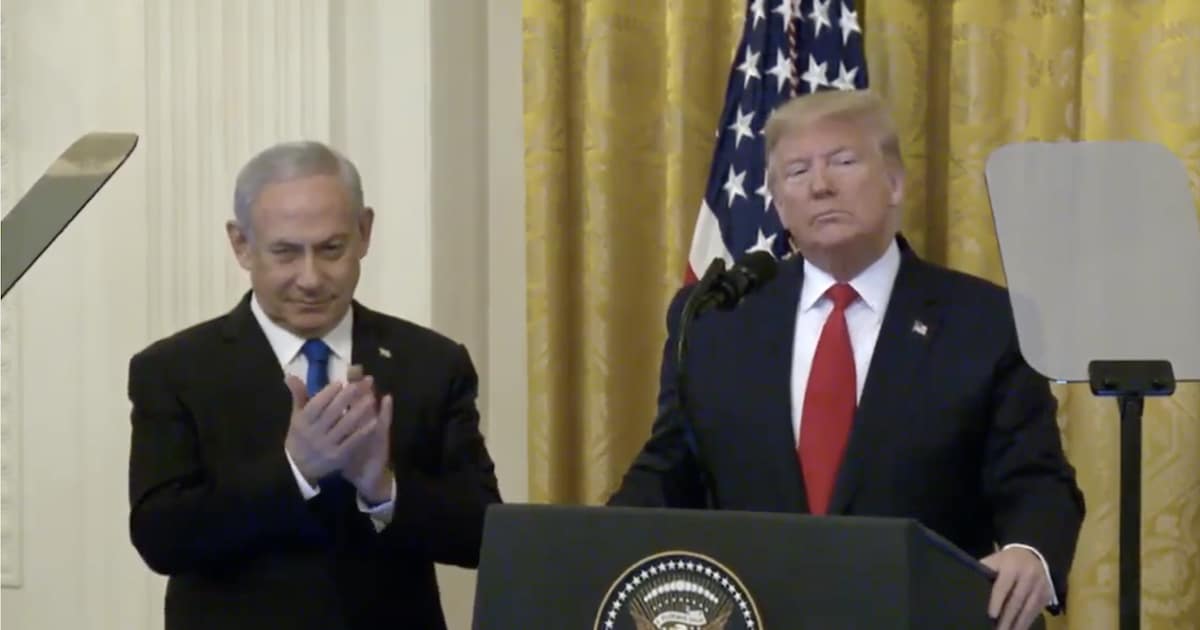 Middle East Peace Plan Proposes Roadmap to Palestinian State With Capital in East Jerusalem, U.S. Embassy
On Tuesday, President Donald Trump unveiled his Middle East peace plan at the White House on Tuesday, a roadmap to a two-state solution for Israel and Palestine.
"Today, Israel takes a big step toward peace," the president said. "Young people across the Middle East are ready for a more hopeful future, and leaders are realizing that Islamic terrorism and extremism is everyone's common enemy."
In the Middle East peace plan, the United States will recognize Israeli settlements on the West Bank. In exchange, Israel would agree to a four-year freeze on new settlements while Palestinian statehood is negotiated.
The entire plan is roughly 80 pages, 50 of them a political plan announced on Tuesday and 30 an economic plan announced last July. The latter sets up a $50 billion economic revival plan for Palestinians, Jordan and Egypt.
"I was saddened by the prospect of the Palestinians," President Trump said. "They deserve a better future, a better life."
The president has long-wanted to revive peace talks, which broke down in 2014. The proposal—which represents the most detailed attempt to break the deadlock in decades—is the result of a 3-year effort led by senior advisers Jared Kushner and Avi Berkowitz, as well as former adviser Jason Greenblatt.
"I was not elected to do small things or shy away from big problems," the president added. "It's been a long and very arduous process to arrive at this moment."
He said past proposals were light on factual details and heavy on intangible and unrealistic principles. The White House said it balances Israel's security needs with Palestine's desire for statehood.
"Crucially, the proposed transition to a two-state solution will include no incremental security risks to Israel," the president added. "Peace requires compromise, but we will never ask Israel to compromise its security."
It would double the size of the territory under Palestinian control and connect it all with roads, bridges and tunnels. While Jerusalem would remain Israel's undivided capital, it would provide for a Palestinian capital "where America will proudly open an embassy," the president said.
"I want this agreement to be a great deal for the Palestinians," the president noted. :After 70 years of little progress, it could be the last opportunity for them."
He trumpeted how the proposal would create a million new jobs in Palestine, cut their poverty rate in half and at least double their GDP. The goal would be to end Palestinian dependency on charity and foreign aid.
"They'll be doing fine all by themselves," President Trump said. "They're a very capable people, and we will help by empowering Palestinians to thrive on their own."
"We are asking the Palestinians to meet the challenges of peaceful co-existence."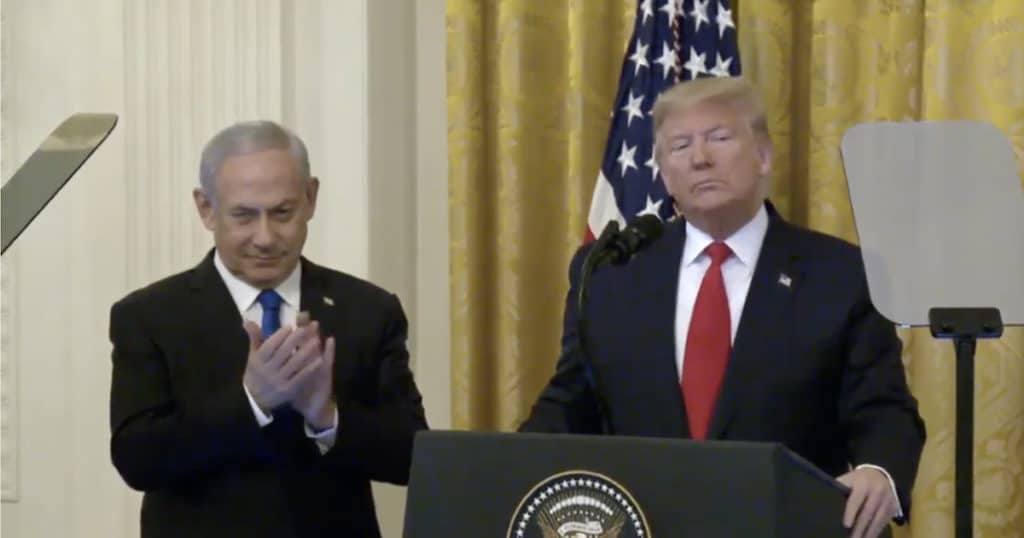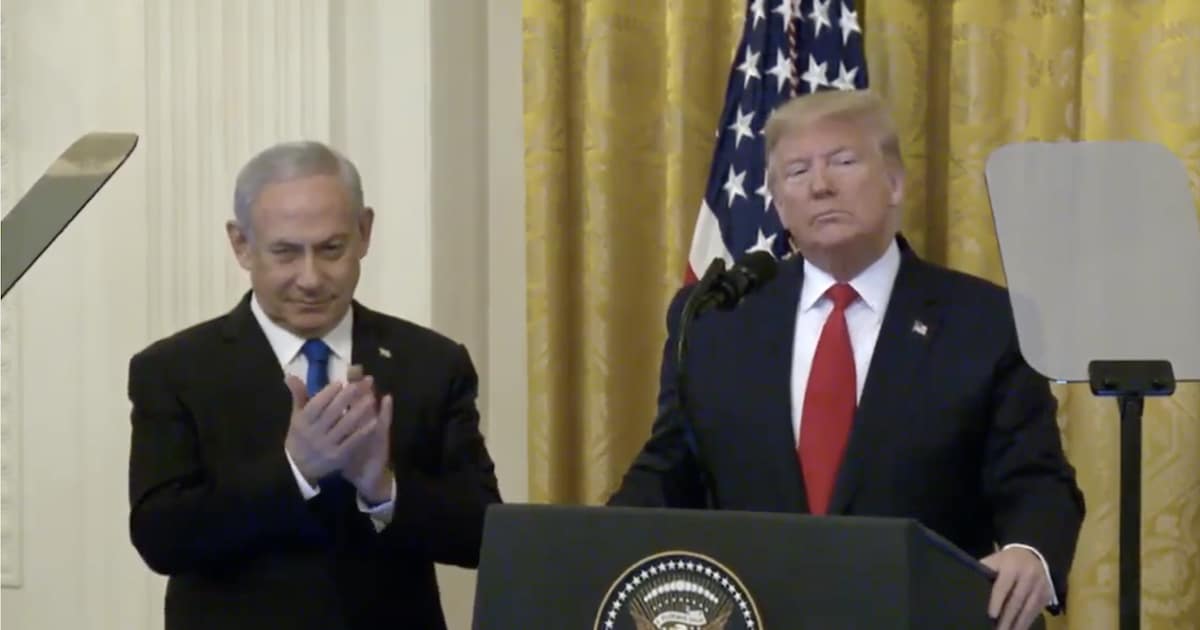 The president was joined by Israeli Prime Minister Benjamin Netanyahu and his chief rival Benny Gantz to the White House. Prime Minister Netanyahu leads the rightwing Likud Party, while Mr. Gantz leads the leftwing Blue and White Party.
Nabil Abu Rudeineh, spokesman for Palestinian President Mahmoud Abbas, said earlier this week there could be no deal on a Middle East peace plan without "the approval of the Palestinian people and the Palestinian leadership".
In his unveiling at the White House, President Trump spoke directly to Palestinian President Mahmoud Abbas.
"I want you to do know that if you choose the path to peace, America will be there in so many ways, and we'll be there every step of the way," he vowed. "We will be there to help."
He said President Abbas' response will show the world what he is willing to do to lead the Palestinian people to statehood, adding that "America cannot care about peace more than the stakeholders in the region."
"My vision will change that. Our majestic Biblical heritage will be able to live, breathe and flourish in the modern era," the president said in conclusion, adding they "should not be symbols of conflict, but eternal symbols of peace."
"Together we can bring about a new dawn in the Middle East."
Prime Minister Benjamin Netanyahu
Prime Minister Netanyahu called the plan a "realistic path to a durable peace." He echoed the president's sentiment about previous plans, which he said "failed because they didn't strike the right balance between Israel's security concerns and Palestinians desire for statehood."
"This is a historic day and it recalls another historic day," Prime Minister Netanyahu said. "We remember May 14, 1948, because on that day President Truman became the first world leader to recognize the state of Israel."
"I believe that down the decades and even the centuries we will also remember because on this day you because the first world leader to recognize areas in Judea and Samaria that are vital to our security and essential to our national heritage."
Challenges to Mideast Peace
Among the most sticky points is the recognition of Jerusalem as the capital of Israel and the moving of the U.S. Embassy from Tel Aviv to Jerusalem.
In 1995, Congress passed The Jerusalem Embassy and Relocation Act, which addresses both of those issues. Waivers are permitted by presidents in the event national security is a concern, which President Trump signed in June 2017.
It did little sway minds in Palestine.
In December 2017, the president made the "historic decision" to recognize Jerusalem as the capital of Israel. In the announcement, he said the move was "long overdue" and "the right thing to do," adding that Israel "like every other sovereign nation has the right to determine its capital."
In January 2018, former Secretary of State John Kerry met in London with Hussein Agha, a close associate of Palestinian Authority President Mahmoud Abbas. He told him President Trump would be removed from office within a year, and not to enter into Mideast peace talks.