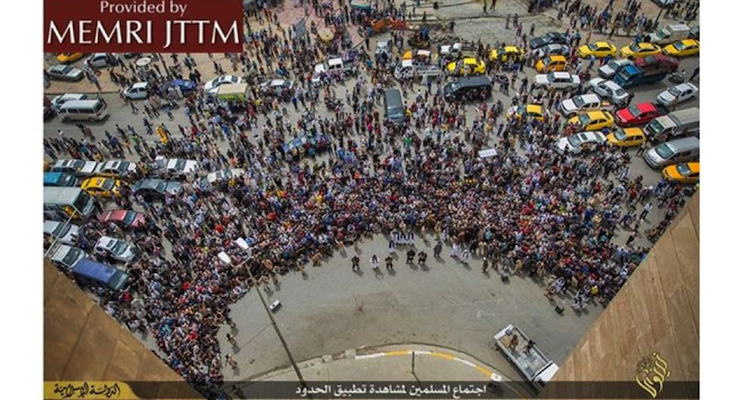 [metaslider id=26098]
On June 3, 2015, Islamic State (ISIS) operatives in Iraq's Ninveh province published photos of a public execution in Mosul of three gay men convicted of homosexuality. The three men, who were being punished under Sharia law were blindfolded and dropped head first from the roof of a tall building in front of a large crowd of spectators, including children.
The photos were released by ISIS via social media in a report by the terror group entitled, "Implementation of the Punishment of Those Who Have Committed Acts of Homosexuality" on the jihadist online forum Shumoukh Al-Islam.
The executions took place almost one year to the day since ISIS, otherwise known as the Islamic State of Iraq and Syria, or ISIL, stormed into northern Iraq and captured the strategic and symbolic city of Mosul. The group vowed to create a caliphate spanning the Sunni-dominated sections of neighboring countries, boasting control of large regions in Syria. One month later, the terror army destroyed the tomb of Jonah the prophet, a sacred and holy to Christians, Jews and Muslims.
Since then, they've captured Tikrit, the birthplace of not only former Iraqi dictator Saddam Hussein but also the famed muslim ruler Sahalidin.
Shiite militias backed, trained and joined by Iran launched a major and somewhat successful campaign against ISIS to take the city back last month.
Last week, Ramadi, the strategically important Iraqi city and capital of Anbar province, also fell in a politically embarrassing defeat for the Obama administration and the Iraqi security forces. The city, which was the location of the Anbar Awakening that gave a now-blown victory to the U.S. and their allies in 2008, was besieged by a series of car bombs before the 5 to 1 outnumbered ISIS force drove the Iraqis into a full retreat.