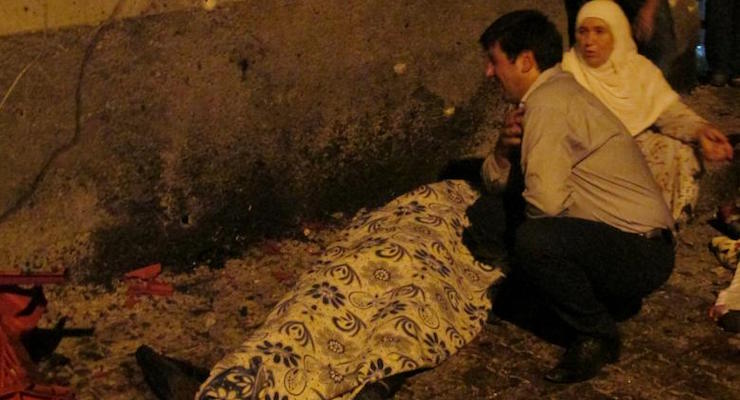 The death toll in a terror attack in the southern city of Gaziantep, Turkey has risen to 50 and President Recep Tayyip Erdoğan blamed Islamic State. There has been no immediate claim of responsibility for the attack, which struck a Turkish wedding, but President Erdoğan marks the last of several to point the finger at ISIS.
"This was a barbaric attack. It appears to be a suicide attack. All terror groups, the PKK, Daesh, the (Gulen movement) are targeting Turkey. But God willing, we will overcome," Deputy Prime Minister Mehmet Simsek told NTV, using the term Daesh, the Arabic name for ISIS.
Turkey, a member of the NATO alliance, has been the victim of a string of attacks by the Kurdistan Workers' Party, or the Islamo-leftist group known as PKK. The Kurdish militants, which began fighting for autonomy and independence in southeast Turkey in 1984, is labeled by the government and its allies as a terrorist organization.
Earlier this week, two car bombs targeting police stations killed at least six people and wounded at least 219 others. Last month, the country was nearly torn apart by an attempted coup by a small rogue element within the military trying to overthrow President Recep Tayyip Erdoğan. The Turkish military has always seen itself as a protector of the secular constitution, but President Erdoğan claims the coup was plotted and supported by a former ally, the exiled Islamic cleric Fethullah Gulen.
But even as the country moves further toward hardline Islamism under the current president, they still have been plagued by Islamic extremism.
Three suspected Islamic State suicide bombers killed 44 people at Istanbul's main airport in July, marking the deadliest in a string of attacks in Turkey this year. Anadolu Agency, a state-run news agency in Turkey, cited Gaziantep Governor Ali Yerlikaya as saying Saturday's explosion was a "terror attack."