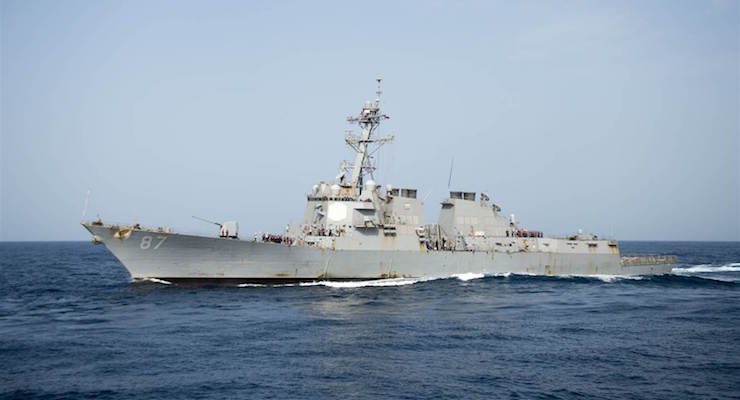 U.S. military official confirmed for the second time this week that Iran-backed Houthi rebels in Yemen targeted the USS Mason in the Red Sea. The Pentagon is now vowing payback, or some form of retribution, though did not specify or give further details.
"We are going to find out who did it and take action accordingly," said Capt. Jeff Davis, a Defense Department spokesman said Tuesday. "Anybody who puts U.S. Navy ships at risk does so at their own peril."
The USS San Antonio and the USS Ponce was operating in the area with the USS Mason, a U.S. Navy destroyer at the time. The vessels were conducting routine operations in international waters near the strait of Bab el-Mandeb.
A coastal defense cruise missile was fired from Houthi-controlled area located south of Al Hudaydah at roughly 6:00 PM local time. Officials said the USS Mason, which is equipped with anti-cruise missile technology, used countermeasures. However, they were not yet certain whether the measures stopped the missile or if it fizzled.
This is the second time this week the USS Mason was targeted by at least one incoming missile fired from Iran-backed Houthi rebels in Yemen. The first act of aggression took place on Sunday as the American ship was conducting routine operations in international waters.
Pentagon Press Secretary Peter Cook said Wednesday that the military will respond.
"Those who threaten our forces should know that U.S. commanders retain the right to defend their ships, and we will respond to this threat at the appropriate time and in the appropriate manner," Secretary Cook said.
As People's Pundit Daily exclusively and correctly reported in 2015, President Barack Obama and top State Department officials never believed they would have to evacuate the U.S. Embassy in Yemen. In fact, sources at the State Department told PPD that Obama administration officials believed they had successfully negotiated a deal with the Houthi rebels through Iran to keep the U.S. Embassy open in Sanaa.
It was a stunningly embarrassing development the White House struggled to explain, which came less than one year after President Obama cited the Arab world's poorest country as the model for how he and his administration plan "to degrade and ultimately destroy" the Islamic State (ISIS). They've largely failed to deal with or repel Iranian aggression in the region ever since, despite agreeing to the one-sided nuclear deal.
Last week, U.S. warships were sent to Yemen's coast after a United Arab Emirates ship was recently targeted by the Houthis. That ship used to be owned by a U.S. company, but was contracted to UAE at the time.