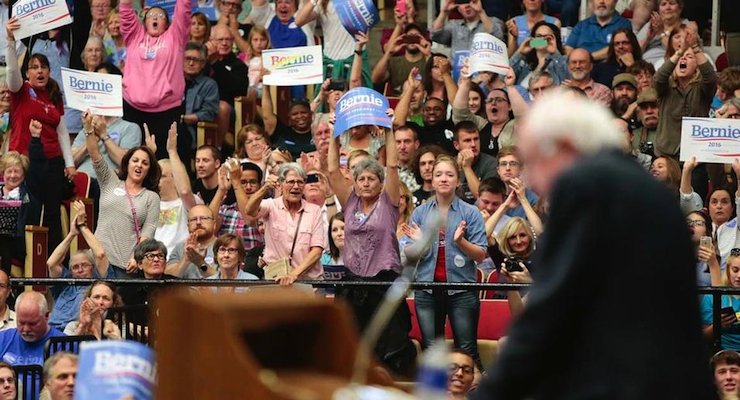 The quality of economic analysis from politicians is never good, but it becomes even worse during election season. The class-warfare rhetoric being spewed by Bernie Sanders and Hillary Clinton is profoundly anti-empirical. Our leftist friends genuinely seem to think the economy is a fixed pie and that it's their job to use coercive government power to reallocate the slices.
The only real quandary is whether Bernie's sincere demagoguery is more disturbing or less disturbing than Hillary's hypocritical attacks on the top 1 percent.
Since I mentioned that the left's rhetoric is anti-empirical, let's look at the evidence.
I've previously shared very detailed IRS data showing that the so-called rich pay a hugely disproportionate share of the tax burden.
Let's augment that analysis by perusing some data on income mobility.
Writing for Money, Chris Taylor explains that America is not a land of dynastic wealth.
…70% of wealthy families lose their wealth by the second generation, and a stunning 90% by the third, according to the Williams Group wealth consultancy. …When I asked financial planners why…second- and third-generation heirs turn out to be so ham-handed, the answers were surprisingly frank. A sampling: "Most of them have no clue as to the value of money or how to handle it." "Generation Threes are usually doomed." "It takes the average recipient of an inheritance 19 days until they buy a new car."
But you don't have to examine several generations to recognize that American society still has a lot of income mobility.
Tami Luhby looks at how people move up and down the income ladder during their lives.
The Top 1% is often considered an exclusive, monolithic group, but folks actually rise up into it and fall out of it quite often. …Some 11% of Americans will join the Top 1% for at least one year during their prime working lives (age 25 to 60), according to research done by Thomas Hirschl, a sociology professor at Cornell University. But only 5.8% will be in it for two years or more. As for holding onto this status for at least 10 years? Only a miniscule 1.1% of Americans are this fortunate. "Affluence is dynamic, said Hirschl… "The 1% really isn't the 1%. People move around a lot."
The same is true for the super-rich, the upper-middle class, and the poor.
The IRS looked at how frequently the same Top 400 taxpayers appeared on the list over a 22-year period ending in 2013. Some 72% ranked that high for just one year. Only 3% were listed for a decade or more. …While just over half of Americans reach the Top 10% at least once in their careers, only 14% stay in it for a decade or more, Hirschl found. …On the flip side, it's not uncommon for Americans to spend some time at the bottom of the heap. Some 54% of Americans will be in or near poverty for at least one year by their 60th birthday, Hirschl said.
Here's a table of numbers for those who like digging into the data.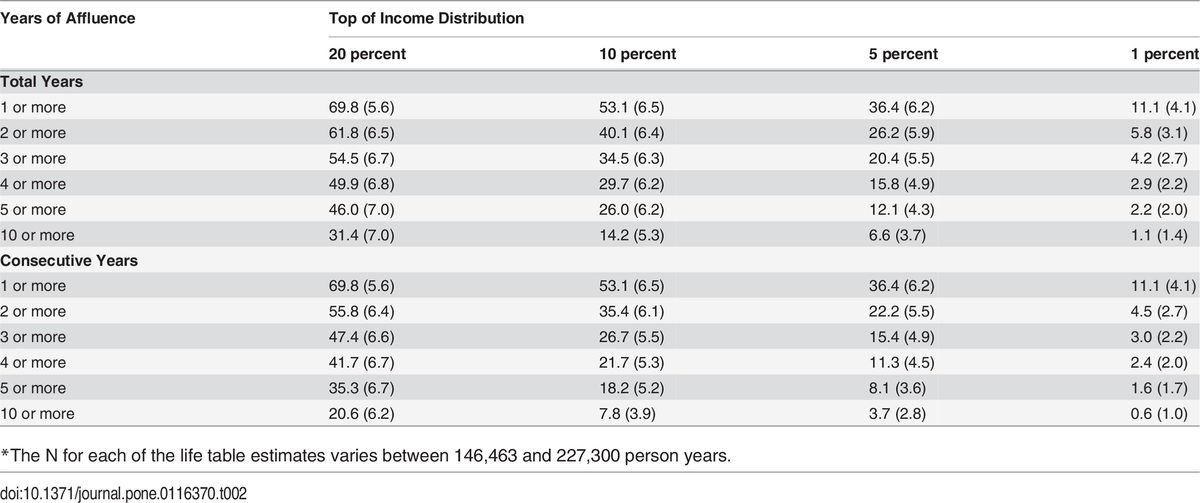 Now let's shift back toward public policy.
The good news (relatively speaking) is that the politics of envy don't seem to work very well. This polling data finds that most Americans do not support higher taxes (presumably from the rich) to impose more equality.
Now let's shift back toward public policy.
The good news (relatively speaking) is that the politics of envy don't seem to work very well. This polling data finds that most Americans do not support higher taxes (presumably from the rich) to impose more equality.
And when you combine these numbers with the polling data I shared back in 2012, I'm somewhat comforted that the American people aren't too susceptible to the poison of class warfare.
Let's close with some ideological bridge building.
I certainly don't share the same perspective on public policy as Cass Sunstein since the well-known Harvard law professor leans to the left.
But I think he makes an excellent observation in his column for Bloomberg. Smart leftists should focus on how to help the poor, not demonize the rich.
Bernie Sanders and Hillary Clinton have been operating within the terms set by Top 1 Percent progressivism. …For Top 1 Percent progressives, the accumulation of riches at the very top is what gets the juices flowing. They prioritize much higher taxes on top-earners, more aggressive regulation of Wall Street, restrictions on the compensation of chief executives, and criminal prosecution of those responsible for the financial crisis. Top 1 Percent progressivism emphasizes the idea of fairness — but it's nevertheless a politics of outrage, animated by at least a trace of envy.  It's as if "millionaires and billionaires" were the principal problem facing America today.
Sunstein correctly says the focus should be helping the less fortunate.
Bottom 10 Percent progressives  are not  enthusiastic about concentrations of wealth. But that's not what keeps them up at night. Their focus is on deprivation and lack of opportunity. They're motivated by empathy for people who are suffering, rather than outrage over unjustified wealth. They want higher floors for living standards, and do not much care about lower ceilings.
So far, so good.
I've also argued that our goal should be reducing poverty, not punishing success.
This is why I want pro-growth tax reform, a smaller government, and less suffocating red tape.
Unfortunately, Prof. Sunstein then wanders into very strange territory when it comes to actual policy. He actually endorses the utterly awful economic "bill of rights" proposed by one of America's worst presidents.
Their defining document is one of the 20th century's greatest speeches, delivered by Franklin Delano Roosevelt in 1944, in which he called for a Second Bill of Rights, including the right to a decent education, the right to adequate medical care and food, and the right to "adequate protection from the economic fears of old age, sickness, accident, and unemployment."
If you think I'm exaggerating about FDR being an awful President, click here.
And if you want more information about FDR's terrible "bill of rights," click here.
So I like his diagnosis of why the left is wrong to fixate on hating success.
But he needs to look at real-world evidence so he can understand that free markets and small government are the right prescription for prosperity.
P.S. Here's my video listing five arguments against class-warfare taxation.
There's a lot of material in a short period of time, though I think the most disturbing part occurs at about 4:30. What sort of person would actually want to impose tax policy that is so punitively destructive that the government doesn't collect any additional revenue?!?