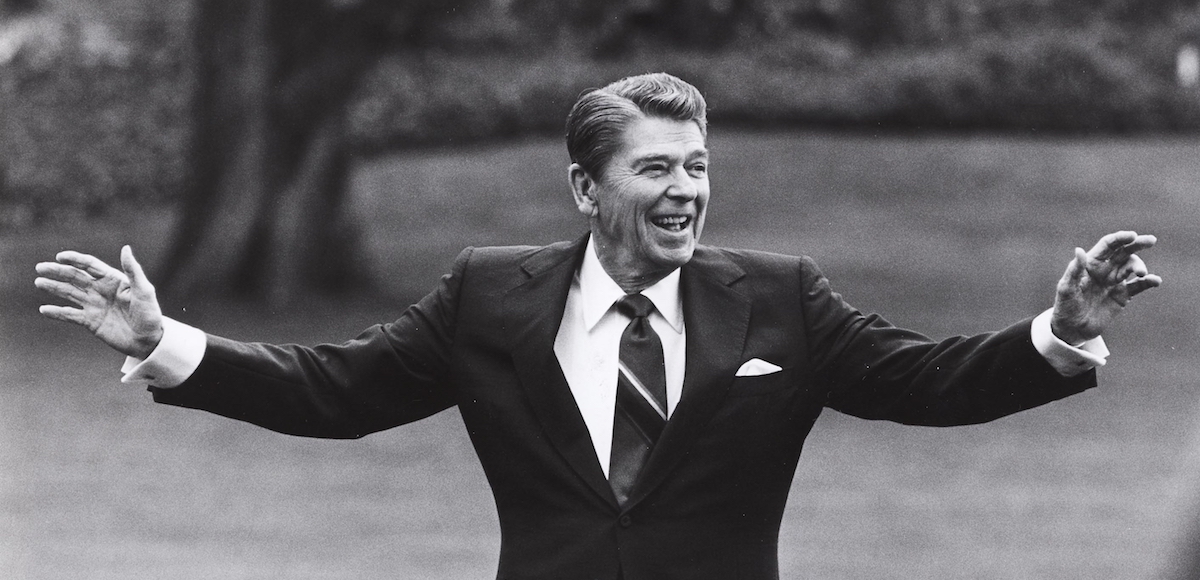 Back in 2013, I put together a visual showing the good and bad policies that were enacted during the Clinton years. The big takeaway was that the overall burden of government was substantially reduced during his years in office.
Previously, I did the same thing for Richard Nixon, but noted that his record was universally awful. I couldn't think of a single pro-growth policy when he was in the Oval Office.
| | |
| --- | --- |
| President | Domestic Spending (Non-TARP) |
| Reagan | 0.6% |
| Clinton | 2.5% |
| Carter | 2.8% |
| Obama | 3.3% |
| G. W. Bush | 3.9% |
| H. W. Bush | 6.3% |
| Johnson | 6.5% |
| Nixon | 8.4% |
Now let's look at the Ronald Reagan. I analyzed his record last year, but mostly looking at the aggregate results.
So let's look at the details, putting specific pro-growth policies in one column and specific anti-growth policies in another column. As you can see, there was a substantial net improvement during the Reagan years.
I gave extra credit for his tax cuts, the spending restraint, and the taming of inflation.
On the negative side of the ledger, Reagan did approve some post-1981 tax hikes, imposed some protectionism, and also supported Medicare expansion, so he certainly wasn't perfect.
I also was tempted to give Reagan some credit for NAFTA and the WTO since those initiative got their start during his presidency, but that would break my rule of only counting policies that were implemented while a president was in office.
The bottom line is that Reagan was a net plus for economic liberty. And if you count the collapse of the Soviet Empire, he was a net plus for global liberty.
Let's close by discussing Henry Olsen's new book on Ronald Reagan. Henry tried to make the case that Reagan was sort of a New Deal Democrat rather than a libertarian-ish ideologue. Writing for the Claremont Review of Books, Steven Hayward obviously is a fan of the book but is not entirely sympathetic to Henry's hypothesis.
You should read Steven's entire review, and also get Henry's book and read it as well. I'll simply cite two passages from the review for the simple reason that they match my beliefs (shocking, huh?). First, Reagan (quite correctly) was not a big fan of the New Deal.
Reagan's long-time economic adviser Martin Anderson once told me that despite Reagan's general kind words for FDR and the New Deal, he could not recall Reagan ever endorsing a specific New Deal policy… But if anyone wants to see Reagan as the heir of the New Deal, he has to get past one of Reagan's most famous critiques of it—his 1976 remark that "Fascism was really the basis for the New Deal." …Reagan, to his campaign managers' consternation, stoutly defended his comments. In August 1980 Reagan told dumbfounded reporters: "Anyone who wants to look at the writings of the Brain Trust of the New Deal will find that President Roosevelt's advisers admired the fascist system. . .  They thought that private ownership with government management and control a la the Italian system was the way to go, and that has been evident in all their writings."
And he also opposed Washington-based income redistribution (another sensible view).
When Reagan opposed Nixon's guaranteed annual income proposal, the Family Assistance Plan, in 1969 and 1970—the only governor in the country to do so—he said in a TV debate that "I believe that the government is supposed to promote the general welfare; I don't think it is supposed to provide it." If welfare was centralized in Washington, Reagan knew, reform would be all but impossible and there would be a bias toward increased spending in the future. …"If there is one area of social policy," Reagan began to say in his standard stump speech, "that should be at the most local level of government possible, it is welfare. It should not be nationalized—it should be localized." …In another 1982 speech to the NAACP (amidst a fierce recession), Reagan argued that the Great Society had done more harm than good for black Americans. Liberals howled with indignation about both of these heresies.
Amen.
I'm not a Reagan historian like Olson or Hayward, so I'll wrap up this conversation with one small observation. Reagan was not as libertarian as I would like. I came to DC near the beginning of his second term and I remember feeling disappointed at the time that more progress could be made. I've now learned much more about the very weak records of other senior Republican and I now realize his accomplishment were large and meaningful.
It wasn't just what he achieved. He also changed the "Overton Window," meaning that he substantially expanded the acceptability of ideas about free markets and limited government. Prior to the Gipper's tenure, Republicans rarely challenged the welfare state. They basically accepted the New Deal and Great Society. Reagan didn't have much success unraveling welfare state programs, but he showed that such programs could be criticized and big-picture ideas about reform were not politically toxic.
P.S. Let's also not forget that Reagan opposed the value-added tax. The rejection of a bad policy doesn't belong on the above list, but it's a notable piece of evidence about Reagan's economic wisdom.
P.P.S. Reagan also showed that good policy can be good politics.