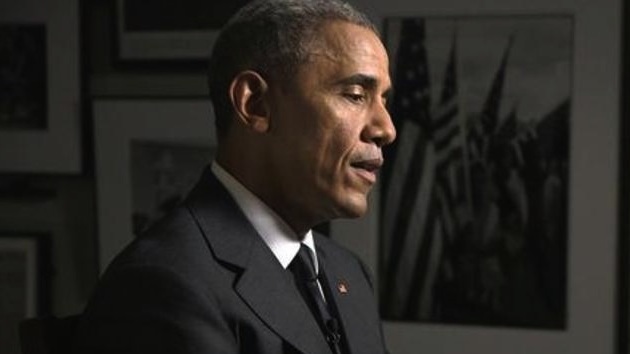 President Obama said he first that former Secretary of State Hillary Clinton was using a personal e-mail account for official business from news reports. In his first remarks on the controversy during an interview with CBS News, Obama said The New York Times report brought the matter to his attention.
CBS News senior White House correspondent Bill Plante asked Mr. Obama when he learned about her private email system after his Saturday appearance in Selma, Alabama, and received the usual response that reporters and pundits hear anytime controversy and scandal rears its head in the Obama administration.
"The same time everybody else learned it through news reports," the president told Plante.
Obama's comments refer to a NYT report that revealed Clinton used a private email account and "home-brewed" server that was not properly secured or documented for all official State Department business while serving as secretary from 2009 to 2013, a move that breaks White House regulations, State Department regulations and the Federal Records Act.
"The policy of my administration is to encourage transparency, which is why my emails, the BlackBerry I carry around, all those records are available and archived," Mr. Obama said. "I'm glad that Hillary's instructed that those emails about official business need to be disclosed."
The head of the House Select Committee on Benghazi said Sunday "huge gaps" in the timeline exist in the emails provided by Clinton.
"There are gaps of months and months and months," Chairman Gowdy, R-S.C, said. "If you think back to that iconic picture of her on that C-17 flying to Libya, she has her sunglasses on and she has her handheld device in her hand. We have no emails from that day. In fact we have no emails from that trip. There are huge gaps."
Obama declined to say whether he was disappointed or whether he faulted Clinton.
"She was a great secretary of state for me," Obama said in an excerpt of the interview released by the network.
The Sunday show circuit hammered Clinton and her allies over the revelation that came a few days after PPD reported on bombshell emails obtained by Judicial Watch, which revealed top aides to Clinton always knew the Benghazi mission compound was under attack from a terrorist group. They discussed focusing on the fabricated story with each other rather than terrorism, and further indicate that Clinton herself lied to the victims' families during the ceremony on Sept. 14, 2012.
The documents, which were obtained as a result of a Freedom of Information Act lawsuit against the State Department, make no reference to a spontaneous demonstration or Internet video.
No emails from Hillary Clinton, herself, were produced, but both top aides Cheryl Mills and Jacob Sullivan are on the partial list of notable witnesses to be questioned by the House Select Committee on Benghazi.