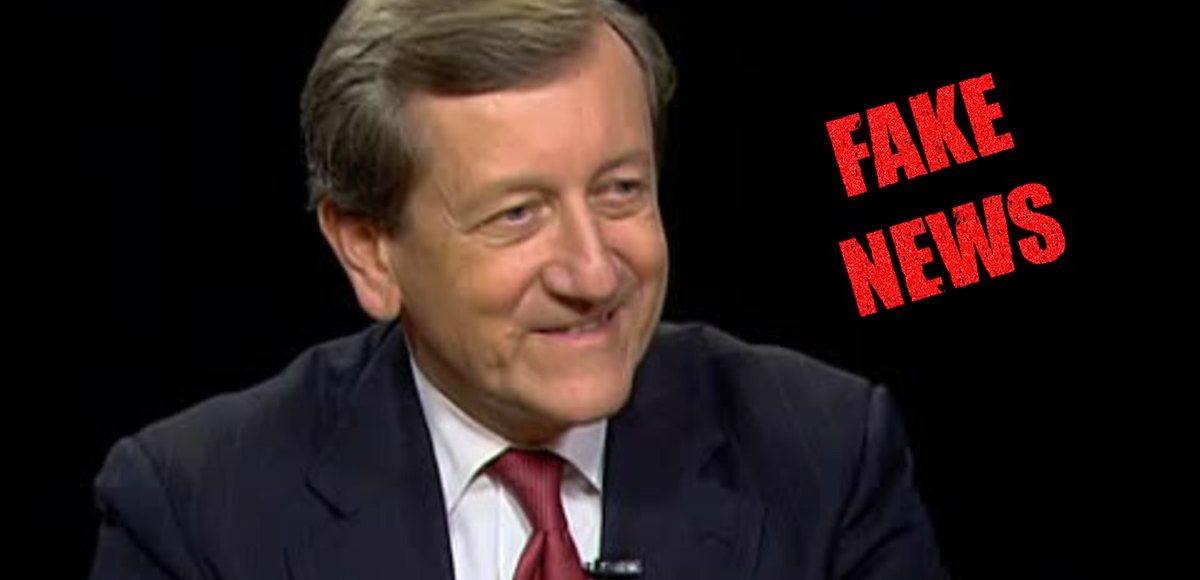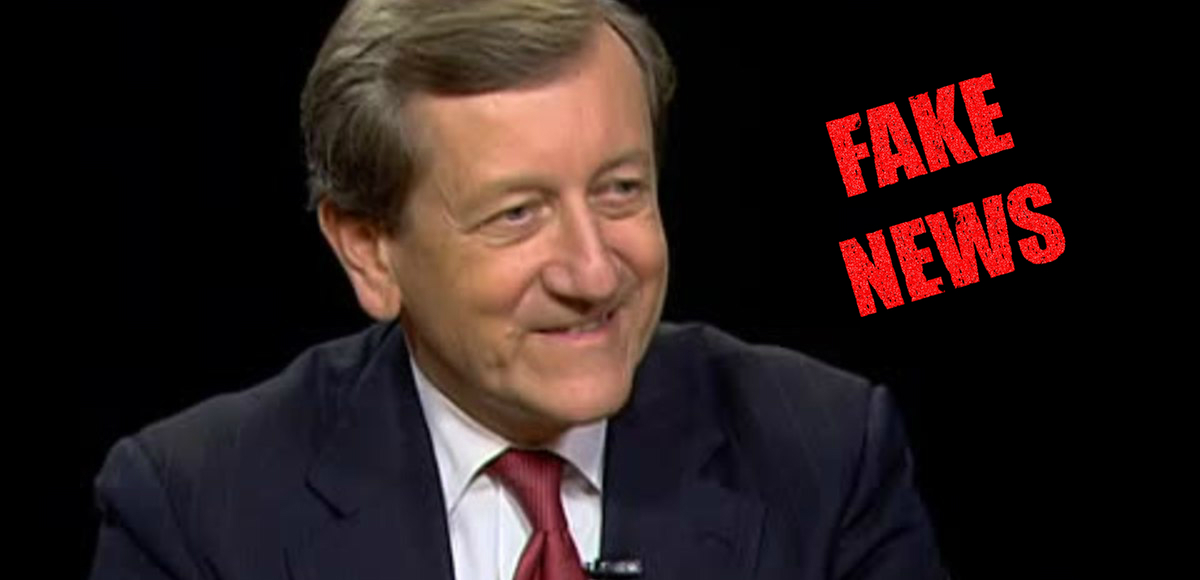 In 2017, a complete disregard for evidentiary standards in journalism was on full display. Corporate Big Media spent most of 2017 elevating the dangers to our republic posed by fake news, but would hands down become the biggest, most frequent purveyors of misinformation and blatant dishonesty in journalism.
The outfits that topped the repeat-offender list were CNN, The Washington Post and The New York Times. That's empirical fact determined by tracking the number of stories that collapsed, whether the outfits issued a retraction, a "clarification" or did nothing. In the cast of CNN, offenses covered the trivial — such as fake fish-feeding stories in Japan or airing fake magazine covers — to the not-so trivial, such as falsely reporting Anthony Scaramucci was under criminal investigation.
The most serious offender was Brian Ross at ABC News. That's a matter of opinion — our opinion — which is based not only on the seriousness of insinuating the President of the United States is a traitor but also the financial harm it caused to everyday Americans.
Top Fake News Stories of 2017
Russia Hacked the Election (After the U.S. Electricity Grid)!
"Russians tried to hack elections systems of 21 states in 2016," a headline in USAToday on September 22 claimed. Various other outlets including CNN and alphabet new networks either published their own version of the story or regurgitated the USAToday headline.
Except, it never happened.
The Associated Press would soon after report that Wisconsin – one of the 21 states, which consequently voted for President Trump – did not have its election systems targeted by Russian hackers. Michael Haas, the chief elections administrator in The Badger State, "repeatedly said that Homeland Security assured the state it had not been targeted."
It further fell apart when the California Secretary of State Alex Padilla issued a statement refuting the claimed report.
A theme emerges when examining the stories about Russia "hacking" the election. Mediates repeatedly attempt to blur the lines between the alleged hacks of the Democratic National Committee (DNC) and John Podesta, and actual U.S. election systems. For the record, we've yet to see any evidence of that hacking and former intelligence analysts argue it was a leak, not a hack.
It also followed a false report by The Washington Post in late 2016, which fell apart in early 2017. It claimed Russia had hacked the U.S. electricity grid and it was repeated by other Big Media outlets and various Democratic politicians, including Vermont Senator Patrick Leahy and Governor Peter Shumlin.
"A malware code associated with Russian hackers has reportedly been detected within the system of a Vermont electric utility."
Except, there was no "penetration of the U.S. electricity grid" and the malware was found on a single laptop that was not even connected to the electric grid.
The Washington Post never even bothered to contact the company. Burlington Electric issued its own statement to the Burlington Free Press debunking the report.
"We detected the malware in a single Burlington Electric Department laptop NOT connected to our organization's grid systems," they said, with emphasis.
In 1 Week, 3 Fake News Bombshells at The Washington Post
The Washington Post had one of the worst weeks in journalism back in May, 2017, publishing 3 major stories that completely collapsed shortly after. The first was a story claiming former FBI director James Comey had requested additional prosecutorial tools from the Department of Justice (DOJ) one day before he was fired by President Trump.
This "report," which was ridiculous on several levels, was cited by Democrats and other media outlets as proof President Trump only fired Mr. Comey because he was getting too close in the Russia investigation.
First, the director doesn't actually investigate potential crimes, the special agents do. Second, Comey wasn't actually in charge of the investigation, now-Acting Director Andrew McCabe was. Mr. McCabe, who is himself under investigation by the DOJ inspector general for his role in the Clinton email case, testified before Congress that the Comey firing would do nothing to obstruct a FBI investigation. Lastly, Deputy Attorney General Rod Rosenstein completely debunked this as fake news during briefings with Capitol Hill lawmakers. In his opening statement, he gutted the entire piece.
I want to address media claims that the FBI asked for additional resources for the investigation of Russian interference in the 2016 presidential election. I am not aware of any such request. Moreover, I consulted my staff and Acting FBI Director Andrew McCabe, and none of them recalls such a request.
The Washington Post also reported that Deputy AG Rosenstein was weighing whether to resign from his role at the Justice Department.
Never happened.
The final "bombshell" story, which provoked the paper to erupt in celebration, surrounded his sharing of "highly sensitive classified information" with the Russians, endangering sources, methods and angering the source nation that gathered the intelligence.
As it turned out, that nation was Israel and The Washington Post and The New York Times were the ones who exposed that information. Several officials told PPD – and other outlets have confirmed – that President Trump wasn't even aware of the source nation at the time.
The Washington Post cited anonymous past and current intelligence officials as sources, which translates into former Obama administration officials.
National Security Advisor H.R. McMaster, Deputy National Security Advisor Dina Powell and Secretary of State Rex Tillerson – the only three U.S. officials in the room – all said the premise of the story as it was written was completely false.
Mueller Subpoenaed Deutsche Bank for Trump Records
Bloomberg News, followed by The Wall Street Journal, reported Special Counsel Robert Mueller III subpoenaed Deutsche Bank for records relating to President Donald Trump. Sources who spoke with People's Pundit Daily (PPD) and Fox News quickly refuted the report and Deutsche Bank later confirmed the initial report was false.
The sources who told PPD the story was bogus also said they believed it was meant to serve as a distraction from the exposed bias on behalf of members of the special counsel team, i.e. Peter Strzok and Andrew Weissman.
CNN's Not-So "Exclusive" Inability to Read or Tell Time: Trump and WikiLeaks
In December, CNN reported an "exclusive" piece of fake news garbage alleging the Trump campaign, including President Trump himself, received WikiLeaks material from an unknown sender before it was public on September 4, 2016. MSNBC and CBS News claimed to have confirmed the story separately, proving they too do not know how to read or fact-check.
The story collapsed within hours on Twitter, and officially at the hands of the fellow-liberal Washington Post. The email was in fact sent ten days later on September 14 and linked to scores of documents that WikiLeaks had already publicly released a day earlier.
Put simply, the emailed information in question was already public before being emailed to the campaign. CNN also assumed the email sender, Michael J. Erickson, who offered a decryption key and access, worked for WikiLeaks and, by extension, the Russians.
In reality, he was just a person from the public who felt compelled to give the Trump campaign his suggestion — to look at publicly available emails.
Anthony Scaramucci Under Nonexistent Investigation
In this fake news story from late June to early July, which is no longer available online, CNN claimed that the Senate Intelligence Committee and U.S. Treasury Department were investigating a Russian investment fund with ties to individuals on Team Trump.
The central figure in this fake investigation: Anthony Scaramucci.
Using a single anonymous source, Thomas Frank at CNN wrote in the now retracted fake news article: "Two Democratic senators had asked Treasury to investigate whether Scaramucci promised to lift sanctions — a policy shift that would help the fund attract more international investment to Russia."
The "two Democratic senators" pushed (planted) the fake news story and the investigation was based on a fake "meeting" Mr. Scaramucci supposedly had with the investment fund executive. They've been identified as Sen. Ben Cardin, D-Md., and Sen. Elizabeth Warren, D-Mass.
The admission by CNN came only after a Breitbart News investigation revealed the Treasury Department closed the matter after it was "determined to be without merit."
ABC News' Brian Ross Sends U.S. Markets Into Spiral
Brian Ross, the chief investigative correspondent at ABC News, singlehandedly sent U.S. stocks plunging on December 1. Ross falsely claimed on live television Lt. General Michael Flynn was prepared to testify that then-candidate Donald Trump instructed him to reach out to Russia. Joy Behar hysterically repeated the report in celebratory announcement to her audience live on "The View."
Multiple aspects of the report were completely false, including the key point that the direction came from Mr. Trump, himself.
As People's Pundit Daily (PPD) and others have reported — and court documents back up — it was a "senior" official whom we now know to be Jared Kushner. More importantly, it took place during the transition, which is normal behavior for incoming administrations who always aim to "reset" foreign relations with countries.
In other words, then-President-elect Trump's team got to work on the agenda he ran on. That's exactly what transition teams do. There's nothing odd and certainly nothing illegal about it. But one day after the Dow Jones Industrial Average soared above 24,000 for the first time ever, this fake news bombshell sent it and other major indices into a spiral.
Worth noting, obfuscating the timeline has become a consistent theme with collapsed Trump-Russia collusion stories. Also worth noting, Brian Ross has a long history of pushing fake news, and ABC News has a long history of pretending his "sources" later "clarify" false information.
John Cook at Gawker once said this about Brian Ross: "When there's breaking news, especially about terrorism and national security, ABC News' Brian Ross is there. And under no circumstances should you listen to anything he says."
ABC News also has a long history of letting him get away with it, as they did in this case. Mr. Ross was given a vacation over the holidays and is slated to reappear on the network after New Year's Day. However, he is prohibited from covering the president when he returns.
Final Thoughts
There were numerous other articles we could've included in this list. CNN's Jeremy Diamond claimed that President Trump was the first president since George H.W. Bush to fail to take questions from reporters alongside the Chinese president (Xi Jinping) on his first visit to China. That's false. Barack Obama didn't take questions with his Chinese counterpart, either.
Also not on the list is when Fortune was forced to retract claims that RT had hacked into and taken over C-SPAN's network. We also didn't include any of the crazy conspiracy theories from Louise Mensch and Claude "TrueFactsStated" Taylor, one of whom still refuses to admit her information came from a hoaxer.
The bottom line is that the stories meant to paint President Trump as illegitimate are not only false, but dangerous to the political stability of our nation. News consumers should understand that these aren't largely the product of "honest mistakes," as CNN's political editor Chris Cillizza claims.
They are largely the result of a combination of "reporters" wanting claims to be true, flagrant dishonesty and blatant ignorance.
Too many modern "mainstream media" journalists are lazy, bias and pretend to be something they are not — smart.
They're not smart at Newsweek when they claim "Watergate investigator Kenneth Starr predicts indictments over the Russia investigation" because, as we all should know, he didn't work on Watergate. They're not smart at Newsweek when they claim Ivanka Trump plagiarized her own speech because, as we all should know, that isn't the definition of plagiarism.
We could go on and on with these examples. But when Polish President Andrzej Duda has to issue a call to "Fight Fake News" because Big Media lied about him snubbing President Trump over a handshake, it's time to recognize "journalists" have a serious problem.
They have become willing patsies for corrupt members of a permanent government who believe they are unaccountable to the American voters. They despise American voters, as their text messages reveal.
Most pundits and journalists are invested in the failure of the Trump presidency because it's the only way they can become relevant again. They're losers; losers who lost their credibility and integrity when President Trump got elected. They can only reclaim their relevance if President Trump turns out to be everything they said he was, and more.
Hillary Clinton had all but one of the Corporate Big Media outlets working to get her elected. She had all the local television affiliates and regional papers owned by those companies — for instance, the Gainesville Sun owned by The New York Times — and half of Fox News.
Yet, we're supposed to believe RT, Sputnik News and various other unnamed "fake news" sites somehow swayed public opinion?
She had all of Big Tech in Silicon Valley and Big Social rigging their "Trending" and "Trending News" sections. Yet, we're supposed to believe $100,000 worth of Facebook ads in Michigan and Wisconsin — most of which were pro-Hillary Clinton anyway — somehow outweighed the bombardment of ads pushed by her Wall Street-funded, billion-dollar campaign?
That's how stupid these people truly believe you are.