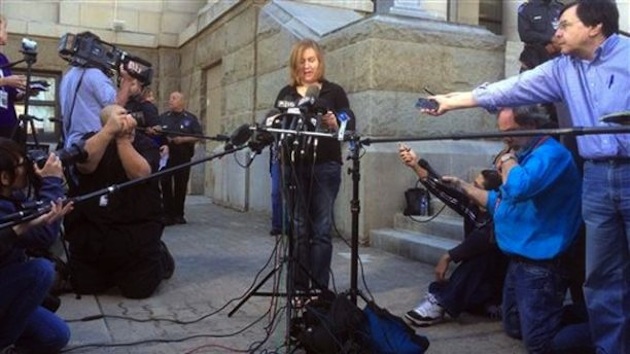 The Mueller family said the Obama administration's swap of the Taliban Five held at Guantanamo Bay for Army deserter Bowe Bergdahl may have doomed any hope to work out a deal with ISIS to get Kayla Mueller, the murdered aid worker back.
Carl Mueller told NBC in an interview that aired Monday that he and his wife believed they could arrange his daughter's release with a $6.2 million ransom payment, though he admitted the family faced a challenge to raise the money. However, Mr. Mueller claimed that it was after the White House agreed last year to swap Sgt. Bergdahl, who was captured and held for five years after he deserted his unit on June 30 of 2009, ISIS raised the ransom for their daughter.
"That made the whole situation worse," Kayla Mueller's brother, Eric, told the network. "Because that's when the demands got greater. They got larger. They realized that they had something. They realized that, 'Well, if they're gonna let five people go for one person, why won't they do this? Or why won't they do that?'"
The family confirmed earlier this month that the Islamic State informed them that Kayla Mueller, who was taken hostage Aug. 4, 2013, had been killed while in captivity. While the group claimed she was killed by a Jordanian airstrike that was conducted in retaliation for the terror group's savage murder of a Jordanian air force pilot, the account has not been confirmed. The Islamist group provided the Muellers with undisclosed evidence that she was, in fact, dead.
Mueller, of Prescott, Ariz., had volunteered with aid groups in India, Israel and the Palestinian territories before going to Turkey to work with Syrian refugees. Her identity was not disclosed until the terror group claimed she was dead, because the family was still hoping to win her release. The parents pointed out the Obama administration's clear double-standard on negotiating with terrorists for the release of Americans.
"We understand the policy about not paying ransom," he told NBC. "But on the other hand, any parents out there would understand that you would want anything and everything done to bring your child home. And we tried. And we asked. But they put policy in front of American citizens' lives."
When the Bergdahl trade was announced, the Mueller family thought that it perhaps signaled the government might be willing to consider a similar deal for Kayla.
Bergdahl was freed May 31, 2014, in exchange for the infamous, and extremely dangerous Taliban Five. The deal faced heavy scrutiny for several reasons, including the details of Bergdahl's desertion. The Department of Defense concluded in 2010 that Sgt. Bowe Bergdahl was a deserter, after a formal 5 – 6-investigation definitely determined he deserted his post. The department then suspiciously reclassified the investigation into a 20-19, which classified the details of the initial investigation.
Soldiers serving with him confirm he deserted, and even that good soldiers died while attempting to locate and rescue him. While soon-to-be former Pentagon spokesperson Rear Admiral John Kirby denied reports that charges have been filed against Sgt. Bowe Bergdahl, multiple sources have now confirmed that the U.S. Army has decided to charge Bergdahl with a water-down version of desertion.
But for the Mueller family, it is of little consultation.
"If they're gonna let five people go for one person, why won't they do this? Or why won't they do that?'" Carl Mueller said he thought at the time. "I actually asked the president that question when we were in the White House. Yeah, that was pretty hard to take."
In the end, U.S. adherence to the policy of not negotiating with terrorists – at least in the case of Kayla Mueller – may have marked her for death.
A recent internal investigation by the nonpartisan Government Accountability Office concluded that the Obama administration violated the law with the swap, as it was a clear failure to notify the relevant congressional committees at least 30 days in advance of the exchange.