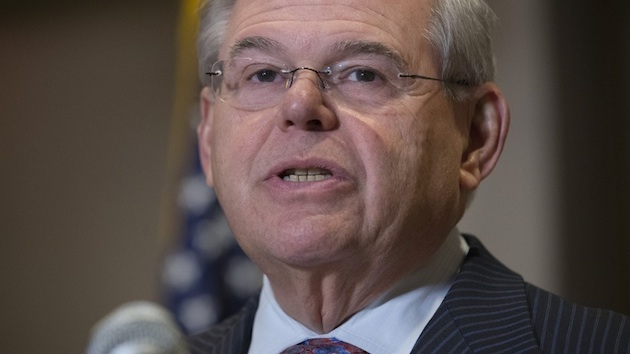 The Justice Department reportedly will soon file corruption charges against Sen. Bob Menendez, D-N.J., a vocal critic of President Obama's policies on Cuba and Iran. The DOJ charges will make various allegations that he used his office to help a Democratic donor.
A defiant Sen. Menendez held a press conference roughly four hours after the reports first surfaced Friday, during which he said he had "always conducted myself appropriately and in accordance with the law."
"I fight for things I believe important…and for the people of our country. That's who I am," Sen. Menendez added. "I am not going anywhere."
Menendez took no questions from reporters because of the "ongoing inquiry," but the senator's spokeswoman Tricia Enright did give PPD a statement.
"As we have said before, we believe all of the Senator's actions have been appropriate and lawful and the facts will ultimately confirm that. Any actions taken by Senator Menendez or his office have been to appropriately address public policy issues and not for any other reason."
The timing of these federal charges against the powerful senior lawmaker is blatantly suspicious for numerous reasons. Sen. Menendez has been a leading and very vocal critic of the president's unpopular diplomatic policy regarding Iran and its nuclear program, and was even gearing up to co-sponsor draft legislation meant to check the administration's power to negotiate a deal.
In mid-January, during a summit held in Baltimore following the Democrats' historical midterm defeat, Sen. Menendez and President Obama traded "sharp words" over the issue. Attendees told PPD the senator was outwardly frustrated by the fact the president didn't seem to care that if nuclear talks failed, then the U.S. could not expeditiously impose new sanctions. The president flat-out threatened members of his own party who might have been thinking of compromising with the new Republican majority on Iran and a host of other issues.
As a Cuban-American lawmaker, Menendez had also has criticized the Obama administration's decision to normalize ties with Cuba. The president's push to end the 1960s-era Cuban embargo, which was instituted in a bipartisan fashion, came soon after American hostage Alan Gross was released from a Cuban prison.
"President Obama's actions have vindicated the brutal behavior of the Cuban government," Menendez, then-outgoing Senate Foreign Relations Committee Chairman said in a statement. "Trading Mr. Gross for three convicted criminals sets an extremely dangerous precedent."
Not only did the administration claim the deal with Cuba was unrelated to the prisoner swap, but also failed to demand the return of convicted cop-killer Joanne Chesimard, an issue that was particularly important to both New Jersey Gov. Chris Christie and Sen. Menendez.
The 67-year-old Chesimard, who now goes by the name of Assata Shakur, was found guilty of killing New Jersey State Trooper Werner Foerster in 1973 before she escaped from prison and fled to Cuba, where notorious socialist dictator President Fidel Castro gave her asylum. Fidel's brother Raul, an equally oppressive tyrant, now leads the still-communist country. Obama and Raul, who by all accounts are getting pretty chummy with each other, personally negotiated the deal.
While various allegations have indeed swirled around the New Jersey lawmaker — including a pre-2012 election story claiming he solicited prostitutes in the Dominican Republic — the Justice Department publicly refused to investigate them in the past, thus the allegations have never been substantiated. Yet, according to the CNN report, the Justice Department's case against Menendez is more than two years in the making.
Not surprisingly, the Justice Department would not respond to a request to comment on the criminal charges or the investigation Friday, but also did not deny that charges are coming.
Further, the federal case as reported, which involves Florida ophthalmologist Salomon Melgen, is equally suspicious. According to one legal expert who spoke to the Washington Post, the Justice Department has chosen not to prosecute similar "friend and donor" cases in the past. Prosecuting a sitting senator or any lawmaker over political favors he allegedly did for a genuine personal friend in return for gifts and donations, "is an uphill battle."
"The Senator has counted Dr. Melgen as one of his closest personal friends for decades," Enright said. "The two have spent holidays together and have gone to each other's family funerals and weddings and have exchanged personal gifts. As has been reported, the start of this investigation is suspect. We know many false allegations have been made about this matter, allegations that were ultimately publicly discredited. We also know that the official investigation of this matter is ongoing, and therefore cannot address allegations being made anonymously."
Investigators cite a plane trip the senator took as the donor's guest to the Dominican Republic. Melgen, a 59-year-old Florida ophthalmologist, has often flown influential lawmakers on his private plane, including then-Senate Majority Leader Harry Reid, D-Nev., who reimbursed the doctor. Another pre-2012 election story involved the same plane trip cited in the report. He later reimbursed the doctor for the trips, saying the failure to report the trips had been an oversight.
Menendez has vacationed with Melgen and his wife at their mansion in the Dominican Republic on at least three occasions.
The feds also investigated how the senator allegedly advocated for Melgen with Medicare officials, who accused him of over-billing. Melgen was one of the top recipients of Medicare reimbursements at a time when he was contributing heavily to Democrats. In 2012, alone, Melgen received $21 million in Medicare reimbursements, while he and his family have donated roughly $1 million to Menendez's campaigns, as well as committees on which he served.
In one example, the feds claim Melgen would be reimbursed $6,000 to $8,000 for a vial that cost him $2,000, as he used one vial to treat three or four patients but billed as if he had purchased a new vial each time. For example, in 2007 and 2008, he overbilled Medicare by $9 million, which he then paid back.
While top Senate Democrats have close relationships with the donor, there is no love-loss between Melgen and President Obama, himself. In 2010, he co-hosted a fundraiser to benefit the Democratic Senatorial Campaign Committee, and was furious when President Obama didn't give him the time of day, save for posing for a picture. He chastised Obama for not having the ability to make and maintain relationships with people who fork out $30,000 to the DSCC, let alone lawmakers in Congress.
The bottom line is that these allegations are nothing new, yet are suspiciously resurrected at a time when President Obama has clearly lost the argument on Iran and, with the public staunchly in support of Israel, the most difficult obstacle for an administration desperate to strike a deal with the mullahs that kicks the can down the road, is Sen. Bob Menendez.
"When it comes to defending the U.S.-Israeli relationship, I am not intimidated by anyone," Menendez said last week at AIPAC 2015, just one day before Israeli Prime Minister Benjamin Netanyahu gave a speech Obama never wanted him to give. "Not Israel's political enemies, and not my political friends when I believe they're wrong."
The prime minister gave his high-profile yet controversial and long-awaited speech last week after Republican House Speaker John Boehner extended an invitation. The Obama administration considered the invitation a breach in protocol, slamming Israel and Republicans ahead of the speech. But GOP leaders weren't the only ones defending the move.
"Now I agree with some Democrats that the political timing of Prime Minister Netanyahu's invitation to speak to Congress tomorrow may have been unfortunate, and we must work fervently to keep the U.S.-Israel relationship a strong, bipartisan endeavor," Sen. Menendez said. "But, I must disagree with those who say that the prime minister's visit to the United States is destructive to U.S.-Israel relations."
Menendez drug along many other Democrats in arguing alongside Republicans that it was important for Netanyahu to explain the threats posed by Iran and Israel's concerns over the still-largely secretive terms of the nuclear deal.
"And tomorrow," he shouted over eruptions of applause and cheering from the crowd, "I will be proud when I escort the prime minister to the House chamber to give his speech, to show him the respect he deserves from every American who cares about our relationship with the only true democracy in the Middle East."