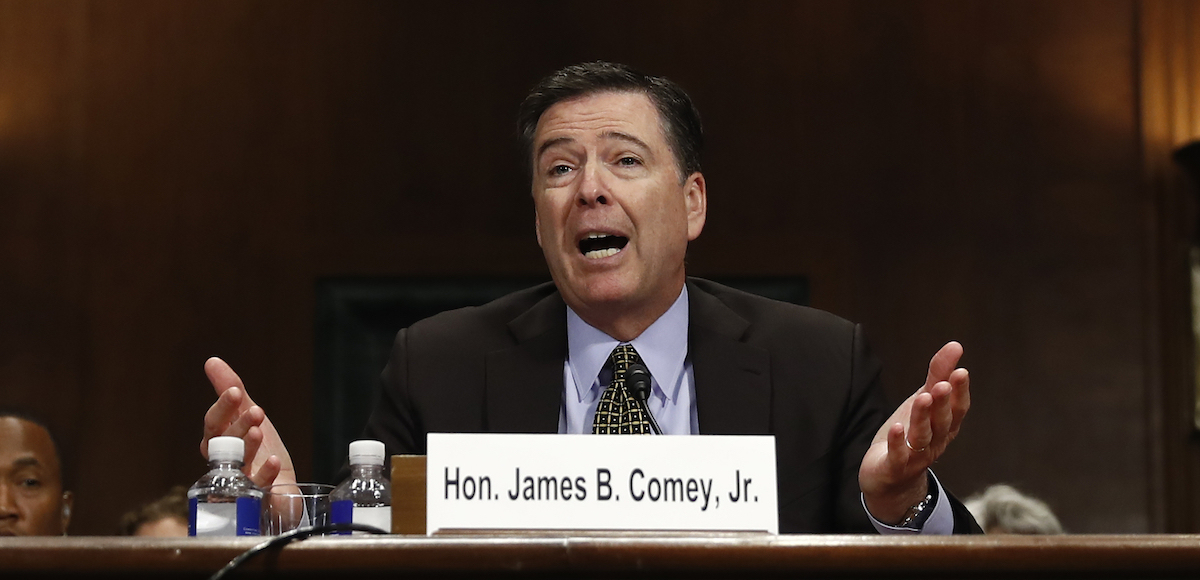 (Editor's note: The report below is based on multiple interviews over the course of several months and the allegations have been confirmed by multiple sources. PPD did not previously publish this report due to deep concerns for the sources of the article. In light of recent developments, those concerns have been lessened somewhat and we decided it is time to present it to the public.)
In October, People's Pundit Daily reported on sources at the Federal Bureau of Investigation (FBI), who claimed Director James Comey prevented agents from properly investigating Hillary Clinton over her improper use of a private email server to conduct official business at the Secretary Department.
Mr. Comey, who was fired by President Donald Trump Tuesday on recommendations from Deputy Attorney General Rod Rosenstein, claimed the decision not to prosecute Mrs. Clinton for mishandling classified information was "unanimous."
However, multiple sources not only told PPD the decision wasn't unanimous, but also that the former director undercut their investigation from start to finish.
"Comey was never an investigator or agent. Special agents are trained and were insulted that Comey included them in his artificial 'we,'" one agent, who spoke on the condition of anonymity said. "To suggest all agreed there was not enough to prosecute, was misleading. It's false. Trained investigators agreed that there was more than enough. He stood in the way."
The story told to PPD must be retold in the proper context.
In 2015, the FBI received a criminal referral from the Department of Justice (DOJ) after the House Select Committee on Benghazi discovered Mrs. Clinton had used personal servers to end-round public records-keeping laws. According to sources, the referral was sent to the Bureau along with strict private instructions to refer to the probe as a "matter," not as a criminal investigation.
The career investigators at the Bureau immediately took notice. Their radars went off.
But Mr. Comey made it clear he wanted these instructions followed. In what some had perceived as an effort to appease their objections, he made his first disclosure blunder. He told reporters last summer the FBI wasn't conducting a "security inquiry," as Mrs. Clinton repeatedly told the American public.
"We're conducting an investigation. That's the Bureau's business. That's what we do here at the FBI," Mr. Comey said in May. "I'm not familiar with the term 'security inquiry'."
Still, investigators believed he shouldn't have said anything, per DOJ and FBI policy. Cases aren't even confirmed publicly unless there is an indictment or other public action. Even if he could confirm a criminal probe, his particular statement didn't go far enough considering what they already knew from speaking with the State Department.
State Department investigators had identified two specific emails that were deemed classified at the highest level at birth. The agencies that owned and originated the intelligence–the CIA and National Geospatial-Intelligence Agency, or NGA–had already reviewed the emails in December to determine how they should have been properly stored.
The emails were marked top secret when they hit Clinton's server, one of them remains top secret even to this day.
An internal State Department audit conducted by the agency's Inspector General (IG) and released later that month (May) found Mrs. Clinton at least broke federal record-keeping rules while serving as secretary of state. IG audits also showed the former secretary of state's top aides at the State Department refused to cooperate with investigators and, as did Mrs. Clinton, failed to comply with the Federal Records Act.
Mrs. Clinton repeatedly told reporters and the public that the emails were not marked as classified at the time they were sent or received. Those with knowledge of the investigation who spoke with PPD were quick to point out that it was a political defense, not a criminal defense.
"It's the content of the emails, the documents or whatever materials in your possession that determines classification," said one special agent. "Investigators know that and Comey knew that. It was clear he was willing to draw certain distinctions in this case–like timing and intent–that didn't matter."
Rumblings that insiders were putting enormous pressure on Mr. Comey to navigate the FBI to a conclusion favorable the Mrs. Clinton, were heard from the onset of the investigation. Howard Krongard, who was inspector general for the State Department from 2005 to 2008, at the time predicted that there was no chance the case would end in an indictment.
He told the New York Post that even if the FBI found enough evidence to present the case back to DOJ it would "never get to an indictment."
Why?
Because Mrs. Clinton would have to go through "four loyal Democratic women," including Attorney General Loretta Lynch and White House adviser Valerie Jarrett. The other two were then-Deputy Attorney General Sally Yates, who was widely known to be a staunch Clinton supporter, and Assistant Attorney General Leslie Caldwell, who headed up the department's criminal division.
Yates, who has been praised by the Left since she was fired for refusing to defend President Trump's executive order on travel, was after all the wife of Comer Yates, who once ran for Congress and gave $3,355 to Mr. Obama's presidential campaigns. With a simple OpenSecrets.org lookup, we discovered the deep ties the Yates family had to the Democratic Party and the deep pockets they reached into to support their candidates up and down the ballot.
Investigators were well-aware of these concerns, some of which only recently have become political concerns. Deputy Director Andrew McCabe, the man who oversaw the Clinton email case, was married to Jill McCabe, who received $467,500 from Virginia Gov. Terry McAuliffe's PAC for her 2015 state Senate campaign. Gov. McAuliffe is a longtime Clinton ally and McCabe's involvement in the case is currently under investigation.
At the very least, it gave some investigators the appearance Comey was allowing the Bureau to erect just one more barrier of protection around the former secretary of state. Ironically, McCabe will temporarily lead the Bureau until President Trump hires an interim director and eventually nominates a permanent replacement.
A rank-and-file said Comey had "delusions he was the only man with personal virtue." That is, he saw himself as "the last honest man" in a corrupt town beyond redemption. But it got worse, to the point many quietly began to question whether the director had had a mental break under political pressure.
Even before it was revealed that Attorney General Lynch was caught holding a secret meeting with Bill Clinton on her government airplane, he would not get on board with requests to obtain additional investigative tools, to execute search warrants and impanel grand juries.
"We didn't search their house," he lamented. "There should have been a complete search of their [Clinton] residence and all devices should've been seized. We [FBI] even seize devices that have been set on fire. The investigation was definitely not conducted like a typical case."
Lynch's meeting with Clinton at Phoenix Sky Harbor International Airport confirmed some of their worst suspicions. The meeting was only revealed after a local reporter caught wind of the overlap in their travel schedule and decided to poke around. Agents were furious, knowing the friendly relationship between the AG and the director.
Worth noting, Lynch was only tapped to be U.S. Attorney General due to her qualifications as U.S. Attorney in the Eastern District of New York. She got that appointment courtesy of then-President Clinton, the husband of the target of the FBI investigation and a person of interest, himself.
"I can only explain it like this," another agent tried to convey. "The director felt he needed to be his friend's knight and shining armor, to save her from herself. She made an indefensible decision and he somehow twisted it to be about him–to be about duty. I don't believe for a second he anguished over these decisions. He relished in them."
On Saturday, July 2, 2016, the Fourth of July holiday weekend no less, agents finally got the opportunity to speak with Mrs. Clinton at her home in Washington, D.C.
The nearly 4-hour long interview was not taped and interviewers were to take notes, only.
When asked about State Department records-keeping policies she had acknowledged in signed documents, training she mandated her team receive that was provided by the department, or conversations with top aide Cheryl Mills about the legality of the server, Mrs. Clinton's answer was simple.
"I don't recall. I can't remember."
For investigators, the answer was also completely incredible. A woman running for the highest office in the land repeatedly claiming to suffer from severe memory loss as a result of a head injury? Many just didn't believer her. They didn't find it credible and wanted to prove it by obtaining a subpoena for her medical records.
Comey shot them down, flat-out denying the team's request to obtain the evidence that would prove whether or not she was lying about the memory loss. Lying to the FBI is a felony, but catching someone in a lie "goes a long way to showing intent," another said. "It's also a way to learn more about the crux of the crime an individual is attempting to conceal."
Fearing agents would pursue the medical records by other methods–by which they mean obtaining help from another intelligence agency–the director pulled the rug right out from underneath them.
On Tuesday, July 5, 2016, Comey went before the nation and announced during an unprecedented, highly irregular press conference that he would not recommend charges against Clinton. He also said, which was vehemently disputed, the decision was reached by consensus.
"There is evidence to support a conclusion that any reasonable person in Secretary Clinton's position, or in the position of those government employees with whom she was corresponding about these matters, should have known that an unclassified system was no place for that conversation," Comey said, as the entire field office looked on in shock. "Our judgment is that no reasonable prosecutor would bring such a case."
Mr. Comey took it upon himself to exonerate Mrs. Clinton based solely on his own authority. As Mr. Rosenstein wrote in his letter to President Trump, the director "laid out his version of the facts for the news media as if it were a closing argument, but without a trial. It is a textbook example of what federal prosecutors and agents are taught not to do."
If it was a disappointment to Republicans and Trump supporters, it was nothing short of the most tragic day agents ever expected to have during their careers at the FBI. For the career investigators who spoke with PPD, the Bureau is more than a job.
"People inside the Bureau were furious. They were embarrassed. More than half the office simply got up and left after that announcement and didn't even bother to return until the next week. They feel like he was fundamentally dishonest and had no confidence in him. The Bureau is now a total mess," the agent said. "The most important thing of all for us is the Bureau. That's why agents have decided that they are going to talk."