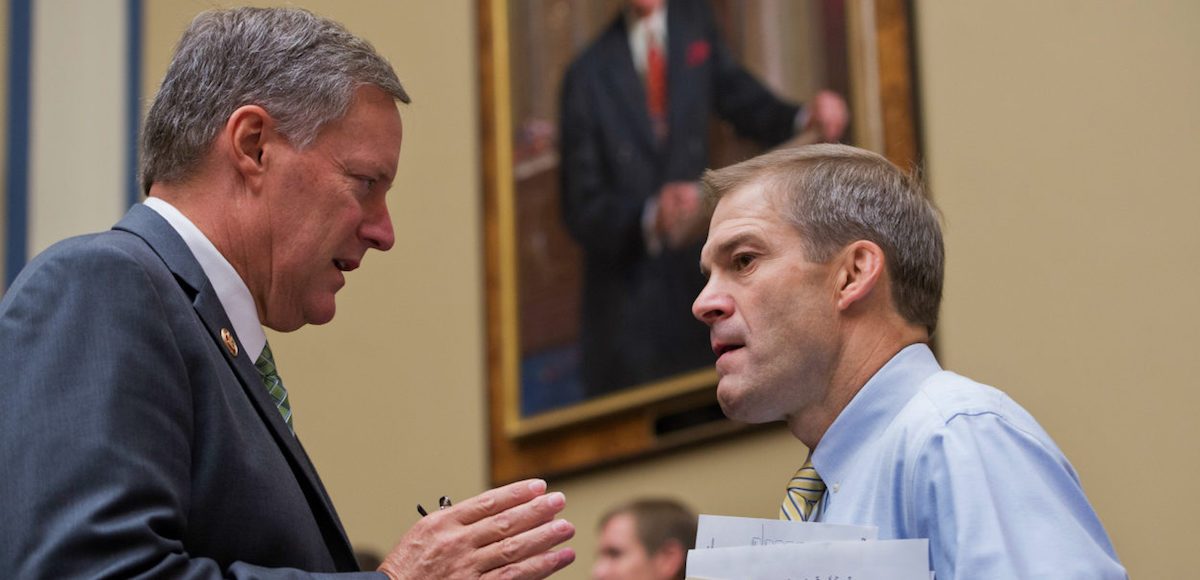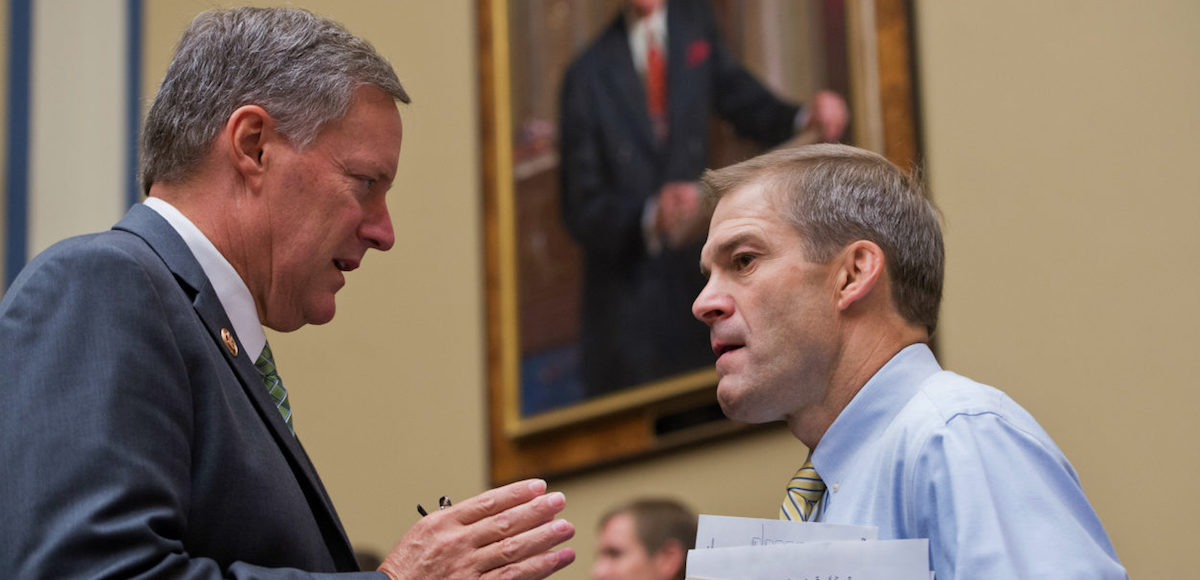 House conservatives introduced an amendment in the House Judiciary Committee to open an investigation into "the real criminals"–James Comey and Loretta Lynch. The Senate Judiciary Committee had already done so after the former FBI director admitted under oath the former attorney general directed him to call the Clinton email probe a "matter," not an investigation, as People's Pundit Daily first reported on May 11.
But thus far it has gone nowhere.
Now, roughly one week after House Speaker Paul Ryan, R-Wis., told reporters GOP lawmakers "weren't elected to defend Donald Trump," House Freedom Caucus members are saying it's time to do just and push for a special prosecutor.
"Former Attorney General Loretta Lynch told then-FBI Director James Comey to mislead the American people about the Clinton email investigation. James Comey testified to this fact under oath," Rep. Jim Jordan, R-Ohio, said in a statement. "Even Senator Dianne Feinstein said this should be investigated. I'm supporting the efforts of my colleague Congressman Matt Gaetz to have a special counsel investigate this important issue."
Sen. Dianne Feinstein, D-Calif., the Ranking Member of the Senate Judiciary Committee, said in June on CNN's "State of the Union" that lawmakers need to "take a look" at Ms. Lynch. However, Rep. Mike Gaetz, R-Fla., the lead sponsor of the amendment, said the ever-expanding probes have centered around "baseless accusations and spurious claims" in order "to discredit and undermine President Trump."
"From Loretta Lynch's bizarre 'tarmac meeting' with Bill Clinton, to James Comey's leaks of classified correspondence to the media, these are issues that matter to the American people, who have been justly bothered by the inaction of Congress," Rep. Gaetz said. "That inaction ends today, because today, my colleagues and I started going after the real criminals. May justice be served."
Then-Attorney General Lynch was caught holding a secret meeting with Bill Clinton on her government airplane at Phoenix Sky Harbor International Airport. The highly-improper meeting, which took place during the ongoing investigation, was only revealed after a local reporter noticed the overlap in their travel schedules and decided to poke around.
While the former attorney general said after the news broke that she would defer the decision to prosecute Mrs. Clinton to "career officials" at the Justice Department, she refused to recuse herself.
Worth noting, Ms. Lynch was only tapped to be U.S. Attorney General due to her qualifications as U.S. Attorney in the Eastern District of New York. She got that appointment courtesy of then-President Clinton, the husband of the target of the FBI investigation and a person of interest, himself.
In the end, Mr. Comey pulled the rug out from beneath his own agents investigating the case.
On Tuesday, July 5, 2016, he went before the nation and announced during an unprecedented, highly irregular press conference that he would not recommend charges against Clinton. Mr. Comey claimed "no reasonable prosecutor" would prosecute Mrs. Clinton, despite admitting to multiple violations. He also said, which was vehemently disputed by agents who spoke with People's Pundit Daily, the decision was reached by consensus.
"Conservatives believe we have to defend the President," House Freedom Caucus Chairman Mark Meadows, R-N.C., told Sean Hannity during an interview Wednesday night. "Lady justice is blindfolded."
Mr. Comey would later admit under oath that he intentionally leaked his memos to the media with the explicit intent on forcing the appointment of a special prosecutor. Now, Robert Mueller, his friend and mentor, is serving as the head of a team packed with Clinton loyalists investigation President Trump, despite Justice Department policy and law barring him from doing so based on his relationship to Mr. Comey.
"My colleagues and I introduced this amendment because we are tired of passively allowing the left and the radical media to distract from the Republican agenda through wild accusations," Rep. Andy Biggs, R-Ariz., said. "Most of the claims made about President Trump and his team are nothing more than unfounded, unsourced, anonymous allegations that merely serve the purpose of trying to delegitimize the President and prevent Congress from carrying out the agenda we promised to the American people."
Reps. Biggs is also a lead sponsor of the amendment, along with Rep. Gaetz.
"It is time for the Left to respond to the blatant misconduct of Hillary Clinton, Eric Holder, James Comey, Susan Rice, and Loretta Lynch," Rep. Biggs added. "Our constituents want justice for the scandals of the Obama administration, and we must earn and keep their trust by demanding information and investigations."