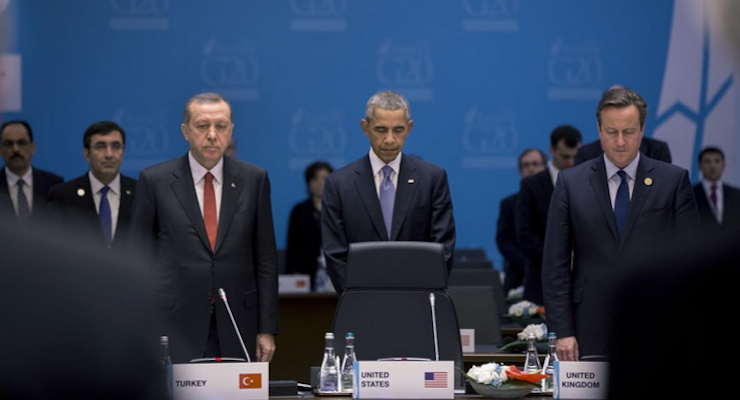 A growing number of lawmakers on Capitol Hill are calling on President Obama to suspend his Syrian refugee program, rethink the ISIS strategy and halt the transfer of Gitmo detainees. The president received a number of letters urging him to change direction following a series of deadly terrorist attacks in Paris on Friday.
Homeland Security Committee Chairman Michael McCaul, R-Texas, sent a letter today urging Obama to suspend admission of all so-called Syrian refugees into the United States.
"We remain concerned that these resettlements are taking place without appropriate regard for the safety of the American people," said Chairman McCaul in his letter to the president. "In light of the terrorist attack in Paris, I call on you to temporarily suspend the admission of all additional Syrian refugees into the United States pending a full review of the Syrian Refugee resettlement program, including of the aforementioned security risks."
At least one terrorist in the deadly Paris attacks Friday entered the European Union (EU) through Leros on Oct. 3 "where he was identified [as a 'refugee'] based on EU rules," PPD confirmed on Saturday. The Syrian passport in question was found on one of the dead suicide bombers, who was supposedly not known to French intelligence officials.
"On the case of the Syrian passport found at the scene of the terrorist attack, we announce that the passport holder had passed from Leros on Oct. 3 where he was identified [as a 'refugee'] based on EU rules," said Greek Citizen Protection Minister Nikos Toskas. "We do not know if the passport was checked by other countries through which the holder likely passed."
According to a recent poll, which was conducted before the Paris attacks, Americans were less than open to the idea of allowing Syrian refugees to come to the United States. A Rasmussen Reports survey found 49% of likely voters said no to any and all alleged Syrian refugees, while 20% said they would only support taking in 10,000 total. Still, 50% said they were opposed to the idea of allowing 10,000 to come to the U.S. in a poll conducted immediately after the president's first announcement, and just 36% supported it.
Yet, neither the facts nor public opinion seem to persuade the president to change his mind or policy.
While speaking in Turkey at the G-20 Summit, Obama argued that "as we accept more refugees–including Syrians–we do so only after subjecting them to rigorous screening and security checks." On Sunday, Ben Rhodes, the president's deputy national security adviser for strategic communication, said there was a "rigorous" vetting process in place to screen the Syrian refugees.
"That's a flat-out lie," Tony Shaffer, a retired U.S. Army Reserve Lieutenant Colonel and intelligence officer said Monday. Shaffer noted that data from Germany indicates it effectively takes 60 agents to screen one refugee.
Further, in the wake of the attacks on Friday, 11 governors have said they will not accept Syrian refugees in their states. The governors of Alabama, Arkansas, Florida, Indiana, Louisiana, Massachusetts, Michigan, Mississippi, North Carolina, Texas and Wisconsin said Monday they will ask the federal government not to relocate Syrian refugees to their states or will otherwise try to prevent their resettlement.
Meanwhile, Chairman McCaul's letter was the second one to hit the president's desk on Monday.
Rep. David Jolly, R-Fla., sent a letter to Obama urging him to reconsider his entire national security strategy to confront the threat of radical Islamic terrorism. In an email to PPD, Jolly said he also asked Obama to "halt his crusade" to close Guantanamo Bay detention by transferring detainees to American soil.
"Together with our allies and willing world partners, we must dramatically enhance our engagement with the enemy to accomplish one clear objective – to immediately destroy ISIS and its partners in terror," Rep. Jolly wrote in his letter.
Last week, the Obama administration announced the Pentagon would put forward a plan to transfer Gitmo detainees to a facility in Colorado dubbed "the Alcatraz of the Rockies." The move will make good on a campaign promise the president made in his 2008 White House bid to close Gitmo, though it remains extraordinarily unpopular with the American people.
According to a recent poll, voters continue to oppose President Obama closing Guantanamo Bay and don't believe his administration over the U.S. intel community regarding the rate of return. Just 28% of American registered voters in January supported Obama closing Gitmo, and 59% said the administration isn't being truthful when they claim only 6% of detainees have returned to the War on Terror battlefield. The intel community has estimated the recidivism rate is at least 3o%, if not higher.
According to a recent report, U.S. intel officials believe upwards of 20 to 30 Guantanamo Bay detainees released by the Obama administration in the past few years alone have joined the Islamic State (ISIS), while upwards of 30% are suspected or confirmed of returning to Islamic terrorist activity.
Similarly, a Rasmussen Reports poll found that just 29% of likely U.S. voters believe the Guantanamo prison camp should be closed, which was up slightly from the 23% measured in April 2013. Rasmussen, historically, found more support for the prison's closure than other pollsters. But even the current level is down from a high of 44% in January 2009, when Obama first announced his plans to do so. Now, a significant 19% are undecided.
A June 13 Gallup poll found just 29% of Americans support closing the terrorist detention camp and moving its prisoners to U.S. prisons, while 66% oppose doing so. As PPD research has repeatedly observed, ideology is the most predictive factor when determining a respondent's answer, not party preference or ID.
"Bringing enemy combatants into the U.S. is reckless and will only embolden the enemies of freedom who wish to do us harm," Rep. Jolly added.
[mybooktable book="our-virtuous-republic-forgotten-clause-american-social-contract" display="summary" buybutton_shadowbox="true"]