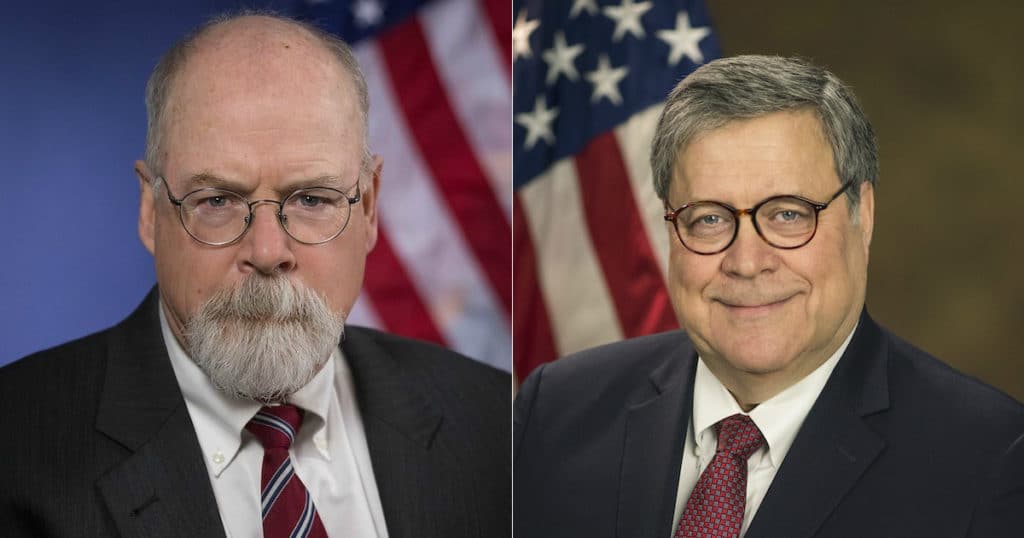 Attorney General William Barr and U.S. Attorney John Durham enjoyed bipartisan praise and impeccable reputations at the U.S. Justice Department (DOJ). But that was before the two men — who are being smeared by Democrats and corporate media allies — threatened to expose wrongdoing at the genesis of and during the "Russian Collusion" probe.
In May, Attorney General Barr assigned the U.S. Attorney in Connecticut to investigate the origins of and potential wrongdoings in the counterintelligence investigation that morphed into a special counsel.
Last week, People's Pundit Daily (PPD) reported Mr. Durham uncovered evidence of criminal abuses to safeguards required in the Foreign Intelligence Surveillance Act (FISA).
In response, he expanded his investigation and timeline. The probe starts from the genesis of the disproven "Russian Collusion" narrative through the election and now includes a post-election timeline through the spring of 2017. That's right up to when Robert Mueller was appointed Special Counsel by then-Acting Deputy Attorney General Rod Rosenstein.
This week, multiple outlets have reported and PPD independently confirmed it is now a criminal investigation. The New York Times — which won a Pulitzer for reporting on what turned out to be a misinformation-driven conspiracy theory — characterized the Barr-Durham effort as political payback.
But nothing in their pasts would indicate either men would allow the Justice Department to be used as a political machine.
William "Bill" Barr
In August 1991, Mr. Barr took over the Justice Department (DOJ) as Acting Attorney General after Richard Thornburgh resigned to campaign for the U.S. Senate.
Only 3 days later, 121 Cuban inmates awaiting deportation to Cuba seized 9 hostages at Talladega federal prison. He directed the FBI's Hostage Rescue Team to assault the prison and end the hostage crisis.
The result was a best-case scenario, with agents rescuing all hostages without loss of life. Mr. Barr cites this decision as his greatest accomplishment at DOJ, and it earned him bipartisan praise.
President H.W. Bush was impressed with his management of the hostage crisis and, a few weeks later, nominated him to be the nation's top cop.
The LA Times called his two-day nomination "unusually placid" because he was supported by both Republicans and Democrats on the Senate Judiciary Committee.
The committee, which is now led by Chairman Lindsey Graham, R-S.C., and Ranking Member Dianne Feinstein, D-Calif., approved his nomination unanimously by a vote of 14 to 0.
Joe Biden, who chaired the committee at the time, said Mr. Barr showed a "commitment to the public interest above all else."
"You're going to be a good Attorney General," then-Chairman Biden said at the hearing. "You're sharp, you're smart."
He was confirmed by voice vote by the full U.S. Senate just 36 days after the nomination was announced, and was sworn in as Attorney General on November 26, 1991.
Senate Minority Leader Chuck Schumer, D-N.Y., then-chairman of the House Crime and Criminal Justice Subcommittee, also praised the man his members now want to back into a corner.
"Mr. Barr has proven to be a capable deputy attorney general. He did a good job of helping run the department in troubled times."
Senator Patrick Leahy, D-Vt., still a member of the Senate Judiciary Committee, not only praised Mr. Barr but said he would be "an independent voice for all Americans – not just the President."
John Durham
U.S. Attorney Durham, the 52nd U.S. Attorney for the District of Connecticut, has a long bipartisan history of serving as the special prosecutor investigating potential wrongdoings of national security officials.
That includes the Federal Bureau of Investigation (FBI), the DOJ and Central Intelligence Agency (CIA).
From 1998 to 2008, he served as a Special Attorney for the District of Massachusetts and Head of the Justice Task Force. Then-U.S. Attorney General Janet Reno — a Democrat appointed by Bill Clinton and supporter of Hillary Clinton in 2016 — appointed Mr. Durham to review alleged criminal conduct by FBI personnel and law enforcement corruption in Boston.
He led the prosecution of former FBI Supervisory Special Agent John J. Connolly Jr. and a former Massachusetts State Police Lieutenant, both of whom were tied to James "Whitey" Bulger.
In 2008, Mr. Durham was appointed by then-Attorney General Michael Mukasey to investigate the destruction of videotapes of detainee interrogations by CIA. In 2009, then-Attorney General Eric Holder — a highly-partisan Democrat appointed by Barack Obama — entrusted Mr. Durham to investigate the CIA's use of so-called "enhanced interrogation techniques."
From 2008 to 2012, Mr. Durham also served as the Acting U.S. Attorney for the Eastern District of Virginia.
Partisan Smears
At no point in their careers at the Justice Department has anyone questioned the reputation and integrity of these men. Neither professionally nor politically have either men come under attack.
They have a decades-long history of bipartisan praise and have earned bipartisan trust. It is only now when their findings threaten to expose how a dangerous and false conspiracy theory came to hold the nation hostage for more than two years, that they are maligned as partisan operatives.