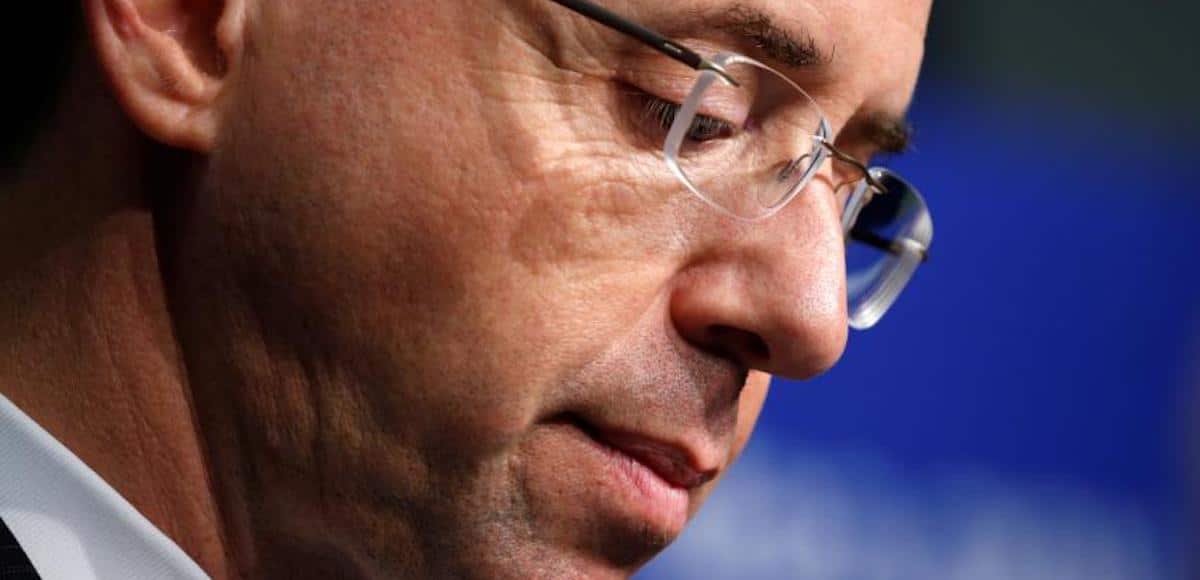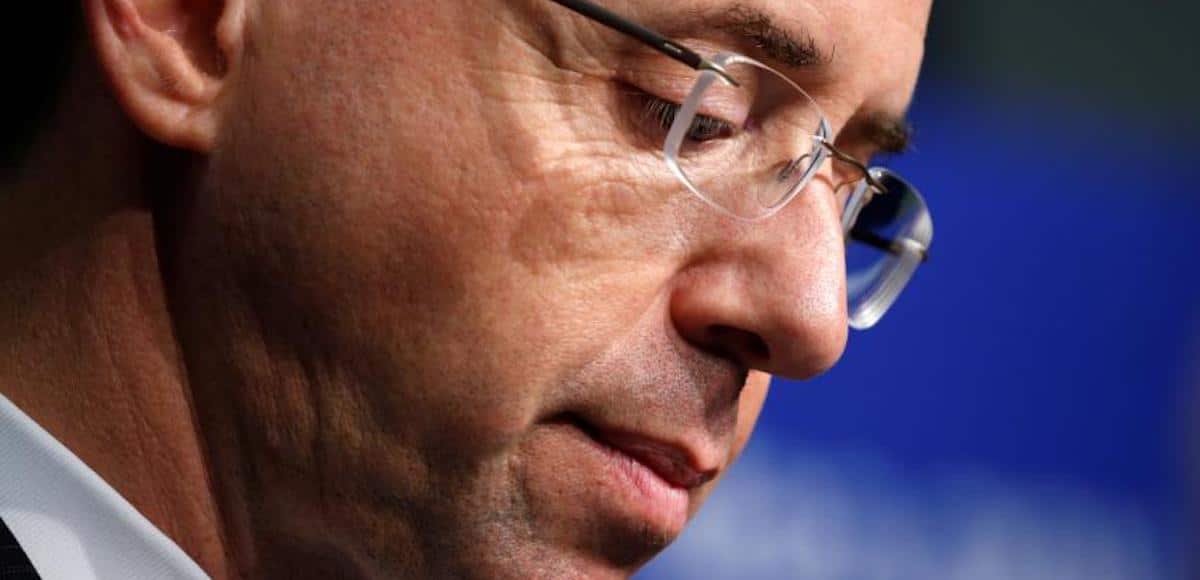 Deputy Attorney General Rod Rosenstein will resign after the U.S. Senate confirms Attorney General nominee Bill Barr, multiple sources confirm.
Mr. Barr was nominated after Attorney General Jeff Sessions was fired following the 2018 midterm elections.
Mr. Rosenstein, who appointed and oversaw the special counsel investigation conducted by Robert Mueller, allegedly wants to ensure a smooth transition.
The nation's second highest law enforcement officer in the land has had a controversial tenure at the Justice Department (DOJ). Congressional investigators repeatedly accused him of stonewalling their investigations into DOJ corruption, including abuses to the Foreign Intelligence Surveillance Act (FISA).
In October 2018, Mr. Rosenstein snubbed the House Oversight and House Judiciary Committees, both of whom wanted to question him over a report published by The New York Times in September. It claimed he met with now-disgraced officials to discuss the possibility of entrapping President Donald Trump.
James Baker, formerly the general counsel at the Federal Bureau of Investigation (FBI), told lawmakers in explosive testimony a week before that Mr. Rosenstein "seriously" considered secretly recording the president.
The former top FBI lawyer said the meeting included fired deputy director Andrew McCabe, disgraced lawyer Lisa Page and Mr. Rosenstein. The potential plan to secretly record President Trump was an extension of the "insurance policy" to remove the president.
Mr. Baker said he met with fired former FBI deputy director Mr. McCabe and former FBI attorney Lisa Page shortly after their meeting with Deputy Attorney General Rosenstein in May 2017. Mr. McCabe was fired for "lack of candor" and leaking to the media "to advance his personal interests." Ms. Page and Mr. Baker resigned together in disgrace for their center role in the scandal surrounding the probes into Hillary Clinton and Russia.
It was not the only report implicating Mr. Rosenstein in wrongdoing.
In February 2018, multiple sources told People's Pundit Daily (PPD) that Mr. Rosenstein expressed frustration with the select committee's oversight investigation during a meeting that took place on January 10. The meeting in question took place before the highly-anticipated release of a memo prepared by Mr. Nunes and other Republicans on the committee.
It detailed government surveillance abuses by Mr. Rosenstein, fired former FBI director James Comey, his fired deputy Mr. McCabe and other former Obama Administration officials.
The DOJ released heavily-redacted documents used to justify the FISA warrant application to spy on Team Trump via peripheral advisor Carter Page on their own. It confirmed crucial and disturbing details of the memo prepared by Rep. Devin Nunes.
Section 702 of the Foreign Intelligence Surveillance Act (FISA) allows intelligence agencies to collect information on foreign targets abroad. However, as PPD also previously reported, it has been "routinely" abused and misused to spy on domestic targets, including President Trump, his associates and other U.S. citizens.
The FISA court was not explicitly made aware that the dossier(s) came from political opposition research funded by the Democratic National Committee (DNC) and the campaign for Hillary Clinton.
The deputy attorney general, who was serving as the acting attorney general in the Russia probe, signed off on an additional FISA warrant even after all the information was brought into the light.
The bombshell revelation came after Mr. Rosenstein appointed Special Counsel Robert Mueller against DOJ policy and the laws governing special counsels.